Description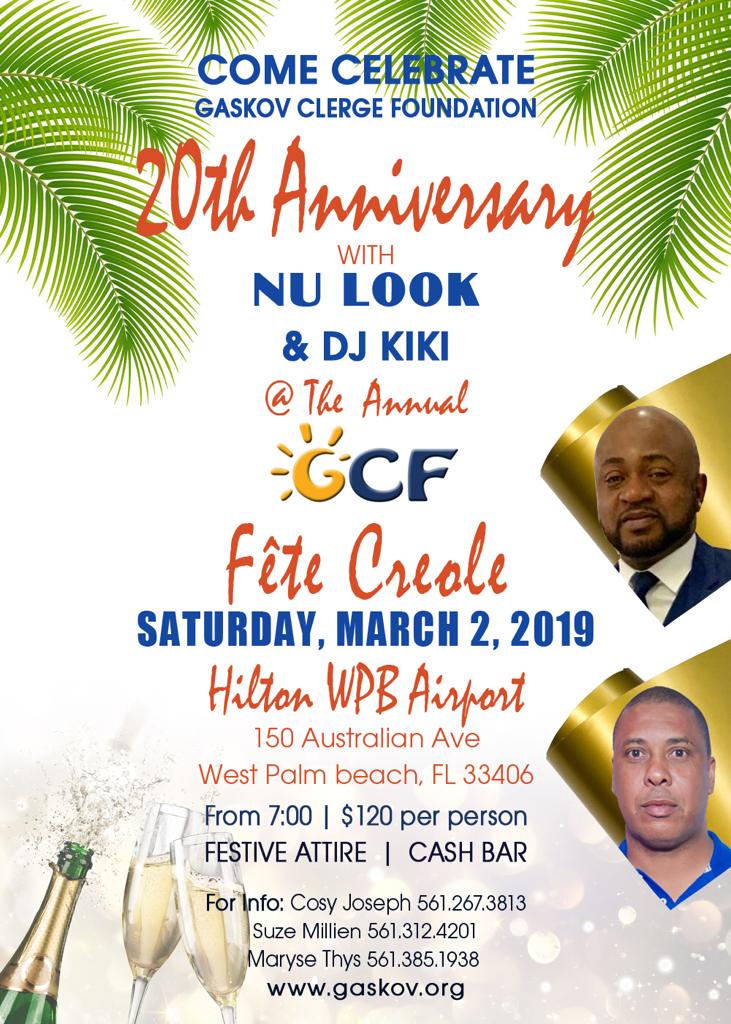 Gaskov Clergé Foundation is celebrating 20 years of service at our annual fundraiser Fête Creole, an event you don't want to miss! We will be celebrating this great milestone with you by our side.
The event will be held on Saturday, March 2nd 2019 at the Hilton Palm Beach Airport's Majestic Ballroom. For this special celebration, GCF is expecting over 500 attendees. The event will begin with a cocktail hour at the ballroom's patio. There will be opportunities to mingle and meet each other, then proceed into the main ballroom beautifully designed by Bonostro Designs for delightful tappas presented by Rachelle Gourmet Catering throughout multiple serving stations.
There will be a photographer and photo booth for you to capture your special moments throughout the night. A recap of the last 20 years of outstanding service will be shared at the event. You will get to see a hear all the amazing work Gaskov Clergé has been doing for the past 20 years, thanks to your support.
Last but not least, DJ Kiki will keep you on the floor and Nulook will close the night and will once again sweep you off your feet with both new and old songs.
Oh what a night it will be and your presence will make it a memorable and magical event.
Frequently Asked Questions (FAQ)
Q: What is the Gaskov Clergé Foundation?
A: Gaskov Clergé Foundation started in 1999 after Gaskov Clergé's sudden death. He was at a party on Friday, went to the hospital on Saturday, and passed away on Sunday March 7th, 1999 from a cancer he never knew he had. He was a 38 years old professor who was finishing his dissertation for a PhD in Microbiology. The pain from his sudden death inspired his friends and family to establish the Gaskov Clergé Foundation in 1999 with mission to promote education, health and sports both in the United States and in Haiti, and its motto to empower individuals by "Educating and Serving, Together". GCF is faithfully carrying out its mission by disbursing over 1,000 scholarships to deserving students, and by implementing small and large medical missions that have served thousands of patients with no access to health care. In partnership with other organizations, GCF has built and is now operating Klinik Fonfred a rural medical center near Les Cayes, Haiti. In 2018 alone, Klinik Fonfred cared for over 10,000 underserved adults and children. Over the years, GCF sponsors multiple sport tournaments in which hundreds of youths participate every year. When you support the Gaskov Clergé Foundation you are touching over 10,000 people a year through a transparent cause.
Q: When is Fête Créole, again?
A: Fête Créole 2019 is all set for Saturday March 2, 2019 at the Hilton Palm Beach Airport, West Palm Beach Florida
Q: What time will the event start?
A: Registration and cocktail hour will begin at 7:00pm on the patio outside of Majestic Ballroom at Hilton Palm Beach Airport. Program will start indoor at 8:00pm promptly.
Q: Where is Hilton Palm Beach Airport?
A: Hilton Palm Beach Airport is at 150 Australian Ave, West Palm Beach Florida 33406. You can enter this address in your GPS for directions to the venue.
Q: Why is the event priced at $120?
A: This year we are celebrating GCF's 20th anniversary, we are going the extra mile to make it special. The event is set at $120 to support all of GCF's activities, including Klinik Fonfred. Proceed from this event are supporting an exceptional and transparent cause that you can be proud of.
Q: Where can I get tickets for Fête Créole?
A: You can purchase your tickets online at EventBrite and www.gaskov.org
You can also purchase your tickets directly from a GCF Ambassador so you can attend as his/her guest. See Event Ambassadors below.
Q: What form of payment can I use?A: Most form of payment is accepted:
You can use your credit card to pay online at EventBrite or www.gaskov.org; (Master Card, Visa, American Express)

You can give cash or a check to your GCF Ambassador. Make all checks payable to Gaskov Clergé Foundation so you can receive a thank you card.

You can also use: Cash App: $gaskovorg or Venmo: @GakovClerge-Foundation
Q: What are the party colors?
A: Party colors are Hunter green with gold and white accents. No! You do not have to wear those colors.
Q: What is the dress Code?
A: Festive Attire - festive is celebratory. For Fête Créole, it's warm, bright, and welcoming
For Women - Cocktail dress, Long dressy skirt and top, Dressy pants outfit.
For Men - Nice sport coat or blazer in color of choice, and slacks; open-collar shirt, or dress shirt - Tie—Optional
If you have an unanswered question, please forward it to events@gaskov.org. We will respond to you promptly and will post it on the event wall.