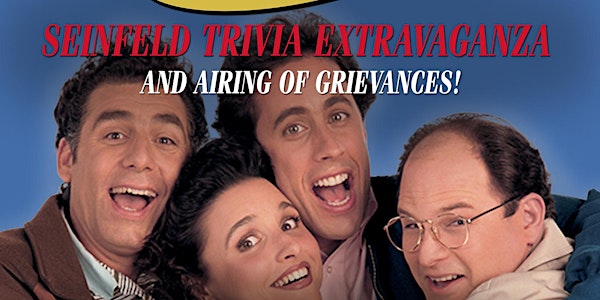 Festivus: Seinfeld Trivia Extravaganza & Airing of Grievances
Do you hate the commercial and religious aspects of Christmas?
When and where
Location
Arcadia Bar and Kitchen 12-21 Astoria Boulevard Queens, NY 11102
About this event
Are you exhausted from raining blows on other shoppers while reaching for that last doll on the shelf? Do you find tinsel distracting?
If we're scratching you right where you itch, then gather embracing your roots and celebrate a Festivus for the rest of us with a Seinfeld Trivia Extravaganza & Airing of Grievances at Arcadia Bar & Kitchen on Thursday, December 22 at 7:30pm!
Reserva... appropriate accommodations by visiting; https://Festivus122222.Eventbrite.com
The best way to reserve tickets is by selecting a team captain and having them be in charge of tickets for ALL team members.
For example, if Jerry, George, Kramer and Elaine are a team and Elaine gets put in charge, she will then reserve tickets for herself, Jerry, George and Kramer = (4) in total.
PLEASE ONLY RESERVE SINGLE TICKETS IF YOU ARE PLAYING BY YOURSELF.
We will send a confirmation email to everyone closer to the event.
So what are you waiting for? Stop crying, and fight your father!