Description
GROUP DISCOUNTS FOR 4 OR MORE.. CHECK IT OUT..
Avail 10% discount for groups with 4 and more riders. Send a mail to festivelo-diwali@sv.team-asha.org to get a discount code.
Looking for ways to sparkle up your diwali?
This autumn ignite the spark of fitness amongst your loved ones at the "FestiVELO Diwali" brought to you by Asha for Education - Silicon Valley chapter and Cupertino Chamber of Commerce.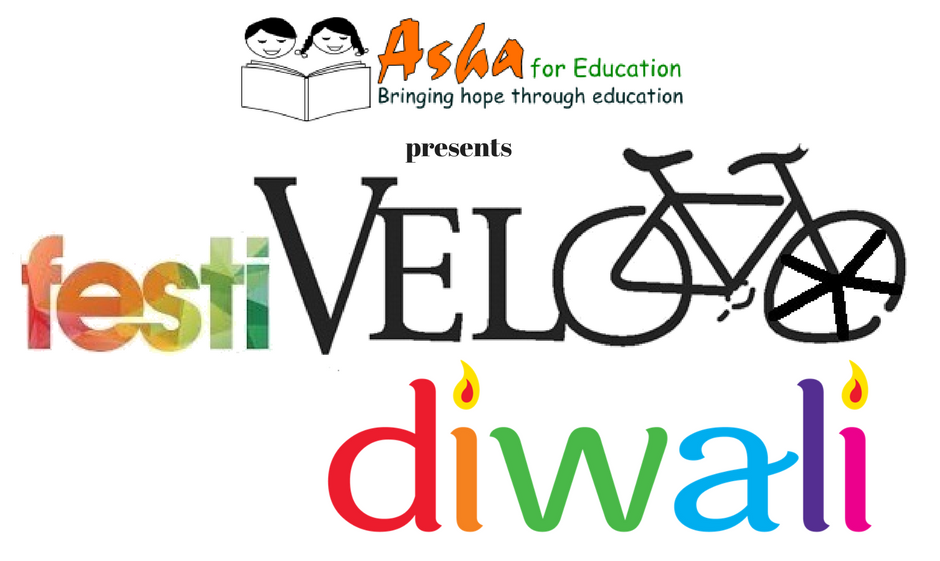 Young or old, beginner or advanced, we have routes designed for everyone. Add a spin to your day by taking on one amongst 3 cracking routes (The Sparkler: 5km, The Spinner: 25KM and The Rocket: 50KM) as you explore the sights and sounds of South Bay. And there's more! All routes lead right to fun, food and festivities. The rides end at Memorial Park where Bay Area Diwali Festival of Lights provides you with flavorful dishes and memorable activities.
What are you waiting for? Let's roll!
Find more info at our event website
Questions? Mail us at festivelo-diwali@sv.team-asha.org
Location
---
Parking: Parking Lot A, DeAnza College, Cupertino (FREE)
Start: Faria Elementary School, Cupertino
Finish: Memorial Park, Cupertino
Ride Details
---
Ride Day Schedule
---
On-site Registration begins : 7:00 AM
The "50km" Rocket start : 8:00 AM - 8:30 AM
The "25km" Spinner starts : 9:00 AM - 9:30 AM
The "5km" Sparkler starts : 10:00 AM - 10:30 AM
Bay Area Diwali Festival begins : 11:00 AM
About Asha for Education
---
Asha for Education is a secular, fully volunteer driven, non-profit organization dedicated to change in India by focusing on basic education in the belief that education is a critical requisite for socio-economic change. Since it's inception in 1991, Asha has raised over $22 million and has directly supported over 800 projects in 24 states benefiting thousands of underpriviliged children in India. Asha Silicon Valley is a chapter of Asha for Education.
About Cupertino Chamber of Commerce
---
The Cupertino Chamber of Commerce is a non-profit business organization with members that employ more than 40,000 people. The chamber collaborates with government, education, and private industry to assist and strengthen local businesses, to be an advocate for business, and affect the high quality of life for which Cupertino is known.
Frequestly Asked Questions
---
When and where is FestiVELO Diwali Ride?
The FestiVELO Diwali Ride is at Faria Elementary School in Cupertino on Sep 30th, 2017. The 50km ride starts at 8:00 AM, the 25km ride starts at 9:00 AM and the 5km ride starts at 10:00 AM. On-Site registration opens at 7:00 AM. The event will end by 12:30 PM. Riders can start within the 30 minute window specified for the route.
What happens if it rains?
We will ride regardless of the weather.
Will you be giving out awards or medals?
This is a friendly ride. There will not be any awards or medals. Instead, we have a diwali mela festival at the end to celebrate.
Do I need to register my child?
Yes, if the child is above 4 years old and riding with you. Children under 6 cannot participate in the 25k/50k rides.
Can my kids ride with me?
Kids below 16 can ride with their parent.
What is the registration fee and what does it cover?
The registration fee schedule is listed above. Ride Day Registration starts at 7:00 AM. All registrants will receive a bike water bottle. The fee includes refreshments at the start and the rest stops during the ride.
Is there refund on registration fee?
No, registration fee is not refundable or transferrable.
Where do I pickup my registration packet?
On the day of the ride, at the starting point. Please make sure to bring a photo ID to pickup your registration kit.
Will there be food and water during the ride?
Water and snacks will be provided during the ride.
What do I need to bring for the ride?
Your bike and helmet. Wear comfortable, but not loose clothing. Snacks and water will be provided during the ride.
At the end of the ride, when attending the Diwali mela event, where can I park the bike?
There will be bike valet available to park the bikes while you attend the Diwali mela.
How late can I start the ride?
Riders can start as late as 30 mins after the announced start time for their route.
Would the roads be blocked during the ride?
No, the roads will be open to traffic. Bikers are expected to follow road rules.
What if I have mechanical issues?
You will be either picked up by SAG vehicle or a bike technical team will help you repair the bike.
What if I cannot finish the ride?
There will be SAG vehicles available throughout the ride to pick you up.
Can I wear headphones during the ride?
No. For safety reasons we do not allow people to wear headphones.
Do I need a helmet for the ride?
Yes, helmet is mandatory. No helmet, no ride.
Do I need to pay parking fee?
No, there's no fee to park at the DeAnza College parking lot.
Would there be restrooms?
Yes, restrooms will be available before, during and at the end of the ride.
What if I have some guests who don't want to bike?
Please do bring all your friends and family for the event - even if they don't want to ride. Diwali mela at Memorial Park begins at 11:00AM and is great fun to attend,.
Is there a place for me to check my bags?
Sorry, but no. You can leave your bags at the Registration desk but Asha will not be responsible for any loss of items.
How do you track each participant?
Each registered participant, will receive a biker ID number, also referred to as a bib number, to wear on the day of the event. Bib numbers will be available at the registration desk.
Organizers

Our Sponsors