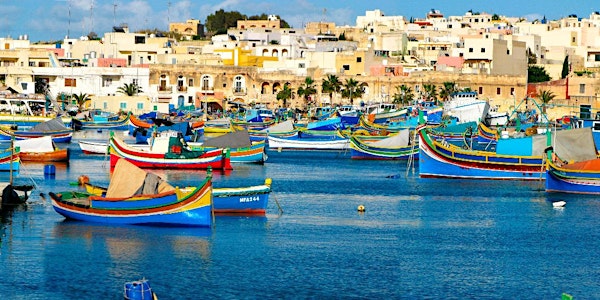 Festivals, Food and History of Malta with Go Eat Give
When and where
Date and time
June 13, 2020 · 12pm - June 20, 2020 · 12pm CEST
Description
Malta has temples that pre-date the pyramids at Giza and Stonehenge, some of the clearest waters in the world, and boasts a capital city that is a baroque masterpiece. Like Croatia of 20 years ago, Malta has just now become a newly discovered travel destination for the cultural enthusiast and not as a second thought. The Maltese Islands, although small in size, offers travelers a rare opportunity to see a well preserved history and exciting present day culture.
Join Go Eat Give on its inaugural tour to the Mediterranean island of Malta, accompanied by Go Eat Give founder and award-winning travel writer,
Sucheta Rawal
. On this trip, you will get a chance to meet locals, have village feasts, relax on the beach and stay at a UNESCO World Heritage city!
- Sail in traditional Maltese boat (Dghajsa) around the Grand Harbor like many nobility have before!
- Take a tour of the stunning St. John's Co-Cathedral, created by the Knights of St. John.
- Participate in a patron village festival with elaborate displays, lighting, fireworks, music, and party with the locals.
- Visit the Old Capital City of Mdina, where Game of Thrones was filmed.
- Travel by boat & tuk-tuk to the island of Gozo.
- Have lunch at a family-run farm & taste fresh olive oil, cheese & wine.
- Take a cooking class with Pippa Mattei, celebrity cook, food writer and teacher, in her Maltese kitchen.
- Wine tasting at Tal-Massar vineyards.
- Taste Maltese classic dishes at local restaurants serving ftira, pizzas, qassatat and bread.
- Get behind the scenes look at the history of falconry on the islands.
- Enjoy a private boat ride through the Blue Grotto.
- Step back some 5500 years with a visit to the Hagar Qim and Mnajdra Temple sites.
- Volunteer with Dream of Horses Farm.
To register, complete this form and pay your deposit of $250. Payment can be made by check to Go Eat Give, 2366 Oberon Walk SE, Smyrna, GA 30080 or online by clicking here.
Contact Go Eat Give info@goeatgive.com, 678-744-8306 for more information
To see full itinerary visit https://goeatgive.com/trips/malta-in-fall/
About the organizer
Go Eat Give is an Atlanta based nonprofit that encourages people to learn about different cultures through food, travel and community service. We host monthly "destination" events where you can experience the cuisine and culture of a far off land; volunteer vacation trips around the world; and lots of fun articles on our web site.