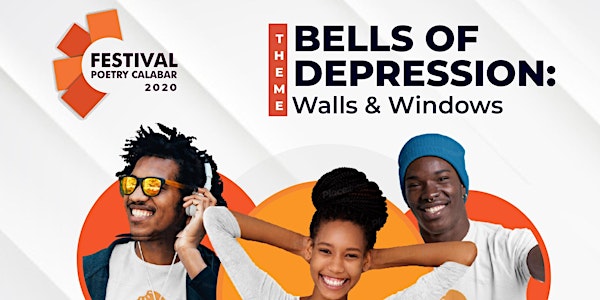 Festival Poetry Calabar 2020
Sales Have Ended
Registrations are closed
Thank you for registering to be a part of the Festival. We can't wait to see you this December. We will be sending you some useful information about this event over the coming weeks. In the meantime, you can find more using the following links. 1. You can get regular updates by connecting with us on Facebook (Festival Poetry Calabar) & Instagram (@Festivalpoetry). 2. Tell your friends you're attending. If you have any questions, you can just email us at festivalpoetrycalabar @gmail.com Thank you.
Festival for poets, writers and literary enthusiasts to stimulate interest in literary matters and artistic expressions.
About this event
Festival Poetry Calabar (FPC), an initiative of Poets in Nigeria (PIN), takes place annually in the city of Calabar. It features activities such as Walk for Poetry, poetry readings and performances, panel discussions, drama, music, book chats, Calabar Welcomes, Sights & Sounds (tour of Calabar City), tour of the gallery of poetry, On-the-Spot writing contest, and others.
This year's festival is mental health focused. Every thirty seconds someone in the world takes their own life because of depression. Today, this silent epidemic is affecting more and more people across the globe. And the severity of depression is largely unknown as no-one is talking about it and millions are suffering in silence.
In the last few years, depression has shed some of its stigma. But there is still more we can do. Together, we can share and spread this message to millions of people affected by this condtion. Together, let's talk about depression.