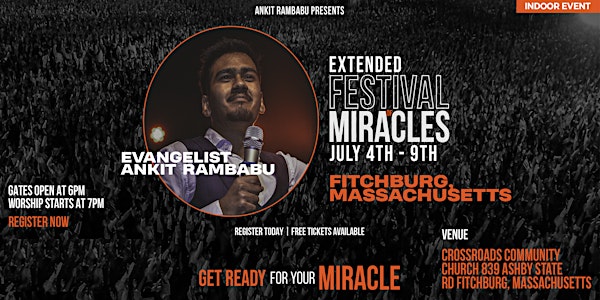 FESTIVAL OF MIRACLES | FITCHBURG, MASSACHUSETTS 2021 - EXTENDED
Festival of Miracles will be a week-long miracles, signs, and wonders revival from International Evangelist Ankit Rambabu Ministries.
When and where
Location
839 Ashby State Rd 839 Ashby State Road Fitchburg, MA 01420
About this event
Good news being our specialty here, at ARB Ministries, we would like to officially announce that the Festival of Miracles Fitchburg, Massachusetts Has been Extended!
Join Us from the 4th to the 9th of July. Mark your calendars now! You do not want to miss out on what God has for you in this particular hour. You can either be a participator of the Move of the Spirit, or a mere bystander. We would rather you choose the former, to be a part of creating history in New England. It is a move that will catapult into something revolutionary. Do not hesitate, make yourself available.
Do not come alone. Bring the lost, the dying, the sick, and the suffering. Expect to see miracles, signs, and wonders like never before! This is your moment. You are about to make the greatest decision of your life by being a part of this Move.
We encourage you to give towards this meeting. By doing so, you are positioning yourself to be first in line for God's blessing for your life! When your money and priority goes to souls, God makes you His priority!
If you would like to volunteer for the meeting, or be a partner, you can look below to find all the information you need.
ARB MINISTRIES - partners@ankitrambabu.org
The year 2021 is starting off with a bang! Looking forward to seeing you all! We love you!