Event Information
Location
Durham Armory
220 Foster Street
Durham, NC 27701
Description


Guilt-Free Shopping, Seminars & Family Fun to Enrich Your Mind, Body & Spirit!
The Festival of Life is a FREE two day wellness convention taking place in Durham, North Carolina at the Durham Armory from Saturday, June 8th (10am to 7pm) to Sunday, June 9th (12pm to 6pm). It's a weekend long extravaganza showcasing vendors selling items & services that enrich your mind, body and soul! Whether you want to shop for handmade soaps or vegan lotions, get a tarot reading or bring your kids to play in our giant game area – the Festival of Life has something for everyone!
FREE ADMISSION | GUEST SPEAKERS | 40+ VENDORS | TAROT READINGS | GIANT GAME AREA | FOOD TRUCKS | FACE PAINTING




ORIGINS OF THE FESTIVAL OF LIFE
The Festival of Life has been over 20 years in the making and a dream shared by friends, Eileen Connolly and Marlene Dunphy. They wanted to create an event that combined the holistic healing, the medical field and the metaphysical world – and make it accessible for everyday people from all walks of life. Unfortunately, Eileen Connolly passed away in 2015 from cancer before she got to see her dream realized. Only two years after Eileen's passing, Marlene was diagnosed with cancer as well. Despite life threatening complications following her cancer removal surgery, Marlene was blessed to make a full recovery. After regaining her life and her health, she set on a quest with her husband and daughter to host her and Eileen's dream. Thus the Festival of Life was born.

VISIT WEBSITE TO SEE GUEST SPEAKER SCHEDULE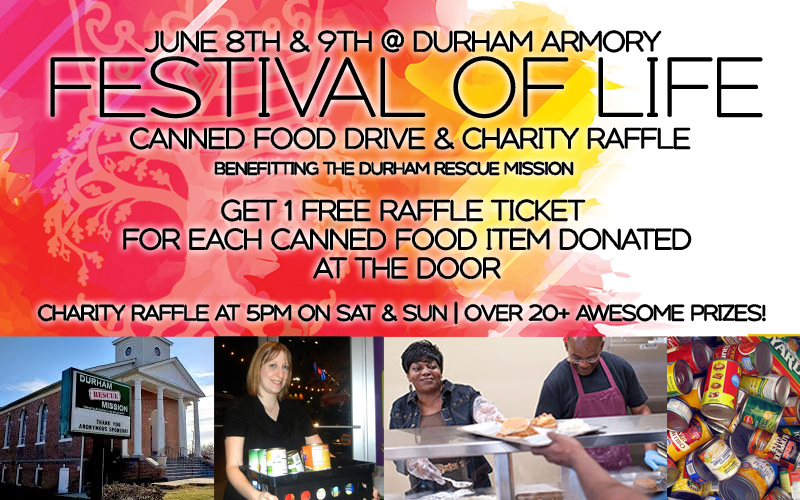 CANNED FOOD DRIVE & CHARITY RAFFLE
Help us to give back to the City of Durham! We're collecting canned food items for the Durham Rescue Mission. For every canned item you donate at the door you will receive a raffle ticket for our daily charity raffle. Help us to gather 1000 items for the Durham Rescue Mission.
Date and time
Location
Durham Armory
220 Foster Street
Durham, NC 27701