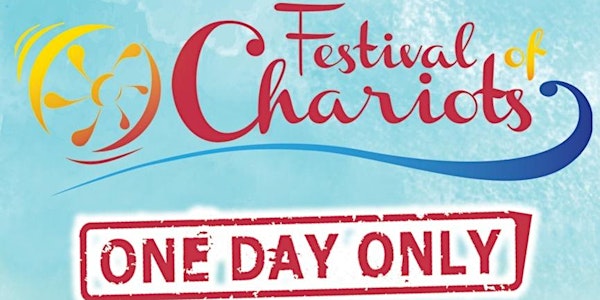 Festival of Chariots - Durban
The Long Awaited return of the beautiful Chariot Festival on the idyllic Durban beachfront . One Day Only - 7 April 2023. Don't Miss It!!
Date and time
Friday, April 7 · 1 - 9pm SAST
Location
Durban Amphitheatre 41 Snell Parade Durban, KZN 4063 South Africa
About this event
Expect music, dance, theatre, edutainment, and family fun time from 1pm to 9pm
Highlights
Spiritual Discussions – A Host of International and local Dignitaries
Vegetarian Food and Apparel Market
Mantra Yoga
Food For Life South Africa will be providing free Sumptuous vegan meals.
And the much awaited Festival of Chariots Parade from 3pm
Drama – The Divine Song
Written & Directed by Bhaktimarga Swami
Performance: Friday 7 April 6:30pm
Venue: Durban Festival of Chariots, Durban Amphitheatre – North Beach
We've all been there before – woke up one morning not particularly excited about going through the usual grind, and moreso, worried to death about tackling the day's colossal assignment at work or school. The mind declares, "This could break me. I think I'll quit."
The above scenario, more or less, is the inner monologue for a distressed warrior named Arjun who appears to have all odds stacked against him in this short drama The Divine Song.
The Divine Song is based on a throwback to at least fifty centuries past in the days of horses and chariots, but has all relevance to our modern day life when in the most difficult of challenges. The bulk of the The Divine Song is enshrined by a soothing but provocative dialogue – a therapy session, actually. Would directors and actors of the theatre dare to attempt an ancient dialogue between a shaky warrior and solid mystic. I mean, what do you do with a chat in the flats of northern India? Can it make it to the stage?
Somehow, by the wave of the mystic's magic wand, or in this case, by the otherworldly flute of Krishna, we have something for an audience's eyes, ears, and intellect.
This will not be my first presentation of this energetic and athletic introspection for a gratified audience, and will also be put under the lights at the Durban Festival of Chariots. Because The Divine Song touches on life matters and is physical, it's compelling for all. There's something in it for everyone, even the kids. It's clean, it's brave, and it's fun; actors actually get downright silly on the stage!
Viewers of the play, The Divine Song, just as readers of the ancient text in full called Bhagavad Gita, receive strength not only from its performance, but also its powerful message, whether embraced metaphorically, or as a literal historic reference. Whether the nourishment arrives in small portions as an inner strength, or in epic proportions as in "let's battle evil together," it's worth milling over. For some people, just getting up in the morning is a chore and a score.
"Let's arise, Arjun," is the tune. We shall overcome.
Bhaktimarga Swami
Agenda
3:00 PM - 6:00 PM
Festival of Chariots Procession along Durban's Promenade
7:00 PM - 8:30 PM
The Divine Song - A Drama written & directed by BhaktiMarga Swami