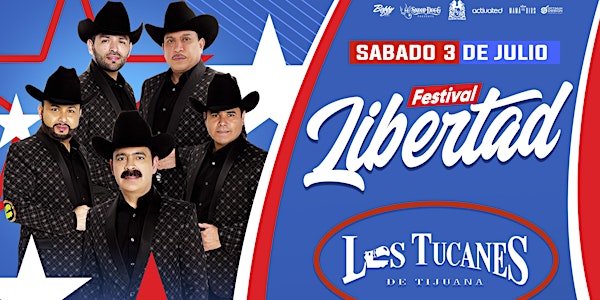 FESTIVAL LIBERTAD BOLETOS NUEVOS - https://bit.ly/3w74N5Q
Los Tucanes De Tijuana con Ramon Ayala, Banda Los Sebastianes, El Yaki & MORE, sábado 3 de julio de 2021 en SilverLakes en Norco.
When and where
Date and time
Saturday, July 3, 2021 · 12 - 11pm PDT.
Location
SilverLakes 5555 Hamner Avenue Norco, CA 92860
Performers
Headliners
More Performers
Ramon Ayala
Banda Los Sebastianes
El Yaki
Jesus Adame
Martin Castillo
Tapy Quintero
Alex Arrellano
Cesar Carrillo
About this event
ENLACE DE COMPRA DE BOLETOS NUEVOS - https://bit.ly/3w74N5Q
Bobby Dee presenta, Activated Events & Snoop Dogs Army presenta Los Tucanes De Tijuana con Ramon Ayala, Banda Los Sebastianes, El Yaki, Jesus Adame, Martin Castillo, Tapy Quintero, Alex Arrellano, Cesar Carrillo el sábado 3 de julio de 2021 en SilverLakes en Norco, CA.
Disfrutará de deliciosas comidas, bebidas, noria, juegos y una espectacular exhibición de fuegos artificiales.
¡Este evento es PARA TODAS LAS EDADES!
Preguntas frecuentes
¿Existen requisitos de identificación o edad mínima para ingresar al evento?
Este evento es para todas las edades, pero debes ser mayor de 21 años para comprar y consumir alcohol. Los niños menores de 12 años entran gratis con un adulto pagado.
¿Cuáles son mis opciones de transporte / estacionamiento para ir y volver del evento?
Hay estacionamiento de pago disponible en SilverLakes. Fomentamos el transporte de Uber y Lyft. Comparta el viaje y siempre tenga un conductor sobrio designado.
¿Qué puedo y no puedo traer al evento?
No se permiten alimentos o bebidas del exterior y no hay entradas y salidas. Consulte nuestras pautas en el sitio web, www.festivallibertad.com, para obtener una lista completa. El sitio web se actualiza continuamente con información.
¿Cómo puedo ponerme en contacto con el organizador si tengo alguna pregunta?
customerservice@activatedevents.com. Por favor, háganos saber cuáles son sus preguntas e indique que se refieren al Festival Libertad.
Para consultas sobre patrocinio, envíenos un correo electrónico a sponsor@activatedevents.com
¿Cuál es la política de reembolso?
Reembolsos y cambios: No hay reembolsos ni cambios. Todas las ventas son finales. Los términos del evento son llueva o truene.
Si su evento es cancelado, le reembolsaremos el monto que pagó por sus boletos utilizando el mismo método de pago utilizado para la compra. Si su evento se pospone, nos comunicaremos con usted con la nueva fecha y hora.
Todo el personal del Evento tiene derecho a rechazar la entrada a cualquier titular de la entrada por cualquier motivo a su discreción. El lugar, la fecha del evento y el talento están sujetos a cambios sin previo aviso y no son motivo para un reembolso.
Al comprar un boleto para el Festival Libertad, reconoce que existe un riesgo inherente de exposición al COVID-19 en cualquier lugar público donde se reúna la gente. COVID-19 es una enfermedad extremadamente contagiosa que puede provocar enfermedades graves y la muerte. Las personas mayores de 65 años y aquellas con afecciones médicas subyacentes se consideran de alto riesgo. Al asistir al Festival Libertad asume voluntariamente todos los riesgos asociados al COVID-19. Siga el distanciamiento social, lávese / desinfecte sus manos y use una máscara para ayudar a protegerse a sí mismo y a los demás. Quédese en casa si tiene fiebre, tos u otros síntomas asociados con COVID-19, como detallan los Centros para el Control de Enfermedades. Activted Events, Bobby Dee Presents, Snoop Dogs Army y SilverLakes NO ASUMEN NINGUNA RESPONSABILIDAD de lesiones, situaciones fuera de nuestro control o daños a la propiedad.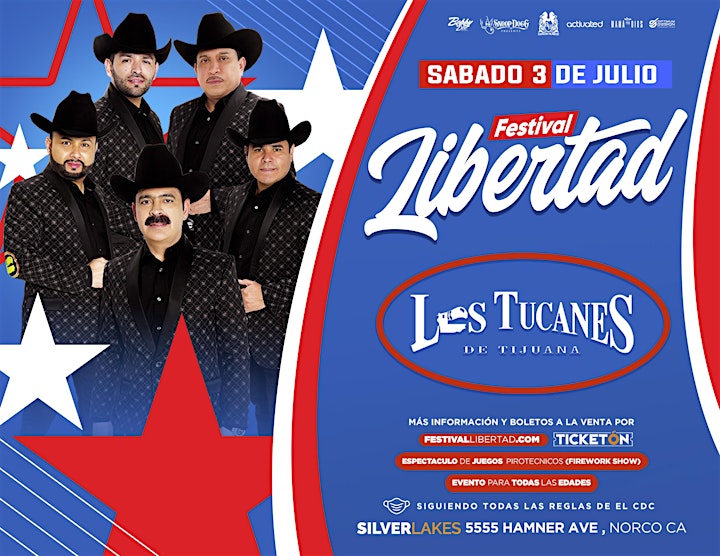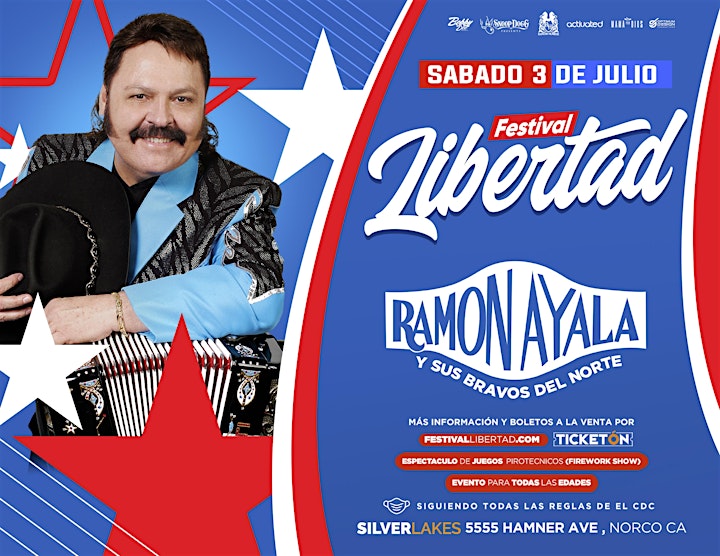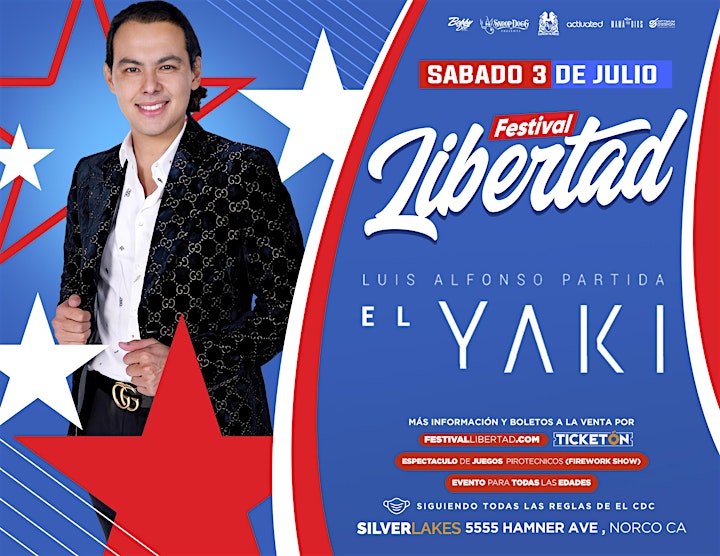 About the organizer
Activated Events is a premier event production company located in Orange County, CA. For over a decade, Activated Events has been producing lasting, memorable events from outdoor movie series to music festivals. Known for Wet Electric, Coastal Country Jam, BeachFront Cinema, Sundown Music Festival, Boots In The Park and countless other brands, Activated Events strives to deliver a tremendous customer experience at unique venues with top, global talent.