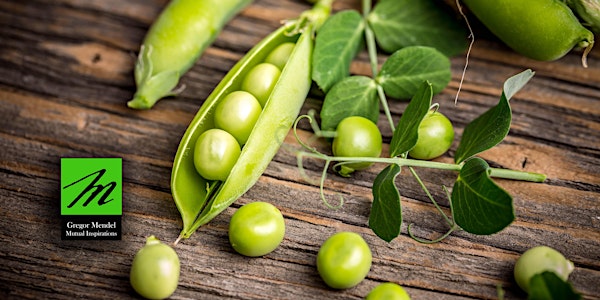 Festival Launch - Exhibit Opening - Documentary: Mendel - The Father of Gen...
Location
Embassy of the Czech Republic
3900 Spring of Freedom Street Northwest
Washington, DC 20008
Description
Break out your best green for the launch of the Mutual Inspirations Festival 2017 – Gregor Mendel, celebrating the founder of modern day genetics. The evening will include a lecture by Villanova University Professor of Astronomy and Astrophysics Edward Guinan on Beyond Peas and Genetics - Gregor Mendel's "Other" Sciences: Bees, Sunspots, Meteorology and Tornadoes on September 21, 2017, at 6pm. The launch will also feature the opening of the exhibit Gregor Johann Mendel – Science, Beliefs, Politics, and the screening of the documentary Mendel – The Father of Genetics.

Explore the multitude of pioneering scientific discoveries and accomplishments and political and civil contributions Mendel achieved as a teacher, monk, beekeeper, biologist, meteorologist, and ultimately Abbot, the ecclesiastical leader for sixteen years. In the end, was he a man of God or a man of science?

Share in a toast to a new season of the festival in Washington, DC – MORE PEAS PLEASE!

BIOGRAPHY: Edward Guinan, Ph.D., Professor of Astrophysics & Planetary Science, Villanova University Edward Guinan is a pioneer in astronomy and space science research that studies our sun, stars, and planets inside and outside our solar system, as well as the search for potential life on these planets. His recent research efforts are primarily aimed at studying the effects that X-ray and UV radiation from host stars have on their planets and to determine if these exoplanets are potentially habitable. Guinan also carries out research in astrobiology on Earth to study extremophiles (life in extreme conditions) as proxies for potential life on Venus, Mars, and Titan. Recently, he worked with a European group to study the potential habitability of the nearest Earth-size exoplanet, Proxima b and found that this temperate planet has a chance to support life. His research has been supported primarily by grants from the National Aeronautics and Space Administration (NASA) and the National Science Foundation. Guinan has published over 600 papers and edited four books.

ABOUT THE DOCUMENTARY: Czech Television's documentary Mendel – The Father of Genetics, produced by Jana Studničková and Otakáro Schmidt, discusses the life and meticulous work of the monk who was the first to apply mathematics to botany through simple yet genius experiments, the significance of which no one understood in the 19th century. Learn about Mendel's twist of fate through his failures, which led him to succeed and discover an entirely new science, genetics, in his garden. Leave, pondering the importance of his legacy on today's genetic discoveries and the relationship between science and faith, then and now. (Dir. Otakáro Mario Schmidt, 2016, 52 min., in English)

Exhibition courtesy of Mendel Museum at Masaryk University in Brno
Film screening courtesy of Mendel Museum at Masaryk University in Brno

Event details:
Date: September 21, 2017, 6 pm Attire: Dress in your best "pea green" | Light refreshments inspired by Mendel

RSVP required by September 20
https://mendelfather.eventbrite.com

Location: Embassy of the Czech Republic
3900 Spring of Freedom St, NW, Washington, DC 20008

Embassy policy: No bags or suitcases allowed. Only small purses permitted but will be checked at the door. No coat check available. You must pass through security for entrance.

RSVP confirmation and photo ID required.
Doors close at 6:15 pm.

Parking: Non-metered parking is available on Spring of Freedom Street and Tilden Street. Closest Metro: The Embassy is about a 15-20 minute walk from the Van Ness Metro Station.