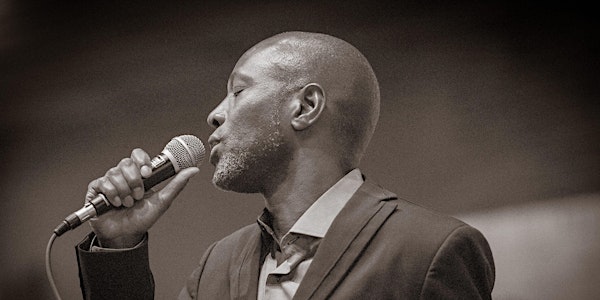 FESTIVAL KONGOSPEL PAIX & SOLIDARITE - 28 JANVIER 20 H / Concert Solidaire
KonGospel, 4 Artistes de talent qui se trouvent derrière énormément de productions* nous invitent à un Concert Solidaire et Citoyen
When and where
Location
Sint-Marcuskerk Ukkel 76 De Frélaan 1180 Ukkel Belgium
Refund Policy
Contact the organizer to request a refund.
Eventbrite's fee is nonrefundable.
About this event
FESTIVAL KonGospel FESTIVAL
SOUL, FUNK, RnB, RUMBA, ROCK, RAI, GOSPEL
KonGospel vous invite à son Festival pour la Paix et la Solidarité le samedi 28 janvier 2023 20:00
Où : Eglise St-Marc d'Uccle 76 av de Fré - 1180 Bxl
TOUS UNIS POUR L'AMOUR DE LA MUSIQUE
VENEZ NOMBREUX SOUTENIR CETTE REVOLUTION SOCIETALE DE L'INCLUSIVITE
TICKET SOLIDAIRE A 1 € SYMBOLIQUE POUR LES PERSONNES A MOBILITE REDUITE 😉
Special Guests : Zicoman, Ange Nawasadio, Yannick, Sly Mamona and Gospel Heart, Diallo (jongleur de street foot) and many more
KonGospel : Des musiciens professionnels invitent des musiciens performant en rue à se poser sur scène avec eux le temps d'un échange musical d'une intensité et d'une richesse rare.
Un moment qui se vit à cœur ouvert.
Bienvenue au second concert Humanitaire-Solidaire-Participatif CHRISTMAS FOR PEACE
LE CONCERT DE CE DEBUT D'ANNEE 2023 POUR LA PAIX
Pour faire démarrer l'année dans la douceur et la sérénité, des Voix d'un talent exceptionnel vont se livrer au jeu de la vérité, et nous emmener dans une nuit de velours Gospel intimiste avec de nombreux invités pour la bonne cause. Nos Artistes se lancent dans l'économie solidaire (EcoSol MK) et y vont de leur BA pour Noël en décidant de partager la moitié des gains avec des associations humanitaires ou caritatives telles CIC et la Maison du Peuple d'Europe -MPEVH. Nos artistes insistent également sur la Mixité Sociale chère à la MPEVH*. ainsi, le concert verra l'intervention sur scène de musiciens qui performent également dans la rue, parmi eux des "Invisibles" dont le talent n'a rien d'invisible, mais également des personnes avec une certaine renommée. Voilà levé un pan du voile pour la partie "Concert Solidaire". Le reste, tu viens, tu vois, tu écoutes et surtout, tu tapes dans les mains.
Qui n'a pas besoin d'un message de Paix qui redonne espoir et réchauffe nos cœurs au son de ce Gospel épuré, ciselé et tellement apaisant qui promet un tour du monde de tout ce que l'on aime ?
J'en suis !
* NB : RESTO CITOYEN : Le Concert "Gospel and more" pour la Paix et la Solidarité à Uccle - KonGospel Festival for Peace and Solidarity at Uccle, le dimanche 25 décembre 2022 - 20h, sera suivi d'une restauration des saveurs du monde, et donc la possibilité de prendre un verre en présence des artistes en toute convivialité. Cela se passera dans le cadre du concept novateur de "Restaurant Citoyen". Ce dernier invite simplement les personnes qui le souhaitent de payer leur plat un peu plus cher afin de permettre de restaurer des personnes moins nanties. On peut carrément leur offrir leur repas en plus de la considération, voire, les inviter à notre table.
Remarquons que le Resto Citoyen étant totalement dépendant des sponsors, celui-ci n'ouvre ses portes qu'à la condition que nous ayons reçu le soutien nécessaire pour l'organiser.
Nous invitons les personnes à venir en famille, spécialement avec les enfants, car une petite animation-atelier leur sera réservée. Oups ! Un pan du voile sur la partie "Participatif"
—--(((
Johan (violon) et Costel (cymbalum – instrument traditionnel roumain) se produisent habituellement dans les belles rues de Bruxelles. Voici un extrait de leur spectacle à l'invitation de KonGospel le soir de Noël, le 25 décembre à 20h... Venez participer à la plus belle initiative d'inclusion de notre époque.
Tous ensemble pour toujours !
#vivreensemble
—--(((
KonGospel invites you to his Peace and Solidar Festival on Saturday, the 28th of January 2023 - 20:00
Where : Église St-Marc d'Uccle 76 av de Fré - 1180 Bxl
—--(((
KonGospel : Professional musicians invite walking musicians to join them on stage for a musical exchange of a rare intensity and richness. Exquisite. !
A moment which is experimented with open heart.
Johan (violin) and Costel (cymbalum) usually perform on the beautiful streets of Brussels. Here is an excerpt of their show with KonGospel on X-mas night… Come and take part to the greatest inclusion initiative of our time.
Altogether forever !
#togetherness
—--(((
KonGospel: Professionele muzikanten nodigen reizende muzikanten uit om hen te vergezellen op het podium voor een muzikale uitwisseling van een zeldzame, zelfs extatische, intensiteit en rijkdom.
Een moment om met een open hart te beleven.
Johan (viool) en Costel (cymbalum - traditioneel Roemeens instrument) treden meestal op in de mooie straten van Brussel. Hier is een fragment van hun optreden op uitnodiging van KonGospel op kerstavond, 25 december om 20.00 uur... Kom en neem deel aan het meest inclusieve initiatief van deze tijd.
Allemaal samen voor altijd!
#samenleven
#livingtogether
More to come Soul, RnB, Rumba, Gospel, Rai, Classic, MUSIC. 😉
KonGosepl : Guy Waku, Alexia, Jess Mk and Maurice Poto
*Productions et collaborations des membres de KonGospel : Mylène Farmer, Ophélie Winter, Janet Jackson & Nelly, Passy, Cerone, Amel Bent, Eddy Mitchell, Johnny Hallyday, Singuila, Tribal Jam, Papa Wemba, Axel Red, Maurane, Michael Bubblé, Vanessa Paradis, Zaïko, Mellowman, Adamo, Frédéric François, Helmut Lotti, King Kester Emeneya, Rappeur dans O'koningana de Guy Waku : Tony Saad (alias Madinda), de Biso na Biso, Dadju, G-Squad, Kadja Nin (Taratata avec Alexia), Sam Mbende, Queen, Preset, Kigoy, Of-u, Chayene (Lil Chayz), Kipili, Nups3e, Don Moja, "Rumba la vie" de Franck Dubosc, etc.
Autres et précisions : Jacob Desvarieux, Comédie musicale : Le Roi Soleil (Christophe Mae : Guy : Ça marche),Marc Antoine (Tant besoin de toi), Amel Bent (better Today), Lynnsha (rendez-vous), Je veux que tu me manques (compo Singuila, arrangements Maurice, Rémix Guy), Marc Eiffel (Words dont Côme easy), François Feldman (album), Laam (Dessin animé Tom et Sheena), Benny B et Daddy K (Je suis de retour), Tribal Jam (Le sens du partage), Queen (You dont fool me - arrangements et mix)
REMARQUE : PROFITEZ DES PREVENTES, AFIN DE BENEFICIER DES MEILLEURES CONDITIONS TARIFFAIRES; LE JOUR-MÊME CEUX-CI RETROUVERONT LEUR NIVEAU NORMAL (voir Concert pour la Paix et la Solidarité de Noël - Christmas for Peace du 25 décembre 2022)
"Le talent ne peut pas rester caché sous le boisseau"
** Extrait KonGospel ci-dessous
VIVRE ENSEMBLE - SAMEN LEVEN - LITVING TOGETHER - BISO NA BISO - TOGETHERNESS
- LE FESTIVAL DU CŒUR -