Festival International de Louisiane Festival Pass
When and where
Location
Lafayette Lafayette, LA
Description

Marquis Pass
Access to MARQUIS TENT (previously the Rain Angel Tent) at Scene Stabil Drill International with complimentary CATERING and OPEN BAR at the Marquis Tent
RESTROOM TRAILER with attendent at the Marquis Tent
Access to the ONSTAGE VIEWING at Scene Lafayette General Fais Do Do and Scene TV5 Monde Lafayette
Access to three new FESTIVAL PASS ZONES at Scene Lafayette General Fais Do Do, Scene TV5 Monde Lafayette, and Scene Stabil Drill International with seating, shade, and a private cash bar.
Access to two exclusive Pass areas: ROOFTOP LOUNGE at Parc Sans Souci (couches, live stream from Scene Stabil Drill International, private bar, phone charging, cooking demos) & THE OASIS at Parc de Lafayette (fountain, tables, chairs, phone charging, and calm atmosphere.)
Access to three new REST STOPS (private, upgraded restrooms with attendant and handwashing stations)
EXPRESS BEVERAGE LINES at the Festival Cocktail Stops
Children 10 and under may accompany a Pass holding adult into all areas except Marquis Tent

Bons Temps Pass
Access to three new FESTIVAL PASS ZONES at Scene Lafayette General Fais Do Do, Scene TV5 Monde Lafayette, and Scene Stabil Drill International with seating, shade, and a private cash bar.
Access to two exclusive Pass areas: ROOFTOP LOUNGE at Parc Sans Souci (couches, live stream from Scene Stabil Drill International, private bar, phone charging, cooking demos) & THE OASIS at Parc de Lafayette (fountain, tables, chairs, phone charging, and calm atmosphere.)
Access to three new REST STOPS (private, upgraded restrooms with attendant and handwashing stations)
EXPRESS BEVERAGE LINES at the Festival Cocktail Stops
Children 10 and under may accompany a Pass holding adult into all Bons Temps Pass areas

Lagniappe Pass
Access to three new REST STOPS (private, upgraded restrooms with attendant and handwashing stations)
EXPRESS BEVERAGE LINES at the Festival Cocktail Stops
Children 10 and under may accompany a Pass holding adult into the Rest Stops
The Festival Pass is worn as a comfortable, fabric wristband good for all five days of the event. The passes will be available for pick-up at the Festival office in downtown Lafayette or onsite during Festival at the Pass Will-Call tent. If you would like your Pass sent by FedEx to you, there is a convienience fee of $15.
Passes can only be purchased via Festival International (you're here!). We cannot guarantee entrance if you purchase passes from another source.
Check out the new access points for Festival Pass holders on the map below. Access points are indicated by the corresponding Festival Pass flag icon.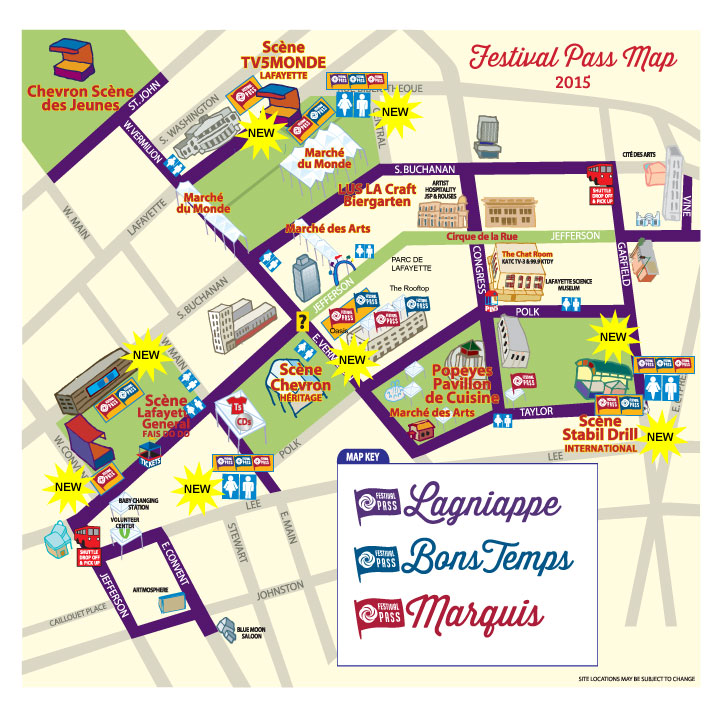 FAQ
What is a Festival Pass?
You asked. Festival listened! Support the same Festival you know and love with the perks you've always wanted. Passes are silk wristbands worn for the 5 days of Festival that allow pass holders access into additional areas.
Is Festival still free?
Absolutely! Festival is free and always will be. Festival Passes are simply an enhancement to your experience.
Are there ID requirements or an age limit to be a pass holder?
You will be asked to show picture ID when picking up your pass(es).
One child 10 or under may accompany one pass holding adult into the Pass Zones, Rest Stops, and other pass areas with the exception of the Marquis Tent. No child without a wristband will be admitted into the Marquis Tent.
Can I pay in installments?
No problem. If you would like to pay for a Marquis Pass or Bons Temps Pass in 3 monthly credit/debit card installments, please call the Festival International office at (337) 232-8086. There is a one-time $10 convenience fee for this service.
Is my Festival Pass transferrable?
Each pass is good for one person. You may transfer or give your pass to someone else before the event begins, but wristbands cannot be removed once they are put on. Excessively loose wristbands will NOT be allowed into the Pass Zones and will be tightened by our security personnel. Tampered with wristbands will not be honored for entrance into Pass Zones.
What is the refund policy?
THERE ARE NO REFUNDS. Festival International de Louisiane is a rain or shine event. The line-up of artists will be announced in early February and is subject to change.
What happens if I lose my wristband?
Tampered with, lost or broken wristbands may be replaced for a $100 dollar fee. Go to the Festival Pass Will-Call and Info tent near La Boutique and we will ask for ID to verify your online purchase.
What are my transport/parking options getting to the event?
We encourage all festival attendees to park for FREE at Cajun Field and take the FREE Service Chevrolet Shuttle service to Festival. Parking downtown is difficult, stressful, and nearly impossible.
What can/can't I bring to the event?
Please support Festival and our vendors by leaving your coolers at home. Dogs and other pets are not allowed on Festival grounds.
Where can I contact the organizer with any questions?
Call the Festival International office at 337-232-8086 between the hours of 9am-5pm Monday through Thursday and 9am-1pm on Fridays.