Festival de la Poutine de Vancouver 2.0: Saturday March 9 2013
Description
Sorry for being sold out of pre-sale tickets. Please note, however, that rush tickets will be available at the door from 1:30pm for the afternoon event and from 7:30pm for the evening event. Also, the number of rush tickets will be limited based on the room capacity. During the day, people tend to come and go, so there are more likelihood to get in around 2h30-3h00pm.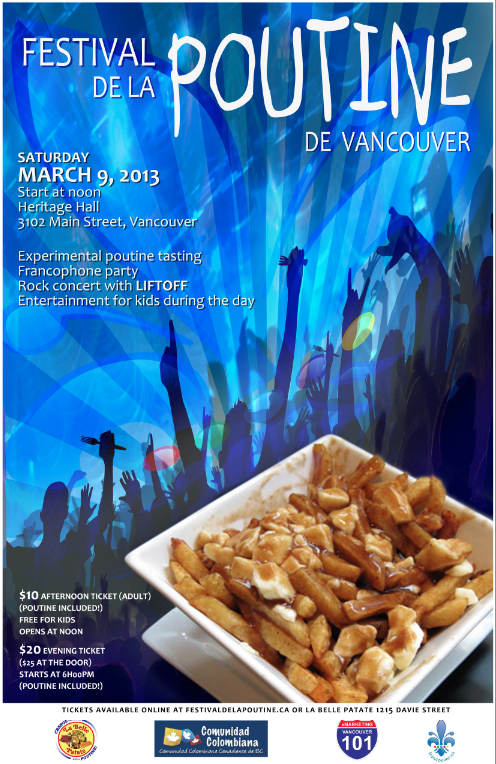 After our first Poutine festival a year ago, we are pleased to come back with our second edition on Saturday March 9, 2013 at the Heritage Hall, 3102 Main Street, Vancouver (near 15th Avenue). This year, we have a better, bigger venue, better location, a full-on rock show with Liftoff, more poutine for everyone. Proud of our partnership with La Belle Patate on 1215 Davie street, we have a full-day of activities this year for the whole family: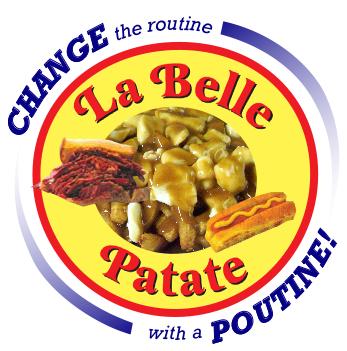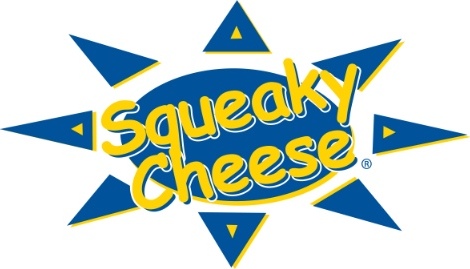 Starting (noon until 5h00pm):
Free entrance for kids
Entertainment for kids in the afternoon (shows, temporary tattoos, magicians, clowns and more)
Taste our delicious home-made poutine with your kids (only $5)
Enjoy our one of a kind customize your poutine salad bar!
Hugo le chansonnier (2h00pm)
Rock concert with Liftoff (liftoffband.com) 3h00pm
Evening (starts at 6h00pm until late...):
Experimental Poutine tasting! (various kinds of poutine to empress your senses with the most original yet tastful poutines ever made - all night long)
Francophone concert with Hugo le chansonnier at 9h00PM
DJ K-Maro
Rock concert with Liftoff (liftoffband.com) at 10h00pm
When: Saturday March 9 2013, starts at noon
Where: Heritage Hall, 3102 Main Street, Vancouver
Cost - Day (Adult): $10 per person (1 poutine included!) Free entrance for kids (Great deals on Poutine! with entertainement for kids)
Cost - Evening (Adult): $20 per person (1 poutine included!) also includes poutine tasting all night long!, *live* Music wiht Hugo le chansonnier, Rock concert with Liftoff, DJ Francophone & more. Evening starts at 6h00pm. Arrive early to taste all the Poutines!
Hope to see you there. If you have questions, please communicate with francouver.ca team at:
Alexandre Brabant: alex@francouver.ca (778-371-9988)
Mario Beadoin: mario@francouver.ca
Organizer of Festival de la Poutine de Vancouver 2.0: Saturday March 9 2013
Francouver.ca est une organisation francophone non-officielle réunissant francophones & francophiles vivant à Vancouver (Colombie Britannique) dans une foule d'activités passionantes. Vous pouvez d'ailleurs vous inscrire gratuitement afin de recevoir les informations sur tout ce qui passe dans la francophonie à Vancouver. Pour plus d'information, visitez le site francouver.ca.