Description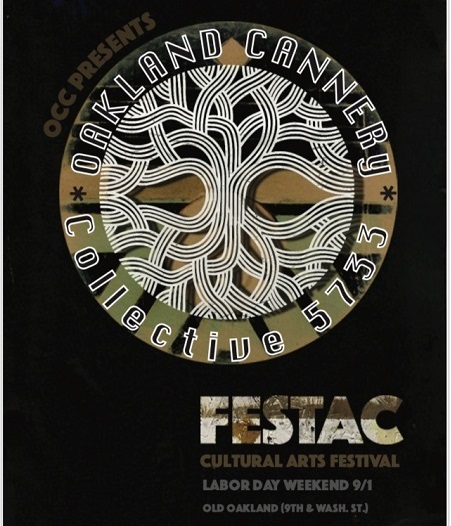 Oakland CA
FREE EVENT/ALL AGES
WHAT: FESTAC (A festival of Art & Culture)
WHEN: Labor Day Weekend
Friday

Night Gala August 31st from 7-12midnight

Saturday September 1st from 12noon-10pm
WHERE: Old Oakland 9th & Washington Street Corridor
WHY: The Oakland Cannery Collective, seeking to preserve artist small business, live/work studio spaces and culture.
FESTAC: A celebration dedicated to artists: writers, painters, sculptors, musicians, and performers. Together with other artistic communities of Oakland, we seek localized policies to protect, engage, and enhance art and cultural activities, with support for community and social equity.
WEBSITE: www.theoaklandcannery.com
The Benefit Package $25 :Gift Bag, Poster, T-Shirt & Wrist Band For

Friday

Night Gala and discounts at selected venues
The VIP Benefit Package $75 : The same as The Benefit Package PLUS access to VIP Festival Courtyard
Limited Edition Signed Lithograph Poster $125