Description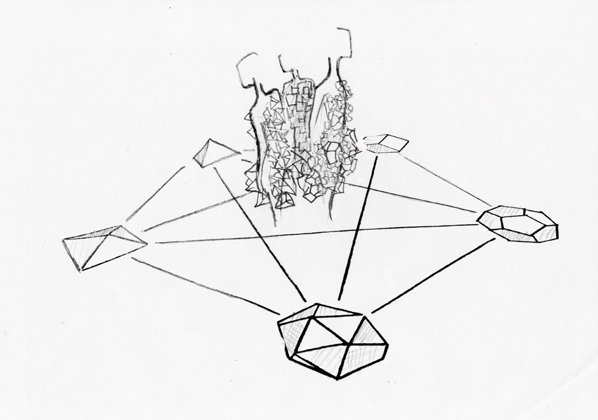 ---
The innovative fashion collective threeASFOUR combines avant-garde fashion and ancient bread-breaking rituals in the interactive performance Fest. Fest features three female performers wearing couture dresses of bread baked in shapes of the five Platonic solids. The women will stand in the center of a five-pointed star, surrounded by male spice-bearers. Each man will hold a geometric vessel containing a spice mixture representing one of the five classical elements: fire, earth, air, ether, and water. Audience members will be invited to enter the star in groups of three, break a piece of bread off the dresses and dip it in the spices.
Fest is designed in collaboration with Breads Bakery, culinary curator Naama Shefi, Lior Lev Sercarz of La Boîte, architects Bradley Rothenberg and Studio Christian Wassmann, body painter Oliver Halsman Rosenberg, Bruce Gitlin at Milgo Industrial Inc., and Bollinger Atelier. The performance is directed by Jessica Sofia Mitrani with music and video projections by Georgia (Brian Close and Justin Tripp) and hair by Bob Recine.
Festis presented with Art Production Fund as part of Performa 13 and conceived in relation to threeASFOUR: MER KA BA, a multimedia installation on view at The Jewish Museum through February 2, 2014.
Fest (sketch), 2013 © threeASFOUR

Organizer of Fest // presented as part of Performa 13