Description
What is Fertility Awareness and Why Is It Important?
Are you someone who wants to avoid pregnancy but you don't want to be on hormonal contraceptives? Do you want to have a baby, but are struggling to conceive? Are you currently on homornal birth control and experiencing poor side effects? Do you have irregular menstrual cycles or painful, heavy periods? Or do you just want to become more intune with your body's natural cycles? The Fertility Awareness Method (FAM) is your answer!
I am very excited to say that Sarah Bly from Grace of The Moon is coming to Tampa to share her vast knowledge of FAM with us. FAM is a self-empowering practice of tracking three main signs of fertility: cervical fluid changes, cervical position changes and basal body temperature. Charting these as well as secondary fertility signs can help you make a decision each day as to whether you are fertile or not. That makes FAM an extremly effective tool for both those who want to postpone pregnancy or to acheive it.
Tracking your fertility signs over time will offer wonderful insight into the balance and health of your reproductive system. Those signs inform women what hormones are activating the various parts of their cycles and the benefits, challenges, signs and signals these hormones offer us. It is a way of learning and keeping track of these changes and using this information to care for our hormonal health, optimize our fertility and to consciously choose when and if we would like to be pregnant.
---
Saturday and Sunday Workshop
Schedule
Saturday 9:00am - 3:00pm
Sunday 9:00am - 3:00pm
Some details from the curriculum:
"During a Fertility Awareness workshop we begin by covering the history of Natural Birth Control methods and their effectiveness. I share with you the reasons behind teaching the method that I do, its specifics, pros and cons and the effectiveness for contraception. We then briefly discuss the male and female reproductive anatomy and physiology. Quite a bit of time is spent on the female hormonal system. I feel it is imperative that one understands the basics of the hormonal dance before learning the method. From there we delve into the 3 primary signals of fertility that we will be following, cervical fluid, cervical changes and temperature, followed by a brief discussion on the secondary signs of fertility. I then share with you the rules of the method for contraception and the details of how to chart. We look at practice charts and discuss variations and exceptions to the norm. We then spend time discussing the various times and transitions in a woman's life and how to support our bodies and hormones throughout our reproductive years and beyond!
Workshops are perfect for those wanting to use FAM throughout their reproductive years for self-awareness, empowerment, gauging gynecological health and all the various means it provides. They are especially appropriate for those wanting to practice FAM for birth control. For those seeking specific knowledge on consciously conceiving their child without plans to use FAM for other purposes in the future, the course will provide what you need and a lot more."
---
Who is Sarah Bly?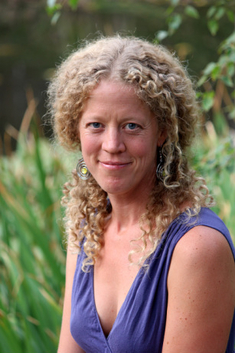 Sarah began studying women's health at a very young age as life and its' experiences offered her the opportunities to do so. She apprenticed as a midwife with several midwives and in 3 different countries. After attending births for over a decade she has now shifted her practice to focus on women's health education.
The emphasis of fertility awareness in my midwifery practice has come naturally to Sarah. She was blessed to be introduced to Natural Family Planning as a teenager.
Sarah has used the FAM practice in various degrees for nearly twenty five years. For the last 15 years, it has been her only form of birth control and has been completely successful. In 2007 she and her husband chose to use FAM to consciously conceive a child, who came in on the first try and was born in late June of 2008. Sarah went on to practice FAM while nursing for the following 2 and 1/2 years.
Sarah lives in Ashland, Oregon with her family, chickens and bees. She enjoys dancing, hiking, camping, singing, gardening, beekeeping, cooking and loving. All things wild and free are her teachers.