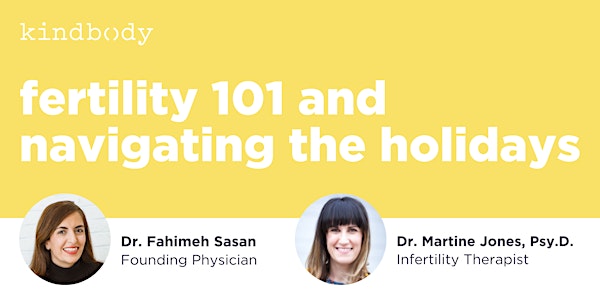 Fertility 101 & Navigating the Holiday Season
Join us to review fertility essentials & how to navigate difficult conversations around infertility and egg freezing during the holidays.
About this event
Join Dr. Fahimeh Sasan as she reviews the fertility need-to-knows, how fertility treatments like egg freezing and IVF work, and what steps you can take to plan ahead. She will be joined by Infertility Therapist, Dr. Martine Jones, to discuss how to navigate difficult conversations and well-intended questions around your family-building plans and fertility journey this holiday season.
We'll cover topics like:
* What are the physical, emotional and financial aspects around fertility cycles?
*What an egg freezing cycle really like?
* What should I know about my own fertility?
* What treatment options are available to me?
* How should I prepare for my own fertility journey?
*How can you plan ahead for the difficult and insensitive questions?
*How to avoid and manage triggers?
This event is free to attend with RSVP and is open to all.
Join event here: http://kindbody.zoom.us/my/kindbody