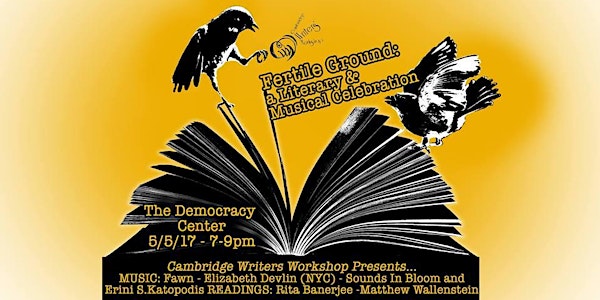 Fertile Ground: A Literary & Musical Celebration
When and where
Location
The Democracy Center 45 Mount Auburn Street Cambridge, MA 02138
Refund Policy
Contact the organizer to request a refund.
Description
CWW Presents: Fertile Ground for Celebration of Literature & Song

Join us for a night of creative writing & music by and for diverse voices from NYC to Boston.

7 p.m. - 7:45 p.m. Literary Readings/Performances

- intermission & book/album signing-

8 p.m. - 9 p.m. Musical Performances

Our evening will feature lyrical readings and musical performances by Matthew Wallenstein, Rita Banerjee, Erini Katopodis, Sounds in Bloom (Diana Norma Szokolyai & Dennis Shafer), Fawn (Anne Malin Ringwalt and Will Johnson) and Elizabeth Devlin, and will take place at the Democracy Center in Harvard Square, Cambridge.

Tickets are available for pre-purchase in advance on Eventbrite, and will be available for purchase at the door starting at 6:30 PM. Sliding scale: $5-10. Your ticket helps us support the artists and the Democracy Center. Please note that the Democracy Center is not wheelchair accessible. Poster Design By: www.DevlinDesignandIllustration.com#DevlinDesignandIllustration

Here's more about our performers:

Matthew Wallenstein's writing has been published by the University of Chicago, the University of Maine Farmington, Bowling Green Sate University and others. He lives in a small Rust Belt town. "Tiny Alms," his new release, covers a range of topics from growing up in poor rural New Hampshire to mental illness to the deportation of his wife. It is his first book and was Published by Permanent Sleep press.

Rita Banerjee is the Executive Creative Director of the Cambridge Writers' Workshop and teaches in the Department of African, Middle Eastern, and South Asian Languages and Literatures at Rutgers University. She received her doctorate in Comparative Literature from Harvard and her MFA in Creative Writing from the University of Washington, and her writing appears in Poets & Writers, The Rumpus, Painted Bride Quarterly, Mass Poetry, Hyphen Magazine, Los Angeles Review of Books, Electric Literature, VIDA: Women in Literary Arts, AWP WC&C Quarterly, Queen Mob's Tea House, Riot Grrrl Magazine, The Fiction Project, Objet d'Art, KBOO Radio's APA Compass, and elsewhere. Her first collection of poems, Cracklers at Night (Finishing Line Press), received First Honorable Mention for Best Poetry Book of 2011-2012 at the Los Angeles Book Festival, and her novella, A Night with Kali, in Approaching Footsteps (Spider Road Press), released in November 2016. Finalist for the 2015 Red Hen Press Benjamin Saltman Award and the 2016 Aquarius Press Willow Books Literature Award, she is currently working on a novel, a book on South Asian literary modernisms, and a collection of lyric essays

Erini S. Katopodis is a Greek-American poetry, fiction, and music writer from Los Angeles, CA. She's graduating from Emerson College with a BFA in Fiction this May. Erini loves her music to be dreamy, folky, and intimate, with a touch of the strange, and loves making new sounds with new people. Performing with her are Shelby Marnett and Rob Luzier.

Sounds in Bloom (Diana Norma Szokolyai & Dennis Shafer)
Parisian literary life and contemporary art & music laid the groundwork and inspiration for Sounds in Bloom, a poetry-music-movement-art ensemble co-founded by poet Diana Norma Szokolyai & saxophonist Dennis Shafer in 2006. The Boston Globe has called their work "avant-garde." Originally participating in David Barne's Spoken Word nights in Paris and featured by Paris Soirees Salons, Sounds in Bloom now performs in NY, Boston and & Paris. Some places they have performed include The Firehouse Space, Pete's Candy Store, Barbès, The Boston Conservatory, The Outpost, Theatre Salle Edmond Michelet, and the Cité International des Arts.

Fawn is Will Johnson and Anne Malin Ringwalt. Combining elements of banjo, guitar, ukulele, synth and poetry, the duo explores the often-ignored spaces between pre-established genres. Fawn's debut EP, "Neither Dog Nor Car," was released on November 5, 2016, and their first music video, for "Good Earth," premiered on NPR's All Songs Considered TV in January 2017.

Elizabeth Devlin, with her enchanting combination of lilting voice and Autoharp, is a self-produced NYC singer-songwriter with avante-garde-folk sensibilities; she defies traditional song structures, weaving small worlds where magic and fantasies collide. Devlin released her third, full length album, Orchid Mantis, in February 2017. After completing a two week, 12 show, tour down to SXSW 2017 and back to Brooklyn (playing shows in North East, PA, Cincinnati, Nashville, Asheville, Houston, New Orleans, Austin, etc), Devlin will tour in France in May and then return stateside to tour the Northern Midwest, out to Denver and back. Devlin's first release in five years, Orchid Mantis is a follow-up to the previously released albums: For Whom the Angels Named (Fall of 2011), Ladybug EP (Winter 2011) and All Are Relative (Winter 2009).