Description
Lela Orr and Lea Nyland, Co-Creative Directors of Dallas-based eco-luxury brand, Ferrah, will be showcasing their sixth collection, AERIAL in on November 3. See below for details.
AERIAL is a fashion runway + presentation with proceeds from ticket sales benefitting Texas-based philanthropies that raise funding for female survivors of human trafficking.
[ AERIAL RUNWAY + PRESENTATION ]
TIME: 4PM VIP - 4:30PM GA
DATE: November 3, 2019
Location: Kings Club (formerly Old Dallas High School)
[ Each ticket includes entry to our runway show + an hour-long fashion presentation for a closer look at each garment featured on the runway + music by a local DJ + drink tickets for the open bar + non-profit donation. ]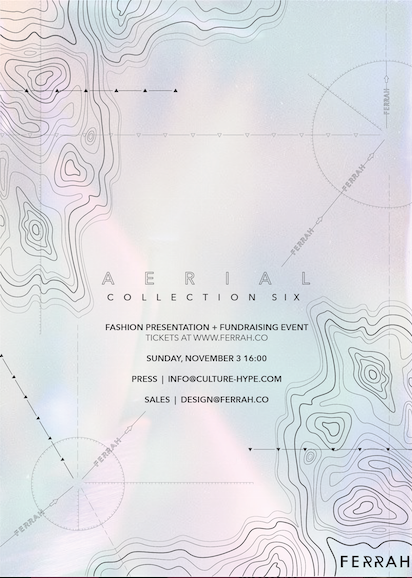 Ferrah is proud to partner with local artists including all Texas-based installation artists, DJs, photographers, accessory designers, and more to make the event a fully-emersize fashion experience.
Collection VI, AERIAL, is inspired by human's determination to fly - to hang poised between the illusion of immortality and the fact of death - to rise from the Earth thought innovations in aviation. AERIAL is also a metaphor for shaping our world views by changing perspective. We live our lives on the ground. What would we feel and think looking down from the sky?
At Ferrah, AERIAL, symbolizes female freedom, independence, and growth.
We must rise above the Earth — to the top of the atmosphere and beyond — for only thus will we fully understand the world in which we live. - Socrates