Description
Fernandes Lumber Eggfest!
Welcome Egg Enthusiasts!
Fernandes Lumber Eggfest is dedicated to the Big Green Egg, "Eggheads" (Egg Enthusiasts), family and friends. Whether you own an Egg or just want to sample some new tastes and culinary creations then this Eggfest is for you!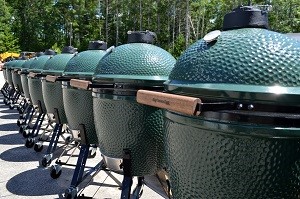 Come Join Many EGGstraordinary Eggheads for a day of fun and incredible food!
Tickets must be purchased to attend the event. Walk-Up registration available.
Demo Eggs will be for Sale and are presold only. If you are interested in purchasing a Demo Egg, please email Kevin or Ken at fernandeslumber@gmail.com for more details and availability.
Seminar Schedule
11:15am Big Green EGG 101
12:00pm How do you cook a Steak
12:45pm Using your EGG as a Pizza Oven
2:00pm Dessert on the EGG

FAQs
What is an Eggfest?
An event where Egg Enthusiasts and Tasters gather for a festival type event dedicated to the Big Green Egg. Egghead chefs showcase their skills and share culinary creations all cooked on the Big Green Egg. Tasters enjoy samples of unique recipes such as Pulled Pork, Pizza, and even Desserts. Eggfests are the perfect opportunity for current Egg owners to enhance their Eggsperience, as well as, beginners to learn more about the Egg.
What is the refund policy?
Refunds are available up to May 31, 2019 There will be no refunds after May 31, 2019
How can I purchase tickets?
All Tasters must purchase tickets. Online registration end May 29, 2019. Walk-Up tickets will be available.