Description
Love yogurt, beer, and sauerkraut? How about kimchi, ginger ale, and kombucha? These foods, and many others, are made through the process of fermentation or culturing. The best thing about fermented foods—in addition to their health benefits—is how easy they are to make at home. Led by Ypsi. fermenting pro, Jared Talaga, this class will cover the basics of Sauerkraut. You'll have the opportunity to sample and taste many of Jared's own fermented goods and go home knowing how to get started fermenting at home! This is an introduction class. Registration required by Sept. 30th or Email Garden Program Manager (growinggardens@growinghope.net) to reserve your spot and pay at the door. Growing Gardens Members can use their 15% membership discount to attend.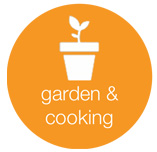 Garden & Cooking Workshops at Growing Hope combine and connect fundamental garden and kitchen skills. From garden planning and harvesting, to chopping and serving, these classes are truly seed to stomach.

About Veggucation: Explore gardening and cooking with Growing Hope's Veggucation workshops, classes, demonstrations, and tastings. Whether at our demonstration farm, in our certified kitchen space, or out in the community, we aim to motivate you to start growing, cooking and eating more seasonal, local produce in order to benefit your health. Pre-registration is required. Please register at growinghope.net/programs/growing-gardens or email Program Manager at growinggardens@growinghope.net. Classes will fill up so register early!
Cancellation Policy: Classes and Workshops will be cancelled unless the minimum enrollment of five attendees is met. Veggucations cancelled by Growing Hope due to low enrollment, weather, or closure will automatically be fully refunded. You'll be notified of a cancellation 24 hours prior to the start of the program.