Fermentation and Yeast Management, NC Craft Beverage Regional Exchange Group

Thursday, April 19, 2012 from 12:30 PM to 5:00 PM (EDT)
Event Details
April 2012 FERMENTATION AND YEAST MANAGEMENT
Highland Brewery, Asheville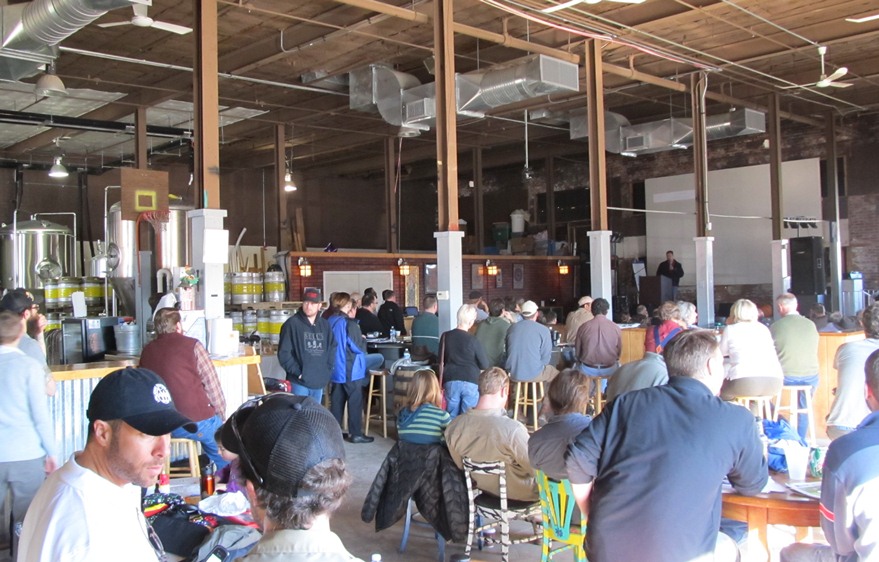 Commercial and aspiring brewers, winemakers, hop and grape growers, distillers, and anyone involved in fermented/craft beverage production are invited to the 2012 NC Craft Beverage Regional Exchange Group meeting series.
Join us April 19, 2012 at Highland Brewing Company in Asheville, NC for a combined meeting for hop growers and discussion of yeast care for consistent fermentations. 
This will include a blind tasting of beers brewed with local, NC-grown hops to compare against beers brewed with the same varieties of hops grown in the Pacific Northwest.  Your participation and input is highly valued at this meeting!
This meeting will be focused on managing fermentations, from a very applied and practical standpoint.  Discussions will include basic yeast and microbial activities, propagation considerations, nutritional demands, fermentation kinetics, and quality aspects associated with such processes (e.g. sensory implications, attenuating ethanol output, minimizing time input).  Everyone likes a clean and trouble free ferment!
Supported by the North Carolina Biotechnology Center and organized by Appalachian State University, the mission of this Regional Exchange Group (REG) is to foster collaboration among members of the growing and dynamic fermentation/craft beverage industries of North Carolina. Meetings feature speakers focused on fermentation technologies and scientific practices for use throughout the production process.
The meeting and presentations will run Thursday, April 19th from 12:30 to 5pm at Highland Brewing Company. There are no fees for this REG meeting.
Speakers and Topics for April 19, 2012
Hop growing resources and open discussion 12:30-2pm
Dr Jeanine Davis is co-leader of the North Carolina Hops Project through NC State University, led the NC Specialty Crops Program for eight years, and is closely involved with the hops effort in the mountains. She will lead a discussion on hops in NC as a continuation of our previous meeting.  We encourage all hop growers, current or future, to get in on this discussion and make sure that the needs, concerns, and values of the hop-growing community are brought to the table.  Stick around and compare several single-hop beers sourced from NC versus the PNW.
Managing Fermentations 2-5:00pm (Blind tasting and discussion at end of this session)
Dr. Eric Allain, a biochemist at Appalachian State University, brewing instructor and brewing enthusiast, will discuss the basic mechanisms behind bacteria and yeast activity with a focus on applications and tangents for grain-based ferments.
Michael Jones, a Fermentation Specialist for Scott Laboratories, has spent decades in the wine business, and is an engaging, practical, and informative presenter. He will lead a discussion on caring for your microbes to ensure successful fermentations and common causes and recommendations for stuck or troublesome ferments.
Dr Seth Cohen, director of ASU Enology / Fermentation Science, will moderate the event and contribute to discussions on managing fermentations.
When & Where

Highland Brewing Company
12 Old Charlotte Highway
Asheville, NC


Thursday, April 19, 2012 from 12:30 PM to 5:00 PM (EDT)
Add to my calendar
Organizer
The Fermentation Sciences program at Appalachian State University in Boone, North Carolina, is an inter-disciplinary degree within the College of Arts and Sciences intended to provide students with a strong background in chemistry and biology and a considerable focus in business, marketing and entrepreneurial principles.
Since 2010, the Fermentation Sciences program has secured external funding from the GoldenLEAF Foundation, North Carolina Biotechnology Center, Small Business Administration, and North Carolina Rural Economic Development Center to present science-based, production-relevant workshops for the region's craft beverage industry.
Find more information on the degree program at http://fermentation.appstate.edu/ or learn about educatoinal outreach and industry lab services at http://wine.appstate.edu/