Location
Aurum Restaurant
377 Centre St
Jamaica Plain, MA 02130
Description
Jamaica Plain's newest eatery, Aurum Restaurant, and Boston Ferments are teaming up for a night of fermentation! The workshop will include a fermented dinner & paired fermented drinks, a short lecture on the history & culture of fermentation, and a hands-on fermentation demo.
The evening kicks off with a fermentation-inspired vegetarian kimchi Syrian pie (which can be vegan - please just let us know) plus a selection of sides like house-made beet chips. We are pairing this meal with THREE unique fermented drinks: a fermented tea kombucha from Katalyst Kombucha, a honey mead from Green River Ambrosia, and a fermented beet kvass (served in handcrafted cups - see below - which you will take home!) by workshop leader Jeremy Ogusky.
Next, we will have a short lecture & discussion on the biological, political, and symbolic 'culture' of fermented foods around the world with Jeremy Ogusky. Jeremy is a local fermenting enthusiast, JP studio potter, and founder of Boston Ferments. We will then learn to make one of the simplest lacto-fermented treats - sauerkraut! We will break into groups, chop veggies and everyone will go home with a jar full of fermenting cabbage.
All participants will finish the workshop with a healthy belly full of fermented foods as well as the knowledge & confidence to begin fermenting in their kitchen, and a jar full of fermenting kraut. This starter class will cover everything you need to start fermenting on your own: philosopy, preparation and problem-solving. Please join us!
If you want to learn to ferment AND go home with a handcrafted fermentation crock to create your own sauerkraut, kimchi & pickles in, this is your chance! Our instructor, Jeremy, is a studio potter and creator of the crocks and he will bring a selection of colors to the workshop that you can choose from. Then you can prepare your own sauerkraut in the workshop in your own handmade crock!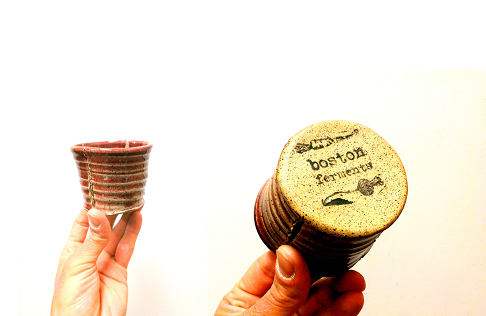 Instructor Bio
Jeremy Ogusky is a passionate fermenting evangelist, public health practitioner and studio potter living in Jamaica Plain. In his former public health life, he engaged in HIV/AIDS prevention with the Peace Corps in Southern Africa, health education in South America, and public policy in Washington, DC. Jeremy's current studio practice draws from his global health experiences and he is excited and proud to craft beautiful & useful handcrafted fermentation crocks which help folks create ancient, healthy & low-tech fermented food!


**we understand that $45 is a lot to ask for a night's event - if you cannot afford this & are interested in paying what you can + bartering, please be in touch! **