Description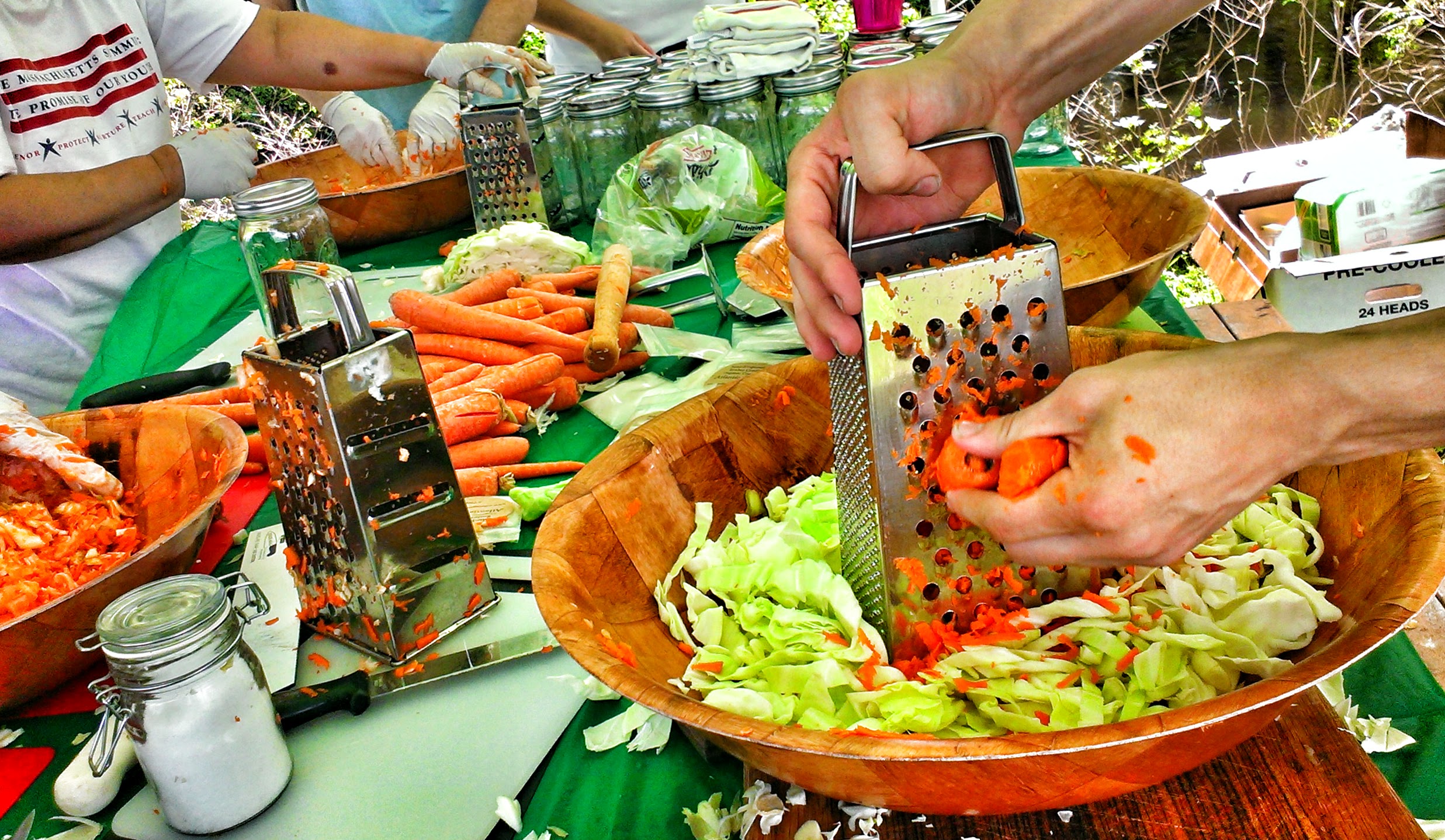 Fermentation 101:
farmers market tour, lecture on the political
& biological 'culture' of kraut, and demonstation
Fermentation – our original & mostancient method of preservation – is once again chic! And pickles, kimchi & other potent fermented foods are showing up on plates at many of the trendiest restaurants. Fermented food, however, is surprisingly easy to make, and you can transform vegetables, grains and dairy into your own healthy creations. Join local fermentation expert Jeremy Ogusky at the Egleston Farmers Market in Jamaica Plain, where you will first receive a tour of the produce stands and an overview of the historical, philosophical, and social elements of fermenting. You will then have the opportunity to slice and dice fresh vegetables and make a jar of sauerkraut food to take home.
Come learn to ferment, and you'll go home with the confidence & information that will lead to you to continue exploring and creating more live fermented foods. This basic fermentation 101 class will cover everything you need to start fermenting: ingredients, philosophy, preparation, and a community of fermentation enthusiasts!
Basic Class outline:
Introductions

Tour of farmers market where we will purchase the vegetables direct from the farmers & chat with them about farming & fermentation

Lecture & discussion about fermentation from scientific, symbolic, historical & political perspectives; and the benefits of lacto-fermentation

Demonstration and food preparation

Culture Sharing: Bring any cultures you'd like to share and exchange (sourdough, water or milk kefir grains, kombucha mothers, etc)
Each participant will take home a fermenting jar of sauerkraut created in class and the knowledge and confidence to explore with fermentation projects at home!
Jeremy Ogusky Biography
Jeremy Ogusky is a passionate fermenting evangelist, public health practitioner and studio potter living in Jamaica Plain. In his former public health life, he engaged in HIV/AIDS prevention with the Peace Corps in Southern Africa, health education in South America, and public policy in Washington, DC. Jeremy's current studio practice draws from his global health experiences and he is excited and proud to craft beautiful & useful handcrafted fermentation crocks which help folks create ancient, healthy & low-tech fermented food!
Learn more about Jeremy and his fermentation crocks at www.oguskyceramics.com and read about Jeremy's fermentation background and ceramic work here.