Feria de Viviendas San Francisco 2018

Saturday, June 2, 2018 from 11:00 AM to 3:00 PM (PDT)
Event Details
Feria Anual de Recursos de Vivienda
en San Francisco


Apoyo para inquilinos, compradores de vivienda por primera vez y dueños de casa
Este evento GRATUITO lo ayudará a conectarse con recursos de vivienda gratuitos y de bajo costo.
 
Talleres | Asesoramiento individual
Información de vivienda | Visitas a propiedades


Busca comprar en SF?


• Obtenga información sobre oportunidades de vivienda asequible, incluyendo viviendas con precios por debajo del mercado
• Obtenga información sobre los programas locales, estatales y nacionales para asistencia con el pago inicial
• Infórmese sobre los nuevos proyectos en SF y visítelos en un recorrido en autobús
 
¿Necesita vivienda de alquiler asequible? ¿Necesita ayuda con los problemas de alquiler? Esta en problemas de desalojo?
• Aprenda sobre programas de alquiler asequibles.
• Comprenda sus derechos como inquilino.
• Conéctese con recursos legales y servicios de prevención de desalojo. 
¿Tiene problemas con los pagos de su hipoteca?


• Reciba asesoramiento de un consejero de vivienda certificado por HUD.
• Solicite programas que le ayuden a reducir el pago de su hipoteca o poner su cuenta morosa al día.
• Hable personalmente con prestamistas hipotecarios. Traiga los documentos de su préstamo y hable con los representantes de préstamos. 
Esté atento sobre la información de talleres de la Feria de Viviendas y visitas en autobús guiadas por expertos de la industria.
La preinscripción estará disponible pronto. Los asistentes ya inscritos para la Feria de Viviendas recibirán notificación por correo electrónico cuando esté disponible la inscripción.
Como llegar
Caminando desde el BART:
• Salga de la estación de Balboa y camine sobre el puente la autopista hasta Ocean Ave.
• Gire a la DERECHA en Phelan Ave.
• Camine hacia el grupo de edificios en el lado derecho de la calle, hacia el segundo edificio, que es Smith Hall.
• Ingrese a través de la puerta automática a la derecha del cajero automático de Wells Fargo.
Otras Opciones de transporte Público:
·        La Feria de Viviendas es accesible por las siguientes rutas de MUNI: K, 8, 8X, 29, 43, 49, and 54.
Conduciendo:
• Desde Ocean Ave., gire a la DERECHA en Phelan Ave.
• En su IZQUIERDA, verá un edificio grande y nuevo. este es el edificio Multi Use Building  (MUB).
• Después del MUB, ingrese a la entrada de "Upper Reservoir Lot Student Parking" (gire a la IZQUIERDA en el semáforo y manténgase a la DERECHA para permanecer en el estacionamiento de estudiantes.
• Compre un permiso de estacionamiento de $ 3 en uno de los quioscos. Estacione en uno de los espacios para estudiantes.
• Una vez este caminando, cruce Phelan y diríjase hacia Ocean Ave.
• Cruce Science Cir. y camine más allá del estacionamiento en el lado izquierdo.
• Gire a la IZQUIERDA hacia un grupo de edificios. El segundo edificio es Smith Hall.
• Ingrese a través de la puerta automática a la derecha del cajero automático de Wells Fargo.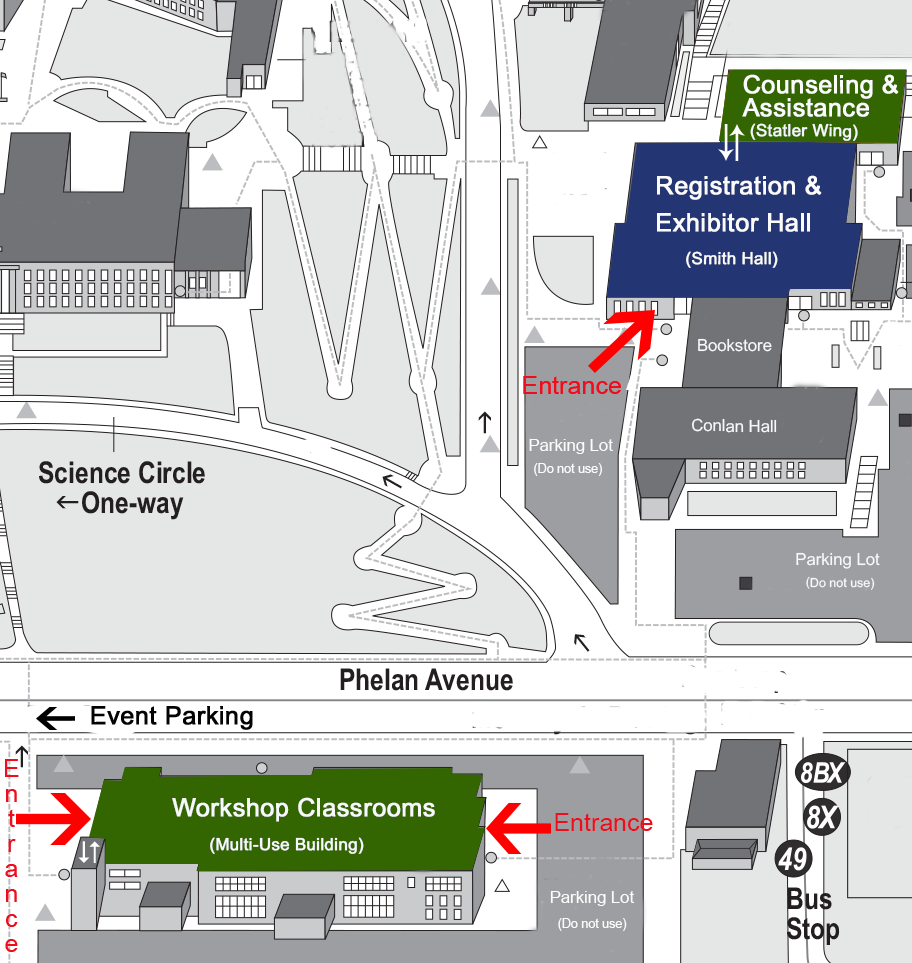 PRESENTADO POR: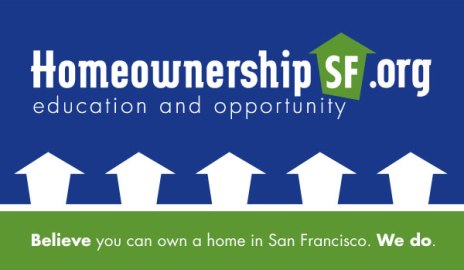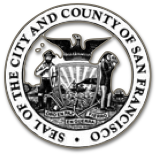 Mayor's Office of Housing& Community Development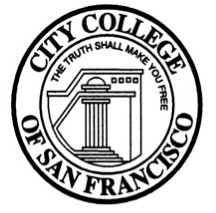 City College of San FranciscoReal Estate Department
¿Interesado en ser voluntario u tener una mesa de expositores?
Envíenos un correo electrónico a: info@homeownershipsf.org.
Save This Event
When & Where

50 Phelan Ave
50 Phelan Avenue
San Francisco, CA 94112


Saturday, June 2, 2018 from 11:00 AM to 3:00 PM (PDT)
Add to my calendar
Organizer
Homeownership SF is a collaboration of experienced, nonprofit housing counseling service providers and serves as a centralized resource for affordable housing opportunities and foreclosure intervention education and counseling in San Francisco.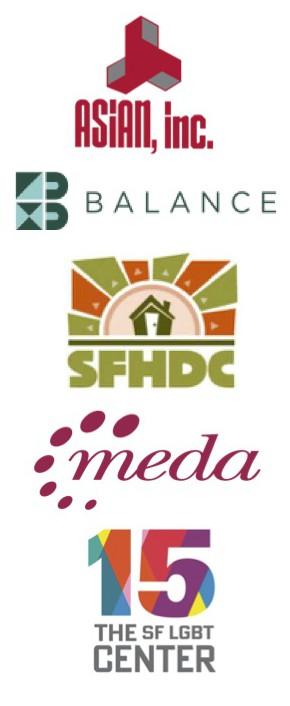 Feria de Viviendas San Francisco 2018