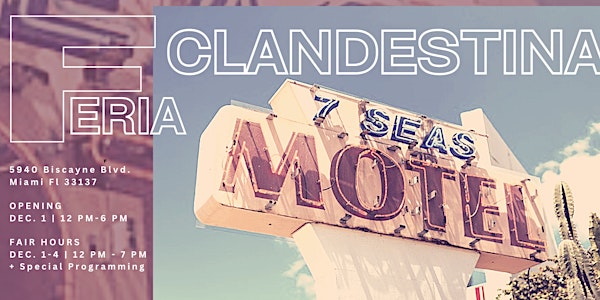 FERIA CLANDESTINA 7 Seas Motel | Daily Pass + Opening Party Ticket
Feria Clandestina @7 Seas Motel is a 4-day art fair that will host artists, galleries, and independent projects from 8 countries.
When and where
Location
Seven Seas Hotel | Miami Hotel 5940 Biscayne Boulevard Miami, FL 33137
About this event
FERIA CLANDESTINA @ 7 Seas Motel
December 1- 4, 2022
Feria Clandestina at the 7 Seas Motel is a four-day Miami art fair that will host artists, galleries, and independent projects from Brazil, Chile, Colombia, Mexico, Netherlands, Spain, United States, and United Kingdom from December 1 -4, 2022.
Curator Nuria Richards and real estate developer Sagar Desai have partnered to provide discounted room rates and exhibition space to 35 projects from eight countries during a season that has become cost prohibitive for both locals and visitors, challenging the rich cultural exchange tradition of the city.
Special projects include installations and activations by artists Monika Bravo (Miami), Claudio Marcotulli (Miami), and Andre Komatsu (Sao Paulo). The program will showcase the Recording Exhibition titled Lop-Off Sessions, curated by Tony Kapel and Maitejosune Urrechaga from Houndstooth Cottage, to take place on December 3 from 3 - 8 pm, and the auction Buy or Burn by No Es Una Galería (Mexico City/Amsterdam) on December 4 the closing event with a set by Rat Bastard.
Clandestina was founded by Nuria Richards in 2019 as a collateral art initiative and is a channel of participation for artists, galleries, and independent projects. Clandestina partners with the local and international community to create ecosystems that promote curatorial opportunities and cultural exchange.
The iconic 7 Seas Hotel is one of the oldest motels within historic Biscayne Boulevard in the Miami Modern neighborhood, also known as MiMo. The two-story building was set for Donnie Brasco, Dexter, and No Pain No Gain. The Property is undergoing renovation under the stewardship of Sagar Desai and Activate Hospitality.
5940 Biscayne Blvd. Miami Fl 33137
MIAMI MODERN DISTRICT