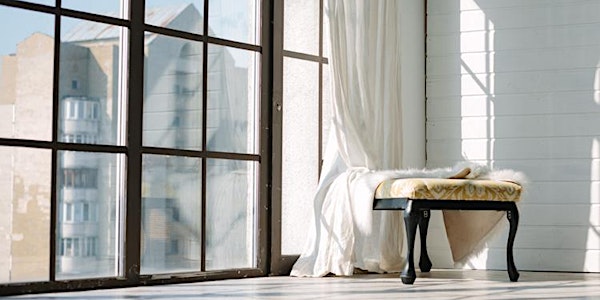 FENG SHUI HOME DECORATING- 6-Video Course - Certificate Course
New hands-on course about decorating our homes with Feng Shui to maximize our energy for wellness and success. Certificate Course.
About this event
3405 days 3 hours

Mobile eTicket
FENG SHUI HOME DECORATING: NEW YOU, NEW HOME LOOK
6-Video Course On-Demand (with Certificate)
PLUS One Extra Bonus Session (Video 7)
Following the success of our Feng Shui House Organizing Course, here comes our brand new Feng Shui Home Decorating Course in the Summer.
Just in time to get our house ready for... our new future!
After being locked up at home for a whole year, it is time to make it all new!
It is time to update our homes to reflect our new self and create a supportive environment that can hold and support us in our next, exciting endeavours.
Our Feng Shui Home Decorating 6-Video Course is a hands-on course geared to assist us in the planning & decorating our homes - room by room - to accommodate our own, unique lifestyle. The class contains practical tips to inspire you to get to work right away. You can go at your own pace: each video covers one room, so you can choose which one you want to start from and go from there.
This is a beginning level course, open to everyone without previous Feng Shui training or Design training.
In this 6-Video course we'll address basics of house interior design and home decorating, one topic per week, to guide us to a complete makeover of our living spaces.
Every week, we'll tackle a new room in terms of colors, layout, furniture, accessories, etc. Our houses will look like completely new homes by the time the six weeks are over.
Together, we'll learn how:
Setting the Look and Feel of Our House For the Immediate Future
How to Plan and Design to Achieve It
How to Address the Many Layers of Each Room
How to Prepare Our Color Palettes  based on Feng Shui
How to Lay Out Our Furniture based on Feng Shui
How to Balance the Yin and Yang of Light in Different Rooms
How to Choose the Finishing Materials Based on Feng Shui
How to Create the Right Flow of Energy for your spaces based on Feng Shui
Room by Room Review of the Above
Join us now for this new course and extraordinary opportunity to change your space and transform your life!
To keep track of your progress thru the course, we suggest you take at least one picture (or more) of every room right now, before the course starts, so that you can compare it with the same room after the course is completed.
A Certificate of Completion of this course will be awarded to all registered participants who completed the class assignment.
The time expected to complete this course and deliver the assignment is 6 months from teh date of purchase.
NOTE: the link to access our weekly classroom will appear on the right of the confirmation page you'll see after your registration and payment is completed. You will also receive a copy of the link on your confirmation email. Look out for either or both, and don't forget to check your spam filter :-)
Each session is video recorded for later playback (so no worries if you miss one week of class, you can catch up with the video). 
For more information about our school visit www.fengshuitrainingcenter.com
© 2021 Simona Mainini - All information enclosed in this class are subjected to copyright by Simona Mainini, Dr. Arch.