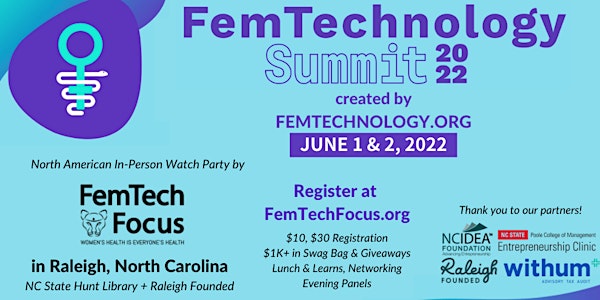 Femtechnology Summit North American Watch Party by FemTech Focus
Join women's health innovators in Raleigh, NC for a Hybrid In-Person & Virtual FemTech Summit
Refund Policy
Contact the organizer to request a refund.
Eventbrite's fee is nonrefundable.
About this event
The FemTechnology Summit features start-ups, researchers, investors, and clinicians innovating in women's health. It is a hybrid event with virtual speakers and in-person watch parties. This eventbrite registers you for the in-person watch party in Raleigh, North Carolina hosted by FemTech Focus. The venue is the North Carolina State University Hunt Library Auditorium. We will watch the speakers from 9am-1pm ET June 1 & 2 along with lunch and learns, networking, a MASSIVE swag filled with $1K+ in FemTech goodies, and additional evening panels with food and drinks!
If you are coming from out of town, please fly into Raleigh-Durham International Airport. We are offering introductions to other attendees seeking to share airbnbs in downtown Raleigh to decrease your travel expenses.
The FemTechnology summit aims to provide a 360-degree perspective on where the field is headed and where opportunities for improvement still abound. Bringing together stakeholders across the whole ecosystem – offering up a platform to showcase the latest breakthroughs and best practices as well as patient needs -experts and audience members originate from all around the world and are at various stages in their FemTech journey – from seasoned veterans to enthusiasts, to others simply seeking to understand what the term 'FemTech' even means.
SCHEDULE: (times in Eastern Time Zone)
WEDNESDAY JUNE 1, 2022
8-9am: Breakfast & Registration (at NC State Entrepreneurship Clinic, The Garage)
9am - 2:30pm: Keynotes, Panels, Lunch & Learn (at NC State Entrepreneurship Clinic, The Garage)
Women x Digital Health: Women are 75% more likely to use digital tools for healthcare than men and 66% of women seek their healthcare information online. Could the wave of innovations in digital health (#FemTech) directly connect women to the healthcare solutions they need and help bridge the healthcare gap?
PCOS x Endometriosis x Fertility: Exploring the lunk between these two diseases and fertility and the implications for women's health in all aspects of their lives, reaching well beyond notions of fertility. Speakers- Lina Chan Founder of Parla and Dr. Lynn Marie Westphal
The Gender Data Gap: The Gender Data Gap persists at every echelon of healthcare from trials to treatment. 70% of chonic pain patient are female but 80% of research is done in males. Although heart disease is the leading killer of females, <30% of clinical trial participants are female. Vaginal microbiome is entirely overlooked. Speakers - Anna Lee Cofounder Lioness, Priyanka Jain CEO Evvy, Eric Dy CEO Bloomlife
How Male-Centric Medicine Endangers Women's Health: Females are different from males on a cellular level yet the same treatments are prescribed for both sexes. Females metabolize drugs differently which impacts the effectiveness of the treatment and has major negative affects on heart health. Speaker - Dr. Alyson J McGregor, Brown University
Lunch & Learn with Withum: Learn about financial modeling, percentage ownership strategies, typical fundraising terms and much more during our lunch and learn with the leading FemTech Accounting firm, Withum.
5:30-8pm: Networking, Drinks, and FireSide Chat (at Raleigh Founded Warehouse 310 South Harrington St, Raleigh)
The Baby Formula Crisis: An Overview of how we got here and how we move forward: Moderated by Dr. Brittany Barreto interviewing founder of Free to Feed, Dr. Trillitye Paullin.
THURSDAY JUNE 2, 2022
8-9:30am: Breakfast & Registration (at NC State Entrepreneurship Clinic, The Garage)
9:30am - 2pm: Keynotes, Panels, Lunch & Learn (at NC State Entrepreneurship Clinic, The Garage)
Impact of Sex on Risk & Therapeutics for Chronic Disease: Speaker - Dr. Jill Goldstein, Harvard
The Link between Gender & Effective Therapy in Medicine: How do diseases manifest differently in male and female cells? The emphasis will be placed on differences in pain, immunology, and cardiovascular health between females and males. Speakers- Valentina Milanova Founder YourDaye, Mette Dyhrberg Founder Mymee, Leon A Boston CEO MobileODT
The Future of Healthcare Delivery: Women's health is undergoing a transformation in healthcare delivery. There are holistic care models, care advocates, and personalize care plans. We are also changing who we consider responsible for care including the caregiving economy and it's burdens. Speaker - Dr. Neel Shah Chief Medical Officer Maven Clinic
Sex-Based Healthcare Innovation: How can we revolutionize care to make it more inclusive, allow women to access it better, and incorporate sex and gender-based differences in clinical presentation, physical examination, laboratory results, treatment regimens, and communication differences between men and women to assist clinicians in their conversations with patients. Speaker - Dr. Marjorie Jenkins Dean University of South Carolina Medical School
Lunch & Learn
5:30-8pm: Networking, Drinks, and Panel (at Biomilq Headquarters 9 Laboratory Drive, Durham, NC 27709)
FemTech in RTP: Moderated by Emily Maginn, Founder of Exo, and panelists Dr. Rahima Benhabbour, founder of Anelleo, Dr. Samantha Meltzer-Brody leading researcher at UNC on post-partum depression, and Charlotte Fron, special projects lead at Biomilq.