Femprovisor Fest '17 Workshop | Sketch-writing with Allison Page

Sunday, April 30, 2017 from 4:00 PM to 7:00 PM (PDT)
Event Details
Keep up with everything happening at Femprovisor Fest '17 at www.femprovisorfest.com

Femprovisor Fest is proudly presented by Leela at The Exit Theater in downtown San Francisco with sponsorship support from Un-Scripted Theater Company, Camp Improv Utopia and The San Francisco Improv Festival.

Get Out of Your Own Way: Using Constraints and Challenges to Become a Better Writer

While it may seem romantic to sit down at an oak desk and just write for like 20 hours, for many of us, that doesn't quite work and we need a little something more. In this 3 hour workshop, Allison will lead you through various challenges to unlock parts of your creativity which have been idling in the background, behind a bunch of your hang ups. Topics and exercises include: Writing Characters With No Defined Gender, Writing In Time Constraints, Collaborative On-The-Spot Character Creation, Crafting Personal Creative Challenges, And More Stuff To Terrify And Help You!

We'll focus on elements which can hamper your creative power and find tips and tricks to avoid things like: falling into unnecessary stereotyping based on a character's gender, limiting who can play a certain character based on gender, agonizing over a first draft, getting distracted, feeling creatively stagnant, feeling isolated in your writing, being nervous for others to hear your creative voice. While this class will frame itself around sketch comedy, many of these strategies can also work for playwriting, improvising, and fiction writing. Some familiarity with sketch comedy and improv is helpful, though informational materials will be sent to students in preparation for the workshop.

The only prerequisite is to be open to sharing your ideas and participating in assigned exercises in groups and pairs, and being ready to work quickly. Participants should expect to do some in-class writing and be prepared to bring writing utensils (laptop or paper and pen) and can also expect some on-our-feet exercises and should come in with an open mind, ready to collaborate and have fun.

Bio: Allison Page is a writer/director/actor/comedian and Artistic Director of San Francisco's premier sketch comedy group, Killing My Lobster, wherein, among other things, she is constantly striving to innovate, refine, and polish writing processes. Her writing has been featured in Airmail: Women of Letters (Penguin Australia), Killing My Lobster, Give Me Fiction, Write Club SF, Shipwreck, The SF Olympians Festival, SF Theater Pub, Travel Tavern, and DIVAfest. She's written sketch comedy videos for Benefit Cosmetics, Zoosk and Clorox, and has directed live sketch for Killing My Lobster (KML Under Pressure, The Political Show, Lobster Jones' Diary, KML Takes It All Off I & II, KML Keeps It All Off, Lifetime: Theatre for Women, and others) and Hewlett Packard. As a playwright, she's written: full length plays HILARITY (produced by DIVAFest 2015), JASONS (SF Olympians Fest 2015) and one acts OUT OF INDIANA, and HELLHOUND (SF Olympians Fest 2014), more shorts and monologues than she can count, and hundreds of sketches. Her most recent commissioned full length play KILGALLEN/JONES is being produced by EXIT Theatre in March 2017. You can also find her scattered across YouTube, especially in the web series Everybody's A Comedian.

Tuition: $60
Please Note: Men and Women encouraged to participate
Instructor: Allison Page
Day/Date/Time: Sunday, April 30th, from 4:00pm – 7:00pm
Location: Leela Training Center (San Francisco Chronicle Building)
                901 Mission Street, Third Floor, San Francisco
---
Workshop Instructions: Meet inside the Chronicle Buidling at the 901 Mission entrance at 3:55pm. There will be someone to greet you and direct you upstairs to the Leela Training Center.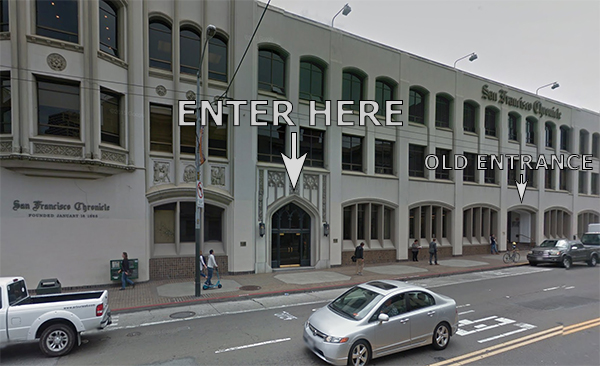 Have questions about Femprovisor Fest '17 Workshop | Sketch-writing with Allison Page?
Contact Leela
When & Where

San Francisco Chronicle Building (Leela)
901 Mission Street (@ 5th Street)
3rd Floor
San Francisco, CA 94103


Sunday, April 30, 2017 from 4:00 PM to 7:00 PM (PDT)
Add to my calendar
Femprovisor Fest '17 Workshop | Sketch-writing with Allison Page