Description
Fempower Network (part of I Can Events) invites you to… come and hear Alison Hernandez as she shares her personal story and experience with stalking and abuse and current Police policy.
This is an initiative to help put a spotlight on some of the real issues that are faced by businesswomen and professional women alike. Additionally, the purpose of this event is to bring together professional women and businesswomen to be a support system, to help other budding and aspiring women, and the next generation of entrepreneurs to reach their goals, despite adversity, and to share the power of optimism. Even though the event is aimed at women, supportive men are welcome to attend.
This inaugural event is set to take place on Thursday, 23rd May 2019 (from 9:30 to 1:30 including a 2-course lunch), in Exeter. A series of events relating to topics especially for women, is being planned.
Come along and listen to personal experiences, learn more about how you can be supported in your business, share your ideas, as well as offer assistance to your community of other like-minded women.
On 23rd May we're thrilled to have the following speaker line up:
SPECIAL GUEST SPEAKER:
1. Alison Hernandez, Crime Commissioner for Devon & Cornwall Police - come and hear Alison speak about her personal experience with stalking and abuse and how the police are helping women in these circumstances.

2. Maggi Green, of Maggi Green Image Consultancy, who will share her personal experience and her success story
Ten years ago, Maggi started her own Image consultancy business to help men and women find their true self, look and feel amazing, and ooze success. The results were remarkable and life-changing. However, she realised over time that the clothes were secondary; being comfortable and ourselves was the most important thing. After being bullied herself and undergoing years of abuse, she found a natural affinity with her clients and wanted to help. Her aim is to empower men and women to become the greatest version of themselves.

3. Kate Doodson, of Cosmic.org.uk - will be sharing vital IT and Tech cybersecurity updates
Kate is the Joint Chief Executive of Cosmic, one of the leading social enterprises in the South West and recognised across the UK for its achievements and ongoing development.

Kate specialises in Digital Futures and the strategic use of Digital to transform business processes. She is passionate about ensuring businesses use the full range of digital services available to them to give them the edge they need to thrive. Kate regularly delivers lectures regularly across the UK and internationally on Digital Transformation.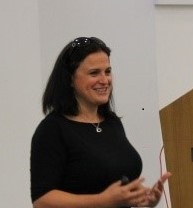 OTHER FEATURES:
Networking, bring plenty of business cards and a warm smile

Other surprises, come along to find out more.
**** 2-Course LUNCH and coffees/teas INCLUDED****
If you have any special food allergies, please do inform us by 15th May
---


*** SPECIAL ANNOUNCEMENT ***
We are thrilled to announce that because of our new sponsors, the ticket price is now:
An individual ticket is now £39/pp / if booked by 10th May 2019

An individual ticket, if booked, after 10th May is £42/pp

A table of 10 booked before 10th May is £36/pp - after that is £38/pp - to book these please get in touch directly

here


---
---
Note: this event may be filmed, if you do not wish to be included in the film, please notify us by 15th May 2019.
------------------------------------------------------------------------------------------------------------------------------------------------
FAQs
Is this event just for women? While most of the content of the EVENT(s) will be directed to, and for women, men are also welcome.
Can I attend part of the event only? You can arrive when it suits you, but you might miss some vital information, and networking opportunities or exciting activities. You can request our agenda to see what's happening (please request, through our website contact form, to be put on our delegate list to receive a copy of the agenda when it is available).
How can I get involved as a sponsor? Sponsorship opportunities are limited, so act today. The Early Bird prices have been extended to 10th May. All sponsorship opportunities are being processed now through to then, so call us now on 01392 580660 or email: info@icanconference.co.uk.
How can I get involved in being a mentor? To register your interest in becoming a mentor please register through our website or contact us now on 01392 580660 or by email.
Can I donate to a charity or help with this event? Donations and sponsorship opportunities are available now. You may contact us directly on 01392 580660 or visit our website for details. Ten percent of your sponsorship will go to our chosen charity.
Which charity are you supporting? This year we are supporting a local charity called S.A.F.E (Stop Abuse For Everyone). Please see our website for further details, or visit: https://www.safe-services.org.uk/
My question is not listed here. Whom do I contact? Please contact 01392 580660 or email info@icanconference.co.uk for assistance.

Hashtags: #FempowerExeter #Exeternetworking #NetworkingExeter