About this Event
IMPORTANT ANNOUNCEMENT
*** We regret to inform you that due to everything that's happening around regarding the COVID-19 concerns, our team has decided to make the decision of postponing the FemmeSocial conference until further notice. The health and safety of our attendees and staff are our number one priority. Hopefully by summer all of this will have gotten better.
For all those of you who have already purchased tickets, we thank you so much for your support and will have your spots honored for the new date along with some extra perks.
If you are not able to make it to the event once we announce the new date, we will happily issue you a refund.
Simply send us an email at events.bossbabe@gmail.com and we'll do our best to help. Stay healthy and take care of yourselves everyone. ***

"Leadership is about making others better as a result of your presence and making sure that impact lasts in your absence." - Sheryl Sandberg, COO of Facebook
Two of Montreal's growing platforms Boss Babe Imperial and BossBabe.MTL are joining forces to host our very first FemmeSocial Conference featuring some of Montreal's most inspiring female entrepreneurs and business professionals along with top influencers who work, breathe and live in the media.
We invite you to join us in a series of dynamic discussion panels with inspiring female leaders in various industries and diverse backgrounds. This event is to celebrate women in leadership and to bring together powerhouse women to share their wisdom, strategies and experiences.
The focus of this event is to create a conversation on what the definition of leadership is, how to succeed and how to overcome the barriers to success.
Our event will host three discussion panels including Inspirational Speakers, Influencers and Entrepreneurs who will all share about their journey and how important taking the lead and developing leadership skills have made them who they are today. The panels will then be followed by networking event.
Here's what to expect:
GET INSPIRED LISTENING TO STORIES FROM OTHER BOSS WOMEN
The power of story telling is real and enough to empower the next generation of female leaders. Leave the event feeling inspired from listening to other boss women who are killing the game in doing what they do and ready to share their knowledge.
Stay tuned for the complete line up of speakers!
FUN SURPRISES & GIVEAWAYS BEFORE AND DURING THE EVENT
The first 20 people will receive a Productivity Planner complimentary with their ticket purchase (retail value of $34)! There will be a bunch of other exciting giveaways throughout the event courtesy of our gracious sponsors. We truly believe in community over competition and supporting women by helping to build brand exposure for female-run businesses and start-ups.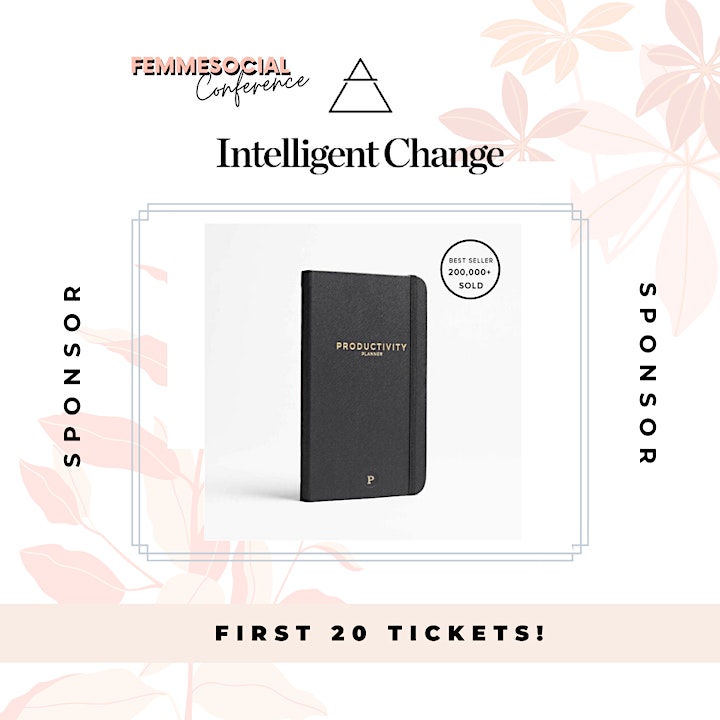 Put productivity on your to-do list. Make prioritization a priority. Accomplish greater results in lesser amounts of time. The Productivity Planner takes advantage of the Pomodoro Technique, empowering you to focus your mental energy on the most meaningful tasks ahead. So, you can take advantage of every moment of every day.
For more information on what the Productivity Planner is, please visit: https://www.intelligentchange.com/products/the-productivity-planner
BRAND NEW CONNECTIONS TO BE MADE WITH OTHER LIKE-MINDED FEMALE ENTREPRENEURS, BUSINESS PROFESSIONALS & INFLUENCERS
The panel will then be followed by a networking portion for you to have the opportunity to engage with the speakers, ask further questions and network with other fellow entrepreneurs & attendees.
A special thank you to our sponsors:
Sheertex
Les Dames Vintage
Intelligent Change
Milk Jar
GlobeIn
Horace Jewelry
FAQ
Will this event be in English or French?
This event is hosted in English, and everyone is welcome.
What is the dress code?
Formal attire is encouraged.
Who should attend?
Anyone, of any age, gender or field, who is interested in furthering female voices in leadership.
What's the refund policy?
Due to COVID-19 currently taking place and pushing us to postpone our event to a later date, we are now happily accepting refunds. You may either ask us for a refund now or wait until we announce the new date and see if you can still make it to the event before asking for one. Simply contact us directly or email us at events.bossbabe@gmail.com for any further questions.
How can I contact the organizer with any questions?
Please feel free to send us an email at events.bossbabe@gmail.com for any questions, comments or concerns.