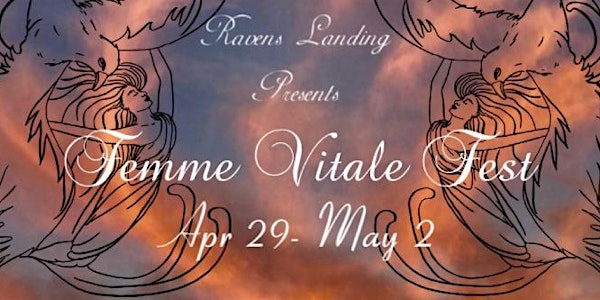 Femme Vitale Fest
Elevate the Feminine in all of US... her, him, they!
Date and time
April 29, 2022 · 12pm - May 2, 2022 · 3pm PDT
Location
Ravens Landing 131 Long Branch Drive Clearlake Oaks, CA 95423
Refund Policy
Contact the organizer to request a refund.
Eventbrite's fee is nonrefundable.
About this event
Welcome to Ravens Landing!!
Get ready to experience a place like no other. This is not like any other regular venue. It is a hand built offgrid village for artists, animals, and creatures of all kinds that take care and nurture this sacred space. A few of the goals of this years Fest is to enable and encourage soul-purpose-full participation, prioritizing respect and care for nature, listening, loving, continually learning and of course, fun.
The weekend will include a mix of live and electrical music, performances of all kinds, live painting, yoga, sound baths, nature walks, workshops, art making, herbalism, YOU, and much more! PLEASE Keep READING..............
What we do at our Festival:
We enable and encourage soul-purpose-full participation, prioritizing respect and care for nature, listening, loving and continually learning. We build, share, energize, and enlighten through fiercely nurturing adventures of an earthly and spiritual nature.
What is at Femme Vitale Fest?
- YOU
- Kindness
- Music
- Dancing butts
- Beautiful nature
- Beautiful Art
- Wonderful animal friends
- Talented musicians and artists!
- Workshops
- Empowerment
- Participating participants
- FUN
- FEN! (our local domesticated deer)
- The sexiest outdoor bar/Lounge
- Cafe Alegria
- Lovely compost toilets
- Friends and Family!
***All questions: ravenslandingfest@gmail.com
~Logistics~ MUST READ!!
Gates open at noon on Friday, Apr 29. Artists, doors are open on Thursday for you.
*CAMPING - campsites are spread out around Ravens Landing. Bring your tent & camping. There is also plenty of forest and encouragement to create a new campsite.
*NO OPEN CAMPFIRES! No camp stoves WHAT SO EVER due to fire danger in the area. You and crew will be asked to leave if caught. (Due to the amount of people we all need to do our part keeping this sacred space safe. Thankyou)
*No children(>13), dogs, or RVs for this event. *PLEASE CARPOOL!*
*You will be required to sign a liability waiver upon entry to the gathering.
*Water is not provided. Bring your own drinking water - at least 3 gallons per person if you're staying Friday through Monday. (1 gallon per person per day)
*There will be food for sale from Ravens Landing's Café Alegría: Please Support!
*Breakfast Burritos & Deluxe Oatmeal ($5): 9-11am
*Salads & Buddha Bowls ($10): 1-3pm
*Sexy Stews & other surprises ($10): 6-8pm
---- Vegan and Gluten Free options will be available -----
*For greatest ease, bring snacks and help support Café Alegría by eating our healthy yummy meals!
*Drinks will be available at the Lazy Lounge Bar. (donations are gratefully accepted)
*Please bring plenty of CASH for food and drink donations. Your SUPPORT is gratefully appreciated.
Ravens Pack List - Check Out the Burning Man Pack List for great ideas!
- Please bring at least a gallon of water per person, per day. If you are coming alone on Friday,
you need a minimum of THREE gallons of water for the weekend
- Water bottle
- Masks (some tents will require masks upon entry and they are generally recommended in
outdoor communal spaces as well if its crowded)
- Sun protection gear like sunscreen, hats, sunglasses (it gets hot!)
- Tent/ sleeping comfort
- Hammock if you like hanging around
- Head lamp
- Cup! For the bar!
- ID for the bar!
- Sanitation wipes
- Extra TP (just in case)
- COSTUMES (not technically required but don't you like to have fun?!) Saturday will be "Anything
Goes Mythical Creature" themed night.
!PLEASE PACK IN AND PACK OUT, LEAVE NO TRACE!
NO STYROFOAM!
~Location~
The event will take place at Ravens Landing. We are on Google Maps!
~Tickets~
Proceeds go towards: Artists, Ravens Landing, Fire efforts, And last but not least The Next Fest:)!!
This event is not open to the public. It is only open to birds of a feather (our friends and their friends who are like-minded and safety-conscious). Please invite your flock, as long as everyone is kind, respectful, and wants to participate in the experience.
Golden Wings admission ticket: If you can give, become a benefactor of awesomeness! early access, luxurious glamping tent for the event weekend, complimentary bottle of wine included, email for more info. (Must buy presale and register a month in advance) : $350
Presale General admission tickets tier 1 (on sale Feb 24- Mar 24): $130
Presale General admission tickets tier 2(on sale Mar 25-Apr 20): $150
Presale General admission Last Minute (Apr 21- April 30): $170
At the gate General weekend admission tickets (cash only): $170
Volunteer weekend admission tickets (workshop leaders): $80 (3 two-hour shifts)
One Day (24hrs) pass: $80
Car pass: $40, or Free if you Carpool (3+)!! please bring friends.
*Please reach out to the event organizers if resources are a challenge for any reason.
https://www.facebook.com/events/2209724709194613?acontext=%7B%22source%22%3A%2229%22%2C%22ref_notif_type%22%3A%22plan_user_joined%22%2C%22action_history%22%3A%22null%22%7D&notif_id=1649432760553866&notif_t=plan_user_joined&ref=notif
*!COVID PRECAUTIONS!*
Lets PLEASE do OUR part in keeping everyone safe, including YOU!
- For safety reasons, Ravens Landing is not providing drinking water during the time of COVID.
- There will be handwashing stations set up around the property. It is asked PLEASE, that everyone wash their
hands frequently.
- It is required to show your mask at the entry when getting your ticket so please have it out and ready.
- Even though we will all be having fun, please try and social distance. If it gets crowded please use your mask.
- Do not come if you're experiencing any symptoms of illness. It's a team effort to keep us all safe!
- It is not mandatory to be vaxed but PLEASE get tested and try and quarantine before the fest or at least wash
your hands a lot=) Stay Safe and look forward to playing in the safe space we all create. Thankyou
About the organizer
A Home for the Arts & Green Living "Disconnect to Reconnect"