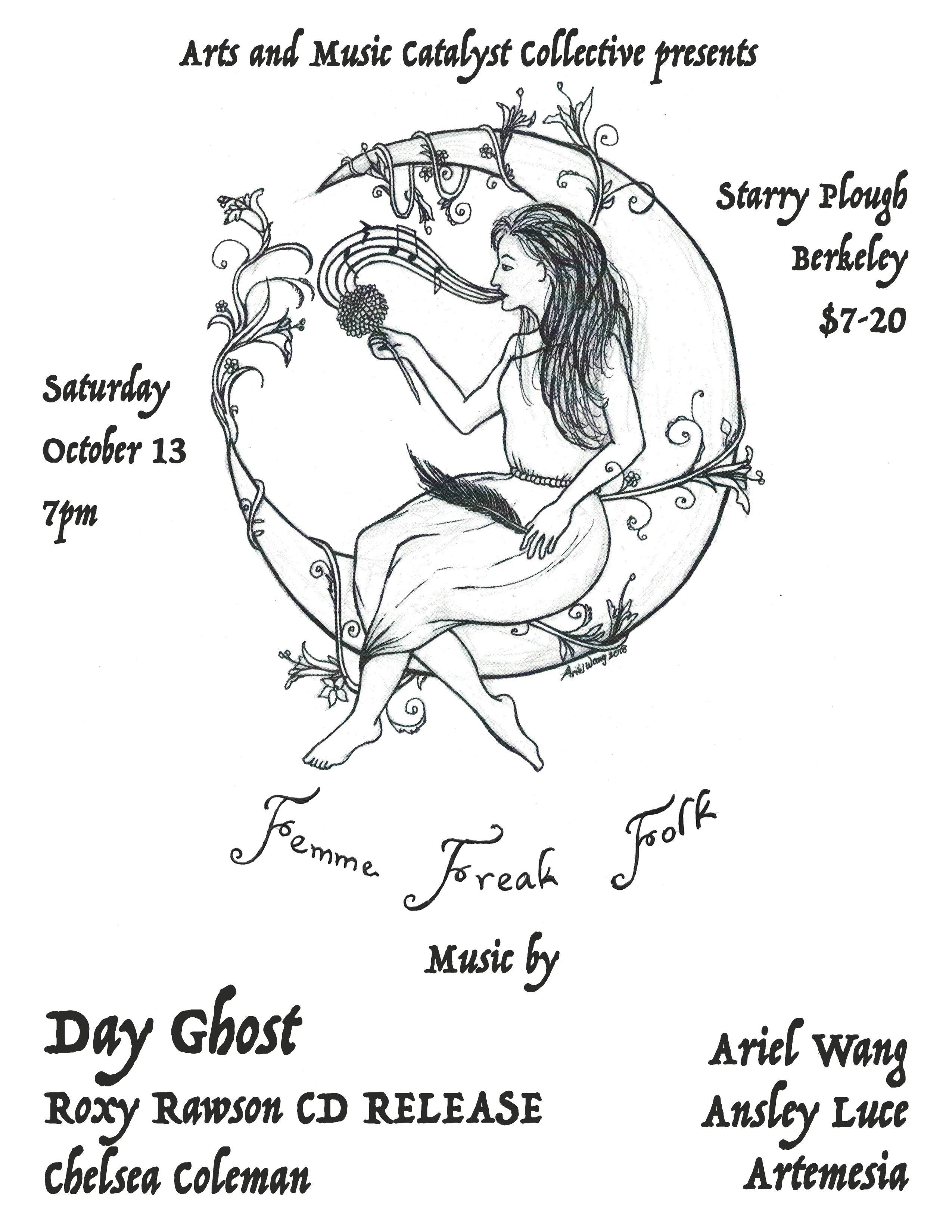 About this Event
Presented by the Bay Area Arts and Music Catalyst Collective, an autumnal festival of femme freak folk, celebrating female musicians and their strong, authentic and sometimes outlandish expression, combined with a dedication to the craft of playing acoustically that is associated with the folk tradition.
Ansley Luce
Ansley hails from Harrisonburg, US. Her music is Appalachian folk influenced and accompanied by vocals drenched with yearning, woozy emotion, accompanied by veteran musicians Terrell Liedstrand (guitar) and Steven Sparapani (cello). This will be her debut show
https://soundcloud.com/terrell-liedstrand. 
Ariel Wang
An eclectic musician, Ariel Wang's songs will bring you to the Appalachians and then throw you into a psychedelic trance. Her music speaks of sadness and longing, love made and grown, tigers who come to play, and an ever longing to break any and all boundaries conceived. Whether on the guitar or fiddle, banjo or foot-tapping, her tunes are refreshing yet timeless. Sometimes she takes the stage with just her mandolin buddy Terrell Liedstrand, other times with a full band, but you can be sure she's always got some surprise collaborators popping in.
Roxy Rawson
'Like Tom's Diner crossed with Nellie McKay. Gorgeous minimal percussion and her joy shine bright. You can't help but revel in the creativity of Ms Rawson's occasionally wild, sometimes tender composition' Planet Sound 
Falling squarely into the anti-folk category by way of a manipulated, punk-y violin, Roxy Rawson has been a cult presence on the Parisian and London music scenes with her unique blend of impish violin vocals and classical/ jazz influence. Now based in San Francisco Bay and ready to release her long awaited full length debut album, this is a singer songwriter whose flair for the alternative demands the world's attention. 
Following her EP released by Sony and London-based Ambiguous Records, her debut album titled 'Quenching the Kill', is being released in October 2018, after a period of ill health and charts her journey from the darkness and confusion of losing her life as she knew it, to recovery and hope for the future. It strives for authenticity in the face of muted creativity. It is a brave and beguiling look at Roxy's desire for emotional honesty in an industry in which emotional vulnerability has often been supplanted by commercialized sentiment.
Album pre-release link: https://soundcloud.com/roxy-rawson/sets/quenching-the-kill/s-jIjvx
Artemisia
Silky, misty, dream-folk, Artemisia is Selene Ross's moonlit dream on autoharp, guitar, and ukulele. Listening to her music feels like a sunrise on a winter's day, like meeting a lover in a haunted house, the moment before a dream ends
Artimisia is Krista Michaela (guitar, keyboard, vocals) & Selene Ross (ukulele, auto-harp, mandolin, vocals).
https://artemisiasound.bandcamp.com/
Day Ghost
Day Ghost is an alternative synth-pop band from Oakland, California. Driven by infectious synth progressions and haunting vocal melodies, this five-some will take you to unexpected sonic landscapes. Sailing on electric violin distortion, sweeping electric guitar, and dynamic rhythms, Day Ghost straddles the line between spooky and sweet, raucous and methodical. Their debut EP "It's Not Settled" was released in August 2018.
https://soundcloud.com/dayghost-66096328
Chelsea Coleman 
Oklahoma grown singing-songwriting powerhouse, Chelsea Coleman, creates sanctuaries out of songs, wherein her audience is moved, humbled, and exalted. A courageous and vulnerable storyteller, she invites you to endure open heart surgery, skillfully mending your heartache with strands of golden thread. Each listener leaves more integrally woven in to the tapestry of humanity.