About this Event
Femme! Experience led by Femme! Instructor, Shay Au Lait – New York, NY
Honor your soulful spirit
Explore movement as a form of passion, creativity, celebration and empowerment
Experience pleasure in a safe and sacred healing place
Liberate judgment and own your complexities
Femme! is a passionate fusion of sensual dance, primal motion, meditation and celebration of the human form designed by Somatic Healer, Keynote Speaker and Fitness Expert, Bernadette Pleasant. Using a variety of movement and musical styles including live african drumming, Femme! interweaves the influences of Dance, Healing and Sensual Arts into a multi-sensory experience that expresses the entire body.
Femme! is about the freedom to love your body! From your head, to your heart, to your hips, it's an empowered, fun, fit and sexy way to warm it up, work it out, make it move, and cool it down with ease and sensuality. "It's your body; you can do whatever you want with it – including love it, unapologetically."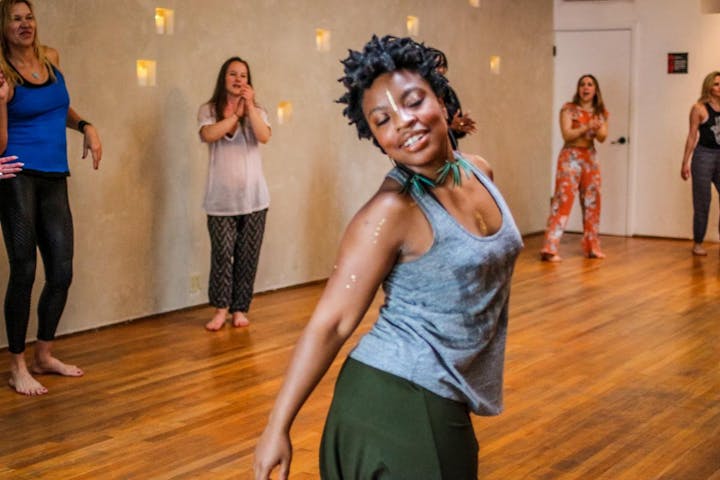 Shay Au Lait's favorite thing about Femme! is that it's the perfect blend of creative play, self expression and emotional wellness within a safe and sacred community. Of course you will sweat and can use Femme! as a part of your fitness and health routine, but its also very much a part of her mindfulness practice as well. People don't come to Femme! Experiences to get fit or to dance. As Bernadette Pleasant said, they come to EXPRESS THEMSELVES. Some people go to yoga weekly or daily to center and ground themselves. Or they go to a chakra workshop. Or a reiki session. Or a dance class. Or to the gym. Femme! for Shay Au Lait is the perfect blend providing the benefits from all of those things plus there are live african drums. The drum circle is ALL THE THINGS! If you're committed to emotional wellbeing, mindful living and mental health in a vibrant, sensual and tribal environment…Femme! is the place to be.
While Femme! is truly for everyone and everybody, Shay Au Lait encourages I want to artists, dancers and performers who are looking for a holistic way to be fully integrated by incorporating a mindful movement practice into their lives to consider Femme!. Often, as creatives focus is put on technique, strength, execution and more. Femme! gets us back to our emotions.
Shay Au Lait is a bohemian nomad travelling the world. In addition to being a licensed Femme! Instructor, she's a pole dance, cabaret and burlesque performer/instructor/producer. When she's not off on her latest adventure, she can usually be found somewhere along the East Coast. She is a #QWOC and her pronouns are she/her.