Event Information
Location
312 Main
312 Main St.
Vancouver
Canada
Description
Feminists Deliver Conference and Trade show, June 3-6, 2019
Monday, June 3 - Missing and Murdered Indigenous Women, Girls and Two-Spirit and the Role of Colonization
9:00 AM – MMIWG Inquiry Screening
12:30 PM – Opening
1:00 PM – Keynote Speaker Melina Laboucane Massimo – Violence against the Land Begets Violence against Women
2:00 PM – Keynote Speaker Sharon McIvor – Indigenous Women Equality
3:00 PM – Keynote Speaker Anita Lucchesi – MMIWG and Data Sovereignty
Tuesday, June 4 - Changing Systems: Resistance and Resilience
9:30 AM – Keynote Panel
Resistance and Resilience: The Child Welfare System faciliated by Sarah Stewart Executive Director, Aunt Leah's Place
Nikki Scott, Rain City Housing
Robin Banks
Sarah Thomas, Aboriginal Mothers Centre
11:30 AM – Panels
Precarious Realities: A Colonial Immigration System
Alejandra Lopez- Sanctuary Health
Ingrid Mendez de Cruz – Executive Director of Watari
Lobat Sadrehashemi –Immigration Lawyer & Member of the Canadian Association of Refugee Lawyers
Chris Morrissey, Rainbow Refugee
Work is Work is Work facilitated by Elen Woodsworth, Women Transforming Cities
Sheryl Burns, President CUPE 1936
Susanna Allevato Quail, Board Member, Migrant Workers Centre BC
Stephanie Skourtes, Single Mother Alliance
Michele Powell, Peers Victoria
Michelle Travis, Unite Here Local 40
Spectrum of Harm Reduction: Reducing Harm, Reducing Pain
Anne M'Mithiaru, Director Non Residential Programs Atira Women's Resource Society
Heather Scarff, Counsellor Watari
Brandy Kane, MSW, PhD Eagle Spirit Counselling and Cultural Worker at Battered Women's Support Services
Emily Henry, BA, Coordinator at Chrysalis Society
Tara Vickers, Coordinator at the Vancouver Women's Health Collective
Criminal Justice: Freedom from the revolving door, challenging stigma, and overcoming oppression facilitated by Elba Bendo, West Coast LEAF
Dalya Israel, Executive Director, WAVAW Rape Crisis Centre
Frances Mahon, Criminal defence, refugee and civil rights lawyer in Vancouver
Mo Korchinski, Project Manager, Collaborating Centre for Prison Health and Education at UBC
Chas Coutlee, BSW, Resolution Health Support Worker for MMIWG with IRSS
Marnie Scow, FHNA Indigenous Peer Outreach, Spencer Creo, Community Engagement
12:55 – Special Guest, Honorable, Carole James Minister of Finance and Deputy Premier
2:10 PM – Panels
Unveiling Resistance: Exposing Oppressive Social and Political Discourses facilitated by Rosa Elena Arteaga, BWSS
Brooklyn Fowler, Service Coordinator Transitions Program at Battered Women's Support Services
Theresa Thomas, Counsellor, Battered Women's Support Services
Betty Yeung, Sexual Assault Counsellor, WAVAW
Reproductive Justice: Still a Fight facilitated by Michelle Fortin, Options for Reproductive Health
A.J. Lowik, PhD Candidate with the Institute for Gender, Race, Sexuality and Social Justice at the University of British Columbia
Joyce Arthur, Executive Director, Abortion Rights Coalition of Canada
Erin Mullan, Sexual Health Educator and Abortion Counsellor

MeiLing Weidmeyer
Pan Canadian Voice for Women's Housing Symposium Live Stream with Janice Abbot, CEO Atira Women's Resource Society
Wednesday, June 5 - Personal is Political (Morning)
9:30 AM - Keynote Speaker - Sylvia McAdam, Sylvia is co-founder of a global grassroots Indigenous-led movement "Idle No More."
11:00 AM - Panels
Healing as a Site of Resistance facilitated by Dalya Isreal, WAVAW
Mia Amir, Creative Director and Facilitator at The Story We Be

Rosa Elena Arteaga, Manager, Direct Service and Clinical Practice at BWSS

Madeline McCallum, Artist, Survivor, Storyteller

Harsha Walia

Jodi Jones
Hiring practices around women with lived experiences
Lynda Tesky, Peer from SHEro's
Shelley Bolton, Director & Chocolate Maker at East Van Roasters
LGTBQI2S Panel
Jen Sungshine,

Co-Creative Director and founder of

Love Intersections

Chrissy Taylor

Helen Kennedy

Michelle Fortin, Executive Director, Options for Reproductive Health
1:00 PM - The Personal is Political: Centering young women's leadership with Emcee: Bridgee. K
1:15 PM – Why the Personal is Political for Me facilitated by Justice for Girls
Rebecca Hamilton, Vancouver Climate Strike

Morgan Switzer-Rodney, Black Lives Matter Vancouver

Savanah Norman, Justice for Girls

Sadea Johnston, Justice for Girls
2:00 PM –Finding My Voice Presented by students from L.A. Matheson Secondary School
Perfromances by Miss Christie Lee, Ndidi Cascade, NaRai and Erica Dee
3:00 PM- Special Guest, The Honorable Maryam Monsef, Minister of International Development and Minister for Women and Gender Equality
Thursday, June 6 - The Power of Movements
9:30 AM - Keynote Panel - Feminist Movements in Vancouver facilitated by Rhannon Bennett
Sandra Iroegbu, Black Lives Matter Vancouver

Ellen Woodsworth, Women Transforming Cities

Sharon Gregson, $10 a Day Child Care
Stephanie Allen, Hogans Alley Society
11:00 AM - Panels
Sex Worker Solidarity Panel facilitated by Amelia Ridgway
Sarah Smith, Peers Victoria
Michele Powell, Peers Victoria
Lana Fox, Raincity Housing and Supports Society
Allison Tanaka, Surrey Women's Centre SMART Program
Gender and Sexuality: Contested Membership facilitated by Felix Gilliland, WAVAW Community Inclusion and Engagement Coordinator
Tami Starlight, Nehiyawak / Cree & Norwegian, The Anti Oppression Network & Coalition Against Trans Antagonism (CATA)
Kimberley Wong, Co-Founder City Hub Initiative
Dillon Black, Ottawa Coalition to End Violence Against Women
#metoo: A Cultural Movement faciliated by Sonmin Bong, Volunteer and Educational Outreach Coordinator WAVAW
Jamie Lee-Hamilton, Sex Worker Rights Advocate

Leah Horlick, Writer and Poet

Daley Laing, FireSeed Facilitation
1:00 PM - Jody Wilson-Raybould, Keynote Speaker
2:15 PM -Celebrating Feminists Deliver: Where we go from here facilitated by Feminists Deliver Co-Chairs, Jennifer Johnstone, CEO Central City Foundation and Angela Marie MacDougall Executive Director, BWSS
**Please register for each day that you plan to attend.
**This is a free event with lunch provided each day.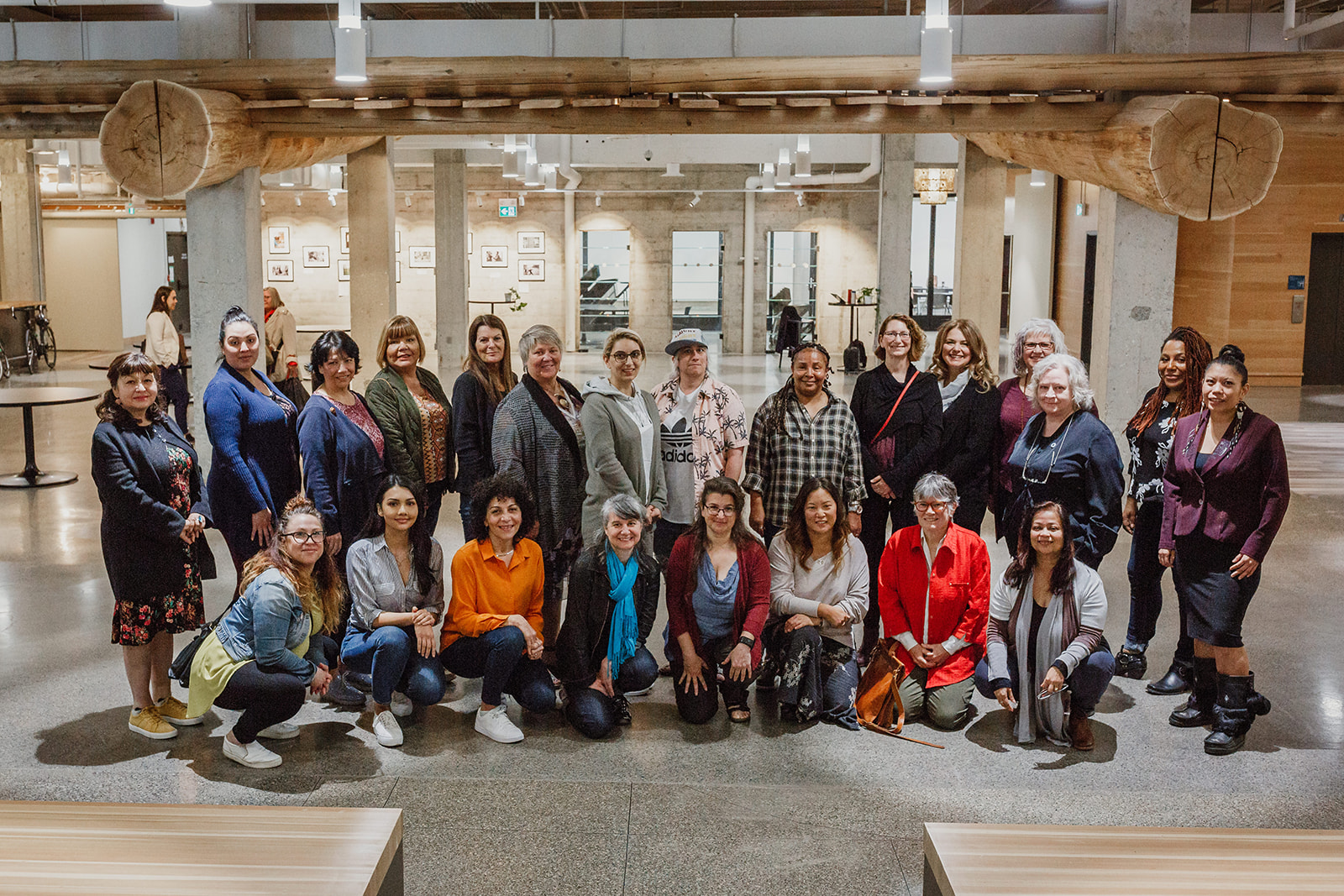 Date and time
Location
312 Main
312 Main St.
Vancouver
Canada