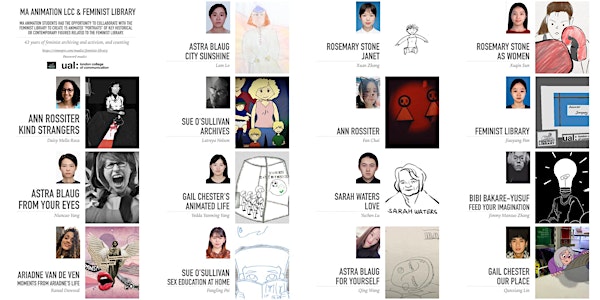 Feminist Library & MAALCC
When and where
Location
Moving Pictures Cinema 42 Newington Causeway Mercato Metrolitano London SE1 6DR United Kingdom
Description
Feminist Library - 43 years of feminist archiving and activism, and counting
14/3/19 2pm Moving Picture Cinema, Mercato Metropolitano, 42 Newington Causeway, London SE1 6DR
Ticktes https://www.eventbrite.com/e/feminist-library-maalcc-tickets-58638582579
MA Animation at London College of Communication, UAL are pleased to present a screening of 15 short animated films made in collaboration with the Feminist Library feministlibrary.co.uk.
MA Animation students had the opportunity to collaborate with the feminist library to create animated "portraits" of key historical or contemporary figures related to the Feminist Library.
The Feminist Library is a large collection of Women's Liberation Movement and feminist literature based in London, as well as a meeting and events space. We have been supporting research, activist and community projects since 1975. In 2018 The Feminist Library celebrates 43 years of archiving and activism. Almost totally volunteer run and autonomous, the team has created and looked after one of the most important collections of feminist material in all of the UK, and provided an inspiring learning and social space for thousands of people over the years. It is a testament to the commitment of the wonderful women behind the Library that it remains open, and thriving, 4+ decades on. This project will bring to light and celebrate some of the stories of our inspiring volunteers.
The filmmakers were inspired by the historical or contemporary figures related to the Feminist Library and have brought to life their own responses through the language of animation. The screening will be followed by a short Q&A.

The films will be introduced by Kim Noce, Course Leader for MA Animation at LCC. It will be followed by an introduction by the filmmakers, a screening and a Q&A with the filmmakers

Films, Historical and contemporary figures and Filmmaker
Ann Rossiter - Kind Strangers - Daisy Mella Roca
Astra blarg-from YOUR EYES Ninaco Yang
Ariadne Van De Ven- Moments From Ariadne's Life - Ranad Dawood
Astra Blaug -City sunshine -Lam Lo
Sue O'Sullivan - Archives- Latreya Nelson
Gail Chester's Animated Life - Yedda Yanming Yang
Sue O'sullivan -Sex Education at Home -Fangling Pei
Rosemary Stone - Janet - Xuan Zhang
Ann Rossiter - Fan Chai
Sarah Waters - Love- Yuchen Lu
Astra Blaug -For yourself- Qing Wang
Rosemary Stone -AS WOMEN -Xuqin Sun
Feminist Library - Jiaoyang Pan
Bibi Bakare-Yusuf -Feed Your Imagination- Jimmy Mansuo Zhang
Gail Chester -Our place - Qunxiang Lin
Schedule
1:45 pm door opens
2:00 pm Event start & Intro
2:15 pm Screening
3:00pm Talk & Q&A & Networking
3:30 End of event

Please register for a free ticket. Book early to avoid disappointment.
To invite friends, family and collaborators please send them an invitation to register for a free ticket with this link.
Entrance without ticket will not be allowed. It is advisable to arrive early.

MA Animation at LCC: http://www.arts.ac.uk/lcc/courses/postgraduate/ma-animation/
In order of appearance:
Ann Rossiter - a prolific reproductive rights campaigner (Speaking of IMELDA), writer; formerly on the organizing committee of Women's Studies without Walls at the Library.
Astra Blaug – prolific photographer of the women's movement, artist, poet; she donated her whole collection of photographs and slides to the Library, as well as some artwork.
Ariadne van de Ven – publicist, photographer and writer; volunteered with Women for Refugee Women;we'rein touch withClare Baker, her friend who donated books (and co-founded Women in Publishing international committee with her);
Sue O'Sullivan - was a member of the London Women's Liberation Workshop, Spare Rib magazine collective, Feminist Review Collective, Red Rag and Sheba Feminist Press; is a writer, editor, an HIV/AIDS campaigner and educator, and a friend of the Feminist Library, as well as an active member of the Feminist & Women's Libraries and Archives Network.
Gail Chester - one of the original founders & still around - now chair of trustees; independent scholar, writer, independent and feminist publishing expert.
Rosemary Stones - British author and commentator, influential in breaking down sexist and racist stereotypes in children's books in the 1970s and 1980s.
Sarah Waters – renowned novelist; she was once a volunteer at the Feminist Library once. Happy to be included, as long as it doesn't involve any work for her.
Bibi Bakare-Yusuf - published author, publisher; former volunteer.
#feministlibrary
#SavingWomensHistory
#ArchivingandActivism
@feministlibrary (Twitter and Facebook)
@thefeministlibrary (Instagram)
#MAALCC
#LCCLONDON
@LCCLONDON
@UAL