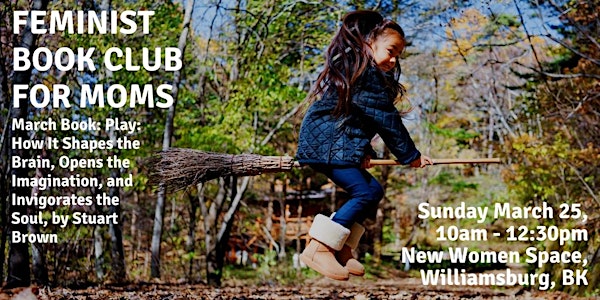 Feminist Book Club for Moms - Education and Play
When and where
Location
New Women Space 188 Woodpoint Road Brooklyn, NY 11211
Refund Policy
Refunds up to 1 day before event
Description
Feminist Book Club for Moms: No Reading Required!
A Book Club for mom's who don't have time to read!
Moms, femme-identified and trans* parents, join us to learn about and discuss the book of the month. Each month we gather to learn about the key content of the book of the month then discuss with other moms. We do this to discuss relevant parenting topics while building friendships. We also believe that thinking about often-difficult parenting topics together can help us be more relaxed and in-charge when leading our families.
This book group distinguishes gender to run counter to sexist norms that often leave men and male-identified people visibly in-charge of family dynamics. When femme people gather to share ideas and discuss relevant issues, often that added support can contribute to righting this injustice in families. We want all families members to be respected and empowered.
Your children are welcome. High-quality, fun and loving babysitters are available in the cozy space below our meeting room. We need advance notice if you plan to use babysitting so we can factor in numbers. Please email info@familycollective.org.
March Topic - Education and Play
Book: Play: How It Shapes the Brain, Opens the Imagination, and Invigorates the Soul by Stuart Brown
Book club date: Sunday March 25, 10am - 12:30pm
(Reminder: No reading required. You are welcome to read but do not need to. Book also available on audible.com)
For more information, see familycollective.org. With any questions, email info@familycollective.org