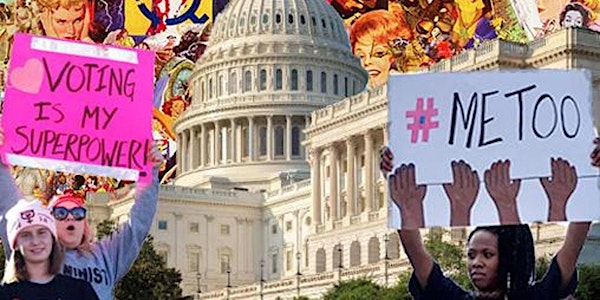 #Feminism: Gender & the 2020 Election
Keynote speaker Zerlina Maxwell and noted panelists will discuss how gender and race have shaped the 2020 election.
About this event
Here we are: 100 years after women gained the right to vote and decades after second wave feminism exploded on the scene, and still sexist double standards are applied to candidates, still nowhere near equal representation in local and national government, and still no woman president. Feminism is seemingly everywhere – from the Women's Marches to the righteous rage of #MeToo and #TimesUp – and yet gender inequity and hate continue to pervade civic life.
Expert panelists and participants in this interdisciplinary symposium will consider how gender and feminist activism should inform our thinking about the upcoming elections. Split into three panels over the course of one day, we will look at how feminists might engage social movements, digital spaces, and broader communities in trying to effect social change. Panels will invite conversations about new forms of media in the hands of feminist activists, historical perspectives on gender and electoral politics (in celebration of the anniversary of suffrage), mainstream media coverage of elections through the lens of gender, and leveraging the unprecedented visibility of women (particularly women of color) in both electoral and grassroots politics. Throughout the day, we will promote an active dialogue among scholars, activists, journalists, and community organizers in a broad discussion of both the limitations and potentials of electoral politics for enacting substantive feminist transformations.
Schedule of Events:
Welcome & Keynote Address (Zerlina Maxwell, "The Reckoning") 10:00 am - 11:30 am EST
#MakingFeminisms: Organizing Resistance on the Ground and IRL (Carmen Rios, Catherine Knight Steele, Katherine Grainger), 1:00 - 2:15 pm EST
#StillWePersist: Organizing Resistance in the Streets and On the Hill (Duchess Harris, Amanda Renteria, Tamar Carroll), 3:00-4:15 pm EST
This is the seventh annual Women's History Month Symposium presented by the Women's, Gender, and Sexuality Studies Program at Northeastern University, supported by the Northeastern Humanities Center. The day begins with a keynote speech by Zerlina Maxwell of MSNBC and Siriux XM and continues with panels on #DigitalFeminism: Organizing Resistance Online (Katherine Grainger, Catherine Knight Steele, Carmen Rios) and #StillWePersist: Organizing Resistance on the Streets and on the Hill (Tamar Carroll, Duchess Harris, Amanda Renteria).
Registration is required for each panel. An email will be sent several hours prior to the start of each panel with the link to the Zoom event. Please do not share this link with others. We will be checking each person's name against our registration link before admitting them into the Zoom space. You must register for each panel you wish to attend, as they will all have unique links.