Feminine Form - Posture, Gesture & Attitude thru Belly Dance

Saturday, February 2, 2019 from 12:00 PM to 1:30 PM (PST)
Event Details

This exciting, body-moving course will explore feminine posture, gesture and movement through belly dancing, known in other places as oriental cabaret. You will examine and practice basic stances, movements of the feet, knees, hips, arms and chest and their integration into the dance will be explained.
At the end of the 90 minute course,will be given a list of moves and a choreography to practice, along with references to various notable dancers so that feminine movement through belly dancing can be more understood.(Please note that this is only an introductory session and hopefully with practice one's progress will continue. Belly dancing requires repeating the moves and gestures again and again.)
The class will begin with a brief history and description of the origins of the dancing we call belly dance. Some videos will also be presented. After a little inspiration, you will begin learning to get in tune with your body with the following...
Warm Up exercises





Demonstration of basic moves





Guided practice of basic moves





Sequencing of these same moves into a choreography





Continued practice of the moves with music




In this interactive workshop; it is most important to get comfortable with each move before moving on to the next.
Also, your instructor will progress through each movement slowly and give you fair warning before changes to the next move. It is nice to be able to relax and enjoy each movement as you progress through the class and beyond.

By the end of the session, we hope you will have a better relationship with your body and how to move in a more graceful manner.

CLASS REQUIREMENT: There will be physical work in the class. Workout or comfortable clothing and footwear, water and perhaps a small towel is recommended.  
Instructor: Sophie Demitra
Lab Meeting Schedule: Saturday, February 2
Course Meeeting Times:  12 - 1:30 p.m. 
Location: The Village at Ed Gould Plaza 
Enrollment closes at 3 pm on Friday, February 1
---
IMPORTANT INSTRUCTIONS FOR STUDENT PARKING AT LOS ANGELES LGBT CENTER'S YOUTH CENTER ON HIGHLAND
As you are aware, the Center is undertaking a large construction project to build affordable intergenerational housing for LGBT youth & seniors. During this project, parking will no longer be available at the Village. To accommodate all those who use the Village, we are offering parking at the Center's Highland Youth Center at 1220 Highland Ave., just one block from the Village. See map below.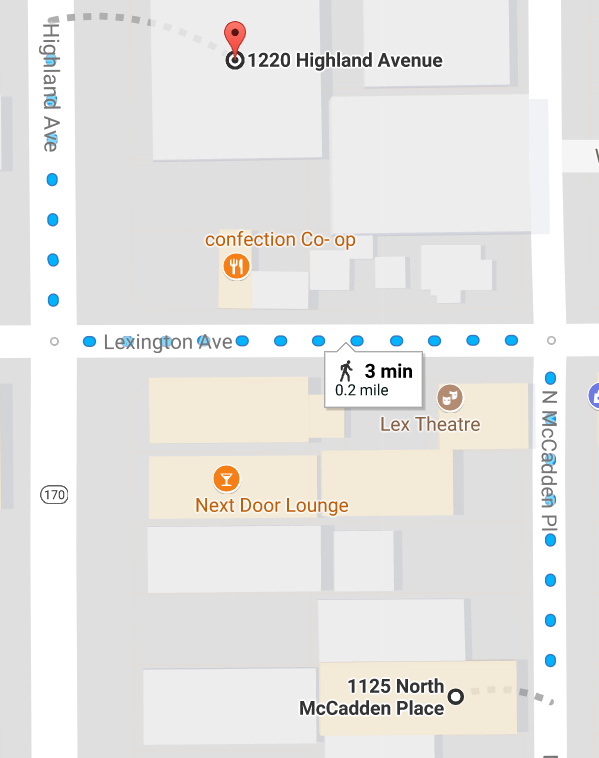 Designated parking spaces have been reserved for you and your fellow students in the Youth Center parking lot. See map below.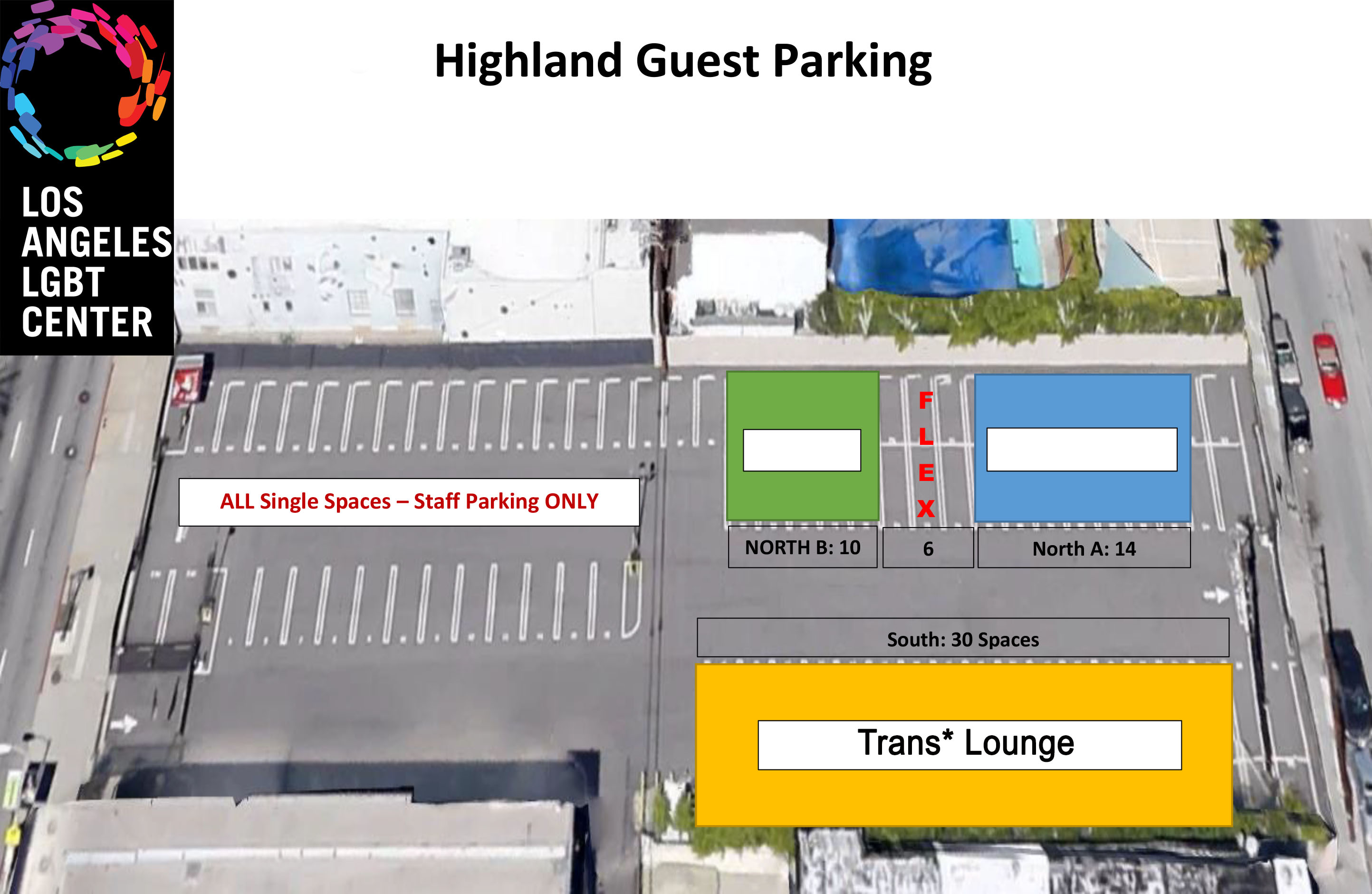 Please note that these spots are on a FIRST-COME, FIRST-SERVED basis. If you arrive after the start of your class and our section of the lot is full, YOU WILL NEED TO EXIT THE LOT AND FIND STREET PARKING. Below are instructions from our facilities staff on parking at Highland…

Arriving at the Youth Center: 
Student must enter the lot from the Highland Ave. entrance. See image below.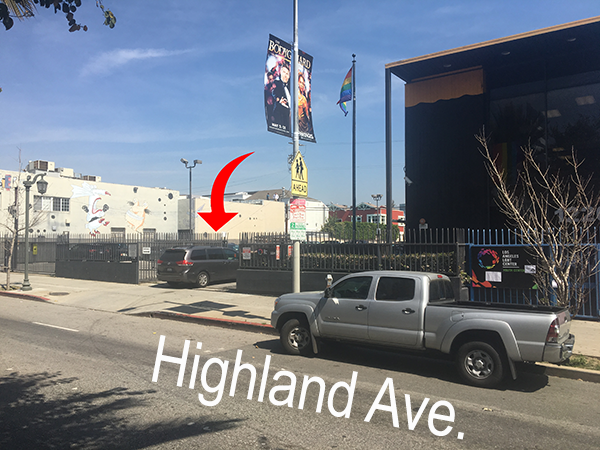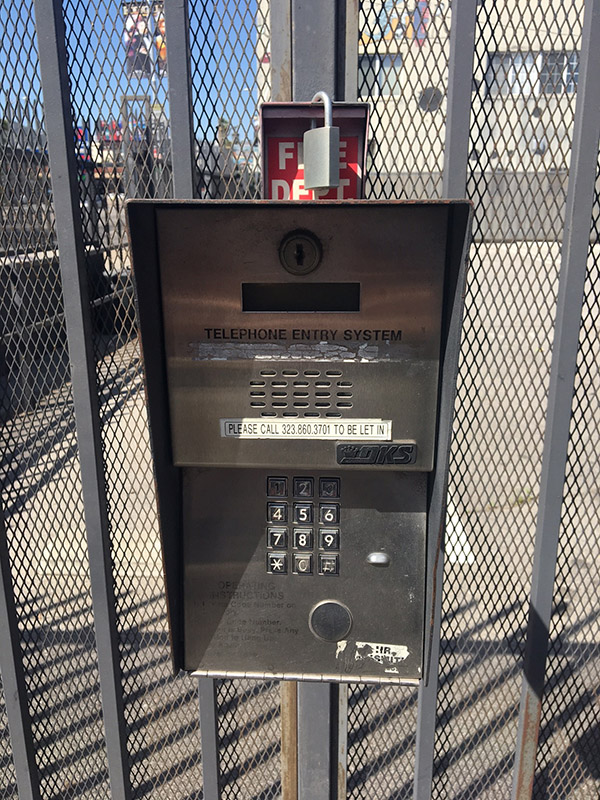 There is a note on the callbox at the Highland gate that has the number to the security desk. That number is 323-860-3701. When you arrive, you must call the security desk number from your personal cell phone, (the keypad on the callbox does not work). The Security Officer on duty will come out and use the remote to open the gate. IF there is no answer, the Officer may have stepped away from the desk – please be patient and try again.
Returning to your vehicle following class:
To maintain the security and safety of all parties – the gates at Highland will always remain closed. All entry and exit should be through the Highland Gate. Be sure all guests have the security desk number (323-860-3701) and call the Security Officer on duty once again to gain access to the lot and your vehicle. 

This is something new for all of us. We appreciate your patience as we navigate these new procedures and please know that we are doing all we can to continue to make your time at the Center a fun and fulfilling experience. If you have any questions or concerns regarding this situation, you can contact me at 323-860-7336 or gbigham@lalgbtcenter.org.
Thank you for your continued support of the Center and we look forward to seeing you in class!
When & Where

The Los Angeles LGBT Center's Village at Ed Gould Plaza
1125 N. McCadden Pl.
Los Angeles , CA 90038


Saturday, February 2, 2019 from 12:00 PM to 1:30 PM (PST)
Add to my calendar
Organizer
The Trans Lounge is a trailblazing new series of educational and empowerment workshops, labs, events and groups aimed at serving the needs of all transgender individuals in all aspects of their journey toward self-discovery and acceptance.

Trans Lounge programming will include: make-up classes, hairstyling classes, voice-feminization labs, coming out groups, trans-related legal workshops, personal growth and empowerment workshops, community building networking events, issue-driven discussion labs and other many other events, all of which are relevant to all aspects of the trans community.

How will the Trans Lounge work?
Unlike other education and empowerment themed programs, the Trans Lounge will depend upon its participants to determine and guide which programming is offered. To accomplish this, participants must first register as a member of the Trans Lounge by visiting our online hub at TransLounge.org. Becoming a member of the Trans Lounge is free to all trans-identified individuals who wish to join. 

Once registered, Trans Lounge member will have access to the Trans Lounge Members Only area within the Center's website. That is where members will find descriptions and information about our library free workshops, labs groups and events. Once there, members are asked to review all of the various programs and rate them all based on their level of interest. Member's interest rating options will range from: "Not Interested", "Maybe/Maybe Not", "Moderately Interested", to "Very Interested – Sign Me Up." Trans Lounge administrators will monitor all the member ratings and will use this data to determine which programs will be scheduled in order to meet the membership's greatest needs and interests.

At this point, administrators will contact the instructors to schedule those programs that the membership has expressed the greatest interest in. Programming dates/times will be determined based on instructor's availability as well as the member's availability guidelines (which they are asked to provide as part of the registration process). Once a program has been scheduled, those members who expressed the highest level of interest will be given first priority to RSVP/enroll in the program. Once those members have had time to RSVP (72-hours), the entire membership will be informed about the program and all other members will be able to enroll until the program reaches its enrollment maximum.

All workshops and labs will be programmed in this manner, so to ensure strong attendance and maximum utilization of what each program has to offer for the membership. This also ensures that our instructors will enjoy presenting their programs for optimal sized audiences.

In addition, the Trans Lounge will also present on-going social and support groups and short-term, topic-driven salons. Groups and salons will include: coming out to self, coming out to the one's we love, living with HIV-AIDS, embracing your femininity/masculinity, embracing faith, how to love and support the non-trans people we love and support, how T can build community with LGB people, etc.