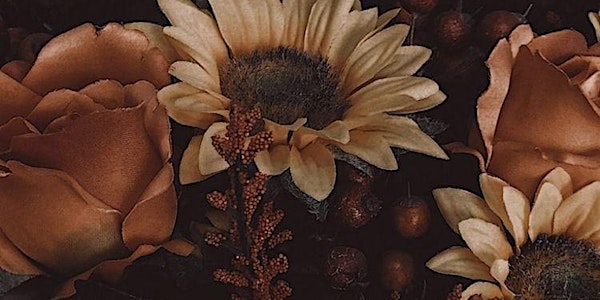 Feminine Embodiment Medicine Circle ♀
This healing circle is dedicated to nurturing and embodying the holy inner-relationship with the Sacred Feminine.
When and where
Location
Spirited by Thalia 303 5th ave New York, NY 10016
About this event
The Feminine is 𝑲𝒏𝒐𝒘𝒊𝒏𝒈. She is embodied love, full fruitful force, and knows what to bring forth for mass healings & holy reckonings through prayer in action.
𝐀𝐮𝐭𝐮𝐦𝐧 𝐈𝐧𝐭𝐞𝐧𝐭𝐢𝐨𝐧𝐬🍁:
𝑻𝒉𝒊𝒔 𝒔𝒆𝒂𝒔𝒐𝒏 𝒊𝒔 𝒇𝒊𝒍𝒍𝒆𝒅 𝒘𝒊𝒕𝒉 𝒑𝒆𝒂𝒄𝒆 𝒓𝒆𝒂𝒅𝒊𝒍𝒚 𝒂𝒗𝒂𝒊𝒍𝒂𝒃𝒍𝒆 𝒕𝒐 𝒕𝒉𝒆 𝑺𝒂𝒄𝒓𝒆𝒅 𝑭𝒆𝒎𝒊𝒏𝒊𝒏𝒆. 𝑾𝒆 𝒂𝒓𝒆 𝒊𝒏 𝒂 𝒏𝒆𝒘 𝒄𝒚𝒄𝒍𝒆 𝒏𝒆𝒗𝒆𝒓 𝒃𝒆𝒇𝒐𝒓𝒆 𝒔𝒆𝒆𝒏 𝒇𝒐𝒓 𝑯𝒆𝒓- 𝒂 𝒄𝒚𝒄𝒍𝒆 𝒘𝒉𝒊𝒄𝒉 𝒊𝒔 𝒅𝒊𝒄𝒕𝒂𝒕𝒆𝒅 𝑶𝑵𝑳𝒀 𝒃𝒚 𝑯𝒂𝒓𝒗𝒆𝒔𝒕𝒊𝒏𝒈 𝒕𝒉𝒆 𝒇𝒓𝒖𝒊𝒕𝒔 𝒐𝒇 𝑯𝒆𝒓 𝒍𝒂𝒃𝒐𝒖𝒓𝒔...𝑯𝒆𝒓 𝒓𝒆𝒘𝒂𝒓𝒅𝒔 𝒇𝒐𝒓 𝒅𝒆𝒇𝒆𝒂𝒕𝒊𝒏𝒈 𝒂𝒏𝒅 𝒄𝒐𝒏𝒒𝒖𝒆𝒓𝒊𝒏𝒈 𝒕𝒉𝒆 𝑼𝒏𝒅𝒆𝒓𝒘𝒐𝒓𝒍𝒅. 𝑺𝒉𝒆 𝒉𝒂𝒔 𝒋𝒐𝒊𝒏𝒆𝒅 𝒉𝒂𝒏𝒅𝒔 𝒘𝒊𝒕𝒉 𝑪𝒉𝒓𝒊𝒔𝒕 𝒊𝒏 𝒕𝒉𝒆 𝒎𝒊𝒅𝒔𝒕 𝒐𝒇 𝒅𝒆𝒂𝒕𝒉𝒔 𝒈𝒓𝒊𝒑 𝒂𝒓𝒐𝒖𝒏𝒅 𝑯𝒆𝒓 𝒕𝒉𝒓𝒐𝒂𝒕, 𝒂𝒏𝒅 𝒕𝒉𝒓𝒐𝒖𝒈𝒉 𝑯𝒊𝒎, 𝑺𝒉𝒆 𝒘𝒂𝒔 𝑺𝑨𝑽𝑬𝑫. 𝑻𝒉𝒊𝒔 𝒄𝒚𝒄𝒍𝒆 𝒊𝒔 𝒂 𝑯𝒐𝒍𝒚 𝑴𝒂𝒓𝒓𝒊𝒂𝒈𝒆 𝒕𝒉𝒆 𝑺𝒂𝒄𝒓𝒆𝒅 𝑭𝒆𝒎𝒊𝒏𝒊𝒏𝒆 𝒊𝒔 𝒊𝒏 𝒏𝒐𝒘: 𝑶𝒏𝒆 𝒘𝒊𝒕𝒉 𝑯𝒆𝒓 𝑮𝒐𝒅.
𝑻𝒉𝒆 𝒊𝒏𝒕𝒆𝒏𝒕𝒊𝒐𝒏𝒔 𝒐𝒇 𝒕𝒉𝒊𝒔 𝒄𝒚𝒄𝒍𝒆𝒔 𝑭𝒆𝒎𝒊𝒏𝒊𝒏𝒆 𝑬𝒎𝒃𝒐𝒅𝒊𝒎𝒆𝒏𝒕 𝑴𝒆𝒅𝒊𝒄𝒊𝒏𝒆 𝑪𝒊𝒓𝒄𝒍𝒆 ♀ 𝒊𝒔 𝒇𝒐𝒓 𝒚𝒐𝒖 𝒕𝒐 𝒓𝒆𝒋𝒐𝒊𝒄𝒆 𝒊𝒏 𝒂𝒏𝒅 𝒆𝒙𝒑𝒍𝒐𝒓𝒆 𝒚𝒐𝒖𝒓 𝑺𝒑𝒊𝒓𝒊𝒕𝒖𝒂𝒍 𝑮𝒊𝒇𝒕𝒔. 𝑩𝒚 𝒇𝒂𝒄𝒊𝒍𝒊𝒕𝒂𝒕𝒊𝒏𝒈 & 𝒅𝒊𝒓𝒆𝒄𝒕𝒊𝒏𝒈 𝒚𝒐𝒖 𝒊𝒏 𝒉𝒐𝒘 𝒕𝒐 𝒖𝒔𝒆 𝒚𝒐𝒖𝒓 𝑺𝒑𝒊𝒓𝒊𝒕𝒖𝒂𝒍 𝑮𝒊𝒇𝒕𝒔 𝒊𝒏 𝒐𝒓𝒅𝒆𝒓 𝒕𝒐 𝒔𝒆𝒓𝒗𝒆 𝒕𝒉𝒐𝒔𝒆 𝒂𝒓𝒐𝒖𝒏𝒅 𝒚𝒐𝒖, 𝒂𝒏𝒅 𝒚𝒐𝒖𝒓 𝒄𝒐𝒎𝒎𝒖𝒏𝒊𝒕𝒚, 𝒕𝒉𝒓𝒐𝒖𝒈𝒉 𝒕𝒉𝒆 𝒑𝒐𝒘𝒆𝒓𝒔 & 𝒈𝒓𝒂𝒄𝒆 𝒐𝒇 𝒚𝒐𝒖𝒓 𝒓𝒆𝒔𝒊𝒍𝒊𝒆𝒏𝒕 𝒉𝒆𝒂𝒓𝒕 𝒚𝒐𝒖 𝒘𝒊𝒍𝒍 𝑯𝒂𝒓𝒗𝒆𝒔𝒕 𝒂𝒍𝒍 𝒕𝒉𝒂𝒕 𝑮𝒐𝒅 𝒉𝒂𝒔 𝒑𝒓𝒆𝒑𝒂𝒓𝒆𝒅 𝒋𝒖𝒔𝒕 𝒇𝒐𝒓 𝒚𝒐𝒖.
Here are some Feminine Embodiment Medicine Circle ♀ incentives:
- learn your personal Sacred Feminine power through exploring an intimate relationship with God & Christ.
- group reflection on ways to apply prayer in action with all areas of life (work, rest, & relationships.)
- have a safe community to share and BE.