Femineer Day Camp 2019-Cal Poly Pomona College of Engineering

Monday, June 24, 2019 at 9:00 AM

-

Friday, June 28, 2019 at 3:00 PM (PDT)
Event Details
The Cal Poly Pomona College of Engineering Femineer® Program serves to inspire and empower K-12 female students to develop the skills and confidence needed to pursue majors and careers in STEM. 

Femineer® Camp is a 5-day student camp tailored toward middle and high school aged females, grades 7 through 12. It will cover the Creative Robotics curriculum focusing on real-world engineering skills that enable students to develop a finished product.

There will be 2 different Cal Poly Pomona College of Engineering Femineer® Camps to be held at Cal Poly Pomona: June 24-28, 2019 and July 15-19, 2019 from 9:00 am – 3:00 pm each day. 
The cost of the camp is $600.00 per person to attend. Lunch and t-shirt will be provided. 
The registration deadline is Friday, June 14 or until full. Those individuals who successfully register for the training will be sent a confirmation email with logistics by Monday, June 10, 2019. Space is limited, so please register early!
Materials: All required materials are provided for this program. Students will use Hummingbird Kits, computers, basic tools such as hammers, screw drivers, levels and craft materials. All students will receive a t-shirt, notebook and drawstring bag.
Audience: Incoming 7th – Incoming 12th graders
Location: Use the map to locate Cal Poly Pomona, College of Engineering Building 17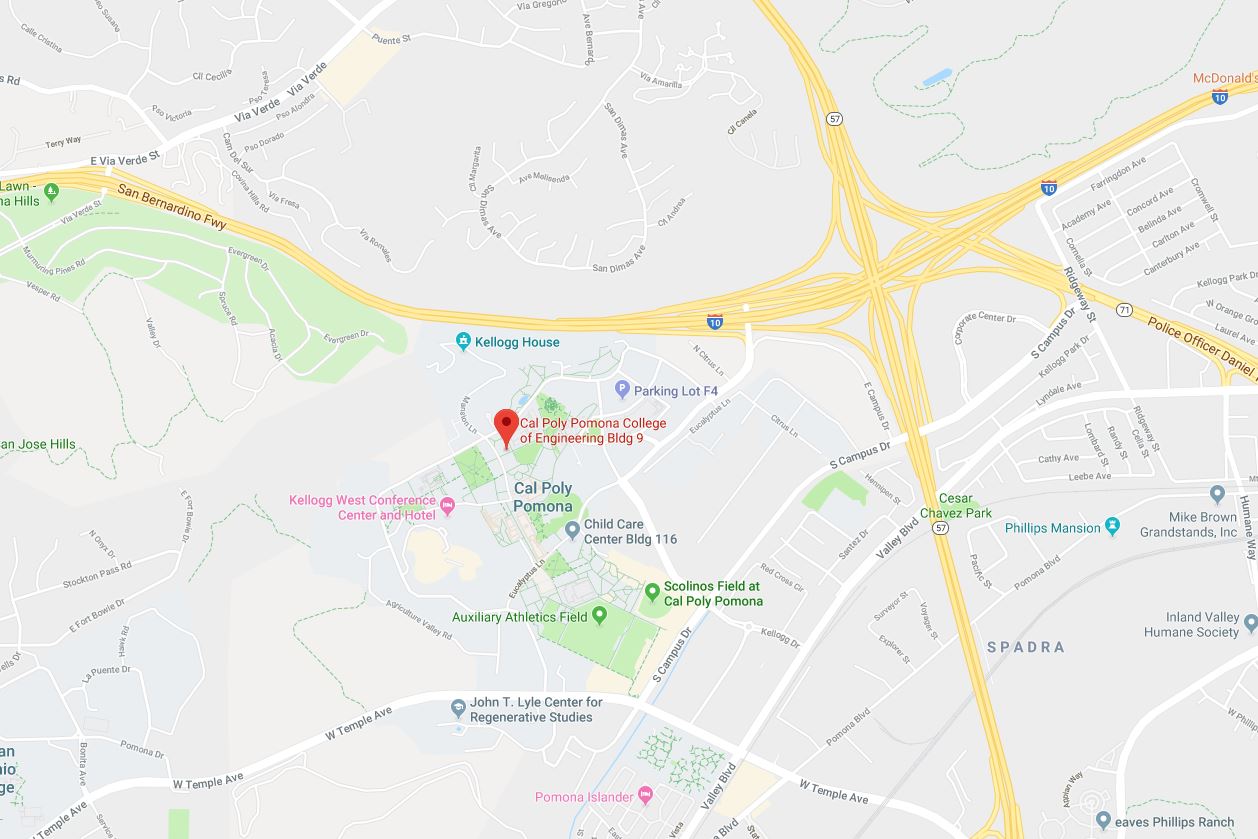 Look for signs pointing to the classroom on the first day!
Campus Tours: Over the course of the week we will tour the Cal Poly Pomona campus and the College of Engineering labs.
Lunch & Snacks: An all-you-can-eat lunch will be provided to your child daily. Please pack your child two snacks! We will take two snack breaks each day!
A refrigerator or microwave is NOT available so please pack accordingly. If your child has any allergies, please be extremely clear when indicating so in the survey!
Drop-Off/Check-In Time: To better accommodate work schedules, students may check-in to camp as early as 8:45 AM each day. Classes will begin at 9:00 AM. **please drop off and pick up your child within 10 minutes of class time. Parents pick up and drop off from 8:00am - 9:00am and 3:00pm – 4:00pm in parking lot F2.  This is a very close parking lot to building 17. Parking pass will not be needed for pick up and drop off in this parking lot.

Frequently Asked Questions:
Does my child need experience in coding?
No experience is required for students to participate in Cal Poly Pomona College of Engineering Femineer® Camp.
What is the deadline for signing up?
Camps are filled on a first come, first serve basis. The final deadline for camps are one month prior to the start of the program. Our programs do fill up so don't wait!
Is camp in session on Friday?
YES! That's the day students get to showcase their final project.
We are not able to attend the full Monday to Friday week. Is that okay?
Each day of our program builds off of the content from the previous day. To make sure your child is getting the full experience, we highly recommend they can attend the full week. That being said, we may able to accommodate absences on a case-by-case basis. Just let us know in advance so we try and plan accordingly! We are unable to prorate the cost of your program.
Do students work together?
Yes! Summer camps are a time to make new friends and learn to work together. Teamwork is an important part of engineering and STEM.
Who is teaching my child?  
Our camps are led by current undergraduate Engineering Student camp instructors, who have been highly trained. All camp instructors have been fingerprinted and background checked. Our instructors are AWESOME! They love working with students and your child will love working with them!
What is the teacher to student ratio?  
The total maximum camp size for CPP CoE Femineer® camps is 24 students. There will be one instructor in every camp and two assistant instructors.
Is this camp indoors or outdoors?
The camp will take place in a classroom at Cal Poly Pomona. Morning stretches and snack breaks will take place outside in the Engineering Meadow. The Engineering Meadow is a grassy open field.
Can I visit my child's classroom?
Yes, you may visit the classroom, but we strongly encourage you to visit on the last day of class (Friday) to view the Project Showcase.
Terms & Conditions
By completing this registration form, you are confirming that you have read, acknowledged, and approve the below.
LIABILITY AND HOLD HARMLESS AGREEMENT:
TALENT RELEASE: I hereby consent to the use of the image, voice, or both of my child, recorded in the video, photograph, or audio either in whole or in part by the Cal Poly Pomona College of Engineering for educational, research, advertising and marketing purposes without compensation.
PROGRAM STATUS: In the event that minimum numbers are not reached, programs may be cancelled and a full refund will be issued. Final statuses on programs will be confirmed 3 weeks prior to the start of the program.
CANCELLATION POLICY:
If you would like to cancel your registration 30 days or more from the start of the program, a full refund will be made. We regretfully cannot accept cancellations within 30 days of the program start date.
Save This Event
When & Where

Cal Poly Pomona College of Engineering Bldg 17
3801 West Temple Avenue
Pomona, CA 91768


Monday, June 24, 2019 at 9:00 AM

-

Friday, June 28, 2019 at 3:00 PM (PDT)
Add to my calendar
Organizer
For questions and more information please comtact us at cpp_we@cpp.edu.