Description
Hey Female Immigrants - Femigrants!
Ready to go out, reconnect with old friends and meet new people? Want to learn from experts and get tips from experienced women immigrant leaders? Flash! Femigrants Business Club of Silicon Valley is a right community for you to join and make a change in your life!
**The Femigrants Business Club is a private club dedicated to serving immigrant business owners, professionals, leaders in STEM, established immigrants and newcomers.
We really enjoyed our first Business Club to know you-our beloved community member but we decided to make the next Business Club slightly different.
What is changing? We are inviting 2 expert Femigrants to facilitate conversations with 2 teams of 10+ people.
As per your request, we will talk about:
How To Make A Successful Career Change

How To Build The Right Network
VENUE Details - Only registered guests will receive an email with an adresss as it is a private venue.
"How To Make A Successful Career Change"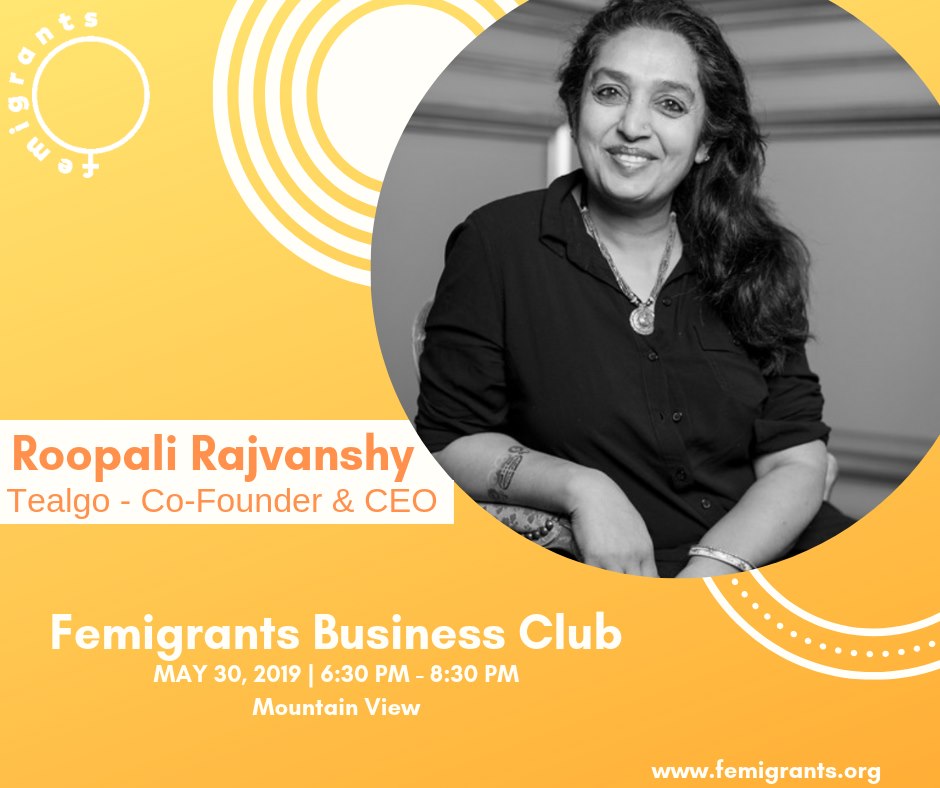 Roopali Rajvansky, Co-Founder and CEO of Tealgo, will lead a discussion about successfully changing careers. As a Femigrants from India who relocated to the US, she worked as a marketing professional at IBM, Cisco and VMware, startups like Women, Startup!, and other non-profits. As an entrepreneur with heart, she envisioned the idea for a company and developed Tealgo, an empathic business that connects families via meaningful memories and stories. Having transitioned roles between small and big companies and becoming a business owner, she will share insights based on her personal experiences on how to make a successful career change.
"How To Build The Right Network"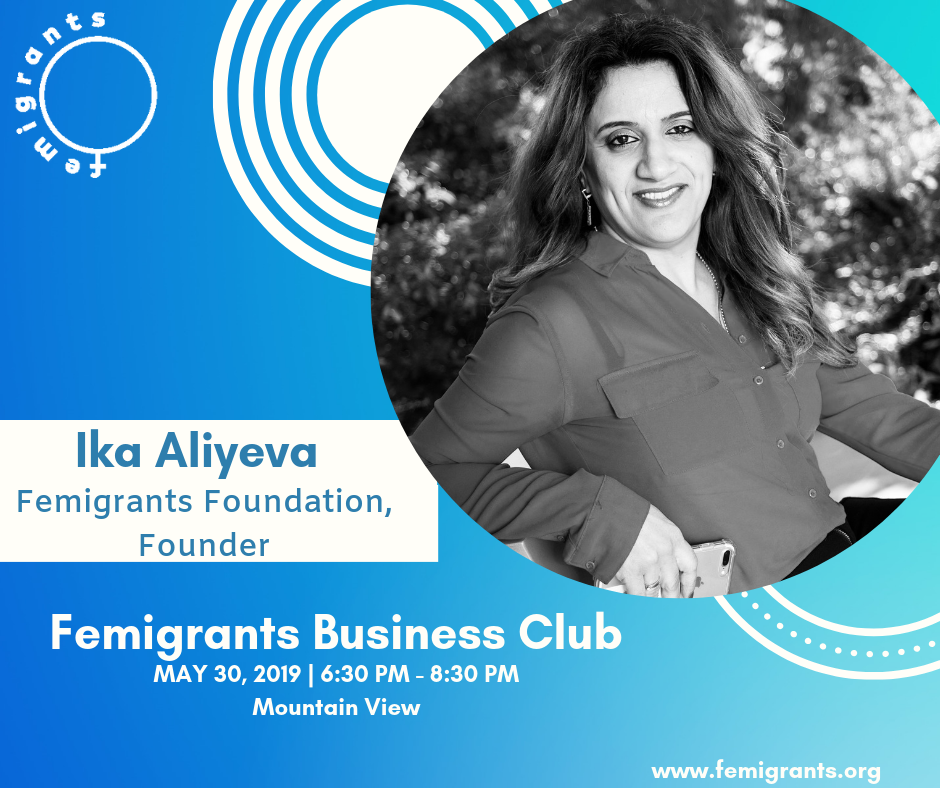 Ika Aliyeva, Founder of Femigrants Foundation. Ika also works as Documentation and Communications PM at AR/VR (Oculus). She will talk about building a meaningful network, the best ways to ask for job referrals, the possible ways of keeping the relationship of professional networks, and more. Ika graduated Social Media Marketing from Middle Tennessee State University and was able to grow her online community - Femigrants Foundation from 0 to 5000+ members in 2 years using her social media and networking skills. Her own challenges of being a housewife with 2 kids in America (despite of her successful career back in her country), lack of supportive and professional network and misinformation of job application process motivated her to build a platform to help immigrant women with similar challenges.
This will not be an official type of speaking event but more of a friendly environment where facilitators will lead the conversation helping you find answers to your questions about successful career change and building the right network.
Please check our Facebook group posts for the announcements and more detailed description of the event!
This is not all! Who said that we can't have a Happy Hour on Thursdays?! We will have our 'own' Happy Hour and Femigrants will provide a special dinner - homemade food by Gulay's kitchen.
Bring your business cards and flyer to exchange. Charge your phone and photo camera to take photos!
Share your photos on social media, tag @Femigrants and use hastag #femigrantsbusinessclub to get gifts from Femigrants :)
-------------------
SPONSORSHIP OPPORTUNITIES
Did you know that 49% of consumers depend on influencer recommendations?
Influencer marketing is the fastest-growing online customer-acquisition method. As a sponsor of this event, you will have exposure to over one hundred event attendees who will gain exposure to your business. In addition to the event attendees, you will also gain access to leading influencers in the industries of business and STEM. This is a great opportunity to expand your brand and social awareness.
How to sponsor our event
Provide catering for the event
Donate giveaway items
Provide news coverage of the event
Advertise the event
Provide printed material for the event
Provide Femigrants branded swags
Reasons to sponsor our event
Gain exposure to an audience of 15000 Facebook community
Get access to influencers and leading decision makers to generate new business leads
Engage one - on - one with people looking for relevant product solutions
Increase brand and social awareness via exposure to a relevant consumer community
Receive complimentary tickets to the event
Network with your community and increase your company profile and brand awareness
Positively impact the San Francisco Bay Area immigrant community
Interested in becoming a sponsor for this event? Please email contact@femigrants.org. We're looking forward to working with you!
------------------------------
TERMS OF PARTICIPATION AGREEMENT
By Participating in the event, you grant Femigrants Foundation permission to capture photo/video of the event, and share on social media platforms and marketing assets.
By registering for this event, you also consent to receive email communication from Femigrants Foundation and its programs about events, updates and announcements.
You agree Femigrants Foundation, is not responsible for circumstances that may necessitate for substitutions or cancellations of speakers.
You agree that you are responsible for any accidents or damages that you cause. You also agree to not hold Femigrants Foundation, or any of the event supporters liable for any loss, damage, injury, or any other unforeseeable incident.
Tickets for this event are non-refundable. If you are unable to attend, you have the option of giving it to a friend or team member to attend in your place. Please inform us via email (contact@femigrants.org) if you give your ticket to someone to replace you.
---------------------------
#influentialimmigrants #immigrantinfluencers #immigranchangemakers #successfulimmigrants #successstoriesofimmigrants #femaleimmigrants #immigrantsinbusiness
Organizer of Femigrants' Business Club of Silicon Valley
Femigrants is a global community of diverse female immigrants. We help immigrant women to unlock their full potential and advance their leadership skills.
We provide immigrant women with resources and tools to get ahead in business and career through education, inspiration, community support and opportunity. Femigrants gives you an access to the diverse community of  professional immigrants committed to helping each other thrive and succeed.

Femigrants includes and welcomes immigrant women from all ethnicities, nationalities, races, identitities cultures, countries & heritage. We have more than 5600 immigrant women entrepreneurs, business owners, leaders in STEM, change makers, micro-macro influencers in our community. We provide support to new comers and any immigrants looking for better life and career opportunities.
 Join our online community to use our resources and expand your professional network. 
Follow Femigrants to stay motivated and be informed on our own and partners' events, announcements and updates.