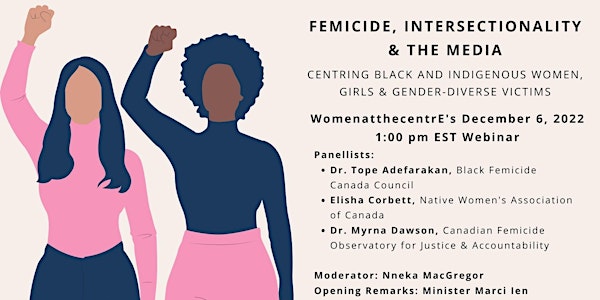 Femicide and Intersectionality: The Role of Media
The role of media in reporting femicides of Black and Indigenous women, girls and gender-diverse people in the Canadian context.
About this event
National Day of Remembrance and Action on Violence Against Women – Webinar
Femicide, the killing of women, girls and gender-diverse (WGGD) people because of their gender identity, is a global pandemic. In Canada, there has been a lack of attention paid to the femicides of Black and Indigenous women, girls, 2-Spirit and gender-diverse people. In this webinar, our panelists examine the role of media and other systemic and structural barriers to shining equitable light on these killings, with a call to action for everyone to do better.
Panelists:
Dr. Tope Adefarakan, Black Femicide Canada Council
Elisha Corbett, Native Women's Association of Canada
Dr. Myrna Dawson, Canadian Femicide Observatory for Justice & Accountability
Moderator: Nneka MacGregor, Co-Founder and Executive Director of WomenatthecentrE
Opening Remarks: Minister Marci Ien, Minister for Women and Gender Equality and Youth
For folks who attend York University and wish to view the webinar, York University's Centre for Sexual Violence Response, Support & Education, WomenatthecentrE's longstanding community partner, will also be broadcasting the webinar in Room 125 Bergeron Centre for Engineering Excellence!