Description
THIS IS NO ORDINARY CONFERENCE FOR WOMEN IN TECHNOLOGY & BUSINESS
---


Join our keynote speakers: Naomi Simson and Suzie Lightfoot, as they speak of their experiences as women in business and leadership.
Over 2 massive days, you will have the opportunity to:
EXPLORE
Network with female Founders, CEO's, leaders in technology and male champions

Connect with other women in the tech industry

Appreciate the diversity and breadth that technology touches
EXPERIENCE
Be part of an event run by women in tech & business for women in tech & business

Listen to real stories about real women and real experiences

Connect to women in technology across retail, financial, start up, education

Hear from male champions and how they are supporting women to elevate and build confidence
ELEVATE
Hear from amazing talent showcasing what we can and have done in the tech industry

Understand the challenges of emerging technology and how to lead with purpose

Learn and put plans in place to get out of your comfort zone and explore what is possible
EVOLVE
Stay relevant, in a landscape that is ever changing, ever evolving

Become a driven female leader who supports innovation, individuality and diversity
---
You will leave feeling:
Confident

Empowered

Courageous

Inspired

Motivated

Brave

Wanting more for you

Unstoppable

Connected

Relevant

Part of something unique

That you will no longer settle

Like a woman who THRIVES, not just survives
---


The speaker line-up includes women who have:
Worked in technology for their whole career and continued to elevate themselves with passion and purpose

Disrupted the status quo

Transitioned from the Business into Technology leadership roles

Faced and overcome ingrained historical bias

Overcome discrimination to recognise their strength, know their strength and celebrate their strength

Taken the brave leap to start their own business, by following their passion

Overcome their own sense of imposter syndrome

Become thought leaders and industry experts, influencing and challenging the norm

Supported other females and show how we can all do our bit to build the pipeline of women in tech - and retain fantastic talent

Amazing technology they want to showcase - Blockchain, AI, Machine Leraning, IoT, Robotics
---
At FemeTech, we are extremely fortunate to have the following people confirmed:
KeyNote Speakers
Naomi Simson: Australian Businessperson, Writer and Entrepreneur
Suzie Lightfoot: Personal Brand Expert
Speakers
Branding and Personal Development
Margie Hartley: Founder Gram Consulting Group
Jen Gearing: Regional Account Director, Mobile Solutions
Samantha Rush: Executive Manager
Emma Hannigan: CEO Curly Top Media
Kathryn Maggs: Leadership Expert
Alisha de Jonge: Social Domination
Angela Henderson: Business Coach and Consultant
Jacky Carter: Hays Specialist recruitment
The Human Factor
Elissa Farrow: About your transition
Sarah Yip: Managing Director KEASE
Leading through transformation
Emma Caruso: Executive Manager
Jiggy Rathour: Principal Consultant
Sharon Melamed: Managing Director
Zhilla Noorbakhsh: Portfolio Manager Digital and data
Roma Christian: Executive Editor, Technology
Mellonie Francis: Business & Technology Advisor
Alison Connolly: Executive Manager, Bingle
Mita Bedi: CEO Resonate
Yasmin London: Cyber Safety
Salma Datenis: Cloud- Sourced Group
Michelle Pascoe: CEO OOPS
Our Male Champions
Paul Muir: Co-founder CertFair
Josh Melville: Leader Technology
The Next Generation
Cassy Read: Director of Pottsville Community Preschool & Co-founder Nature Explorers
Ally Watson: Co-founder, Code like a Girl
RSE - Real Skills Education
Sponsorship
Suzie Lightfoot: Keynote speaker and Personal Brand Expert www.suzielightfoot.com
Pottsville Community Preschool
Nature Explorers www.natureexplorers.com.au
Code like a Girl www.codelikeagirl.org
Angela Henderson Consulting www.angelahenderson.com.au
Group discounts available - email nichol@nicholstark.com.au for further details.


What will you get from attending this event?
Not only will you have access to leaders across the industry, but all attendees will receive:
The Femetech Revolution annual membership: Value $500
50% discount on three month 1 on 1 leadership coaching
But that is not all....you will go into the draw for the following lucky door prizes (T&Cs apply)
**One day workshop facilitation package for strategy/business planning or problem solving. This package includes 2 meetings, 2 days of preparation, and photographs of outcomes. Optional extras available, including a workshop report and progress meetings/workshops. Value $4,500
**Michelle Pasco Online course. Developed from the learnings of 25+ years in business, Michelle will teach you her lucrative 6 tools for success. Using the analogy of the Handbag and its contents as prompts for your development, you'll cut the ties with your inner critic and reconnect with your passion. https://www.michellepascoe.courses/HandbagOfLife. Value $295
**Code Like a Girl lapel pins
**Matchboard will offer a 1-hour LinkedIn consultation door prize. (In 2013 LinkedIn named Sharon Melamed as a Power Profile – one of the 50 most viewed profiles in Australia. My most recent blog on leveraging LinkedIn is here: https://www.linkedin.com/pulse/15-years-linkedin-reasons-grateful-sharon-melamed/)
**Nichol Stark Leadership Coaching – 6 month individual (one on one) leadership coaching. For more details: visit www.nicholstark.com.au Value $4,500
Your Speakers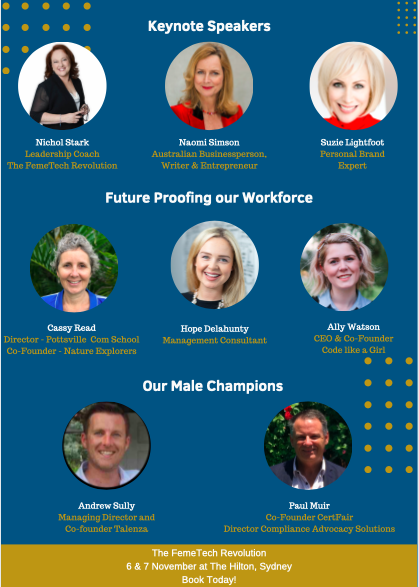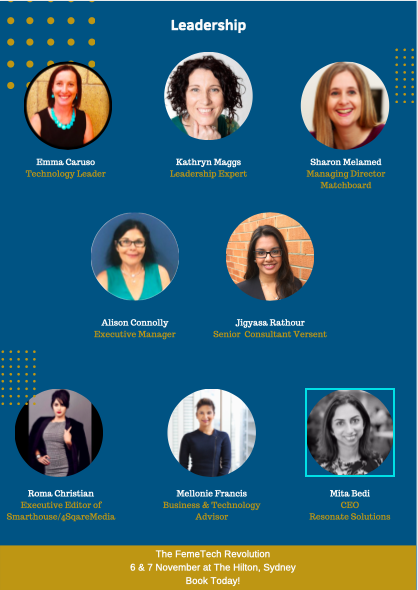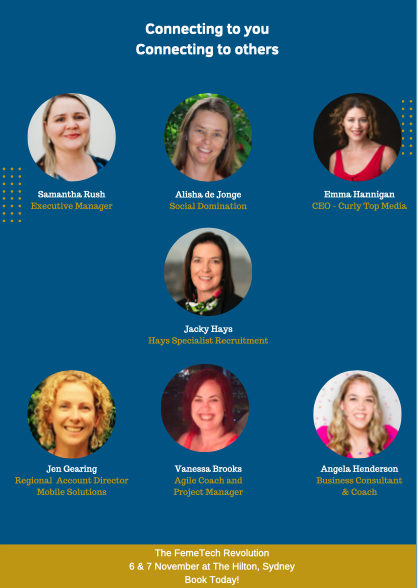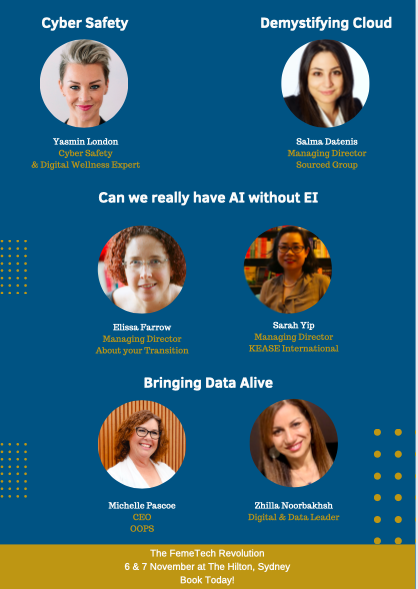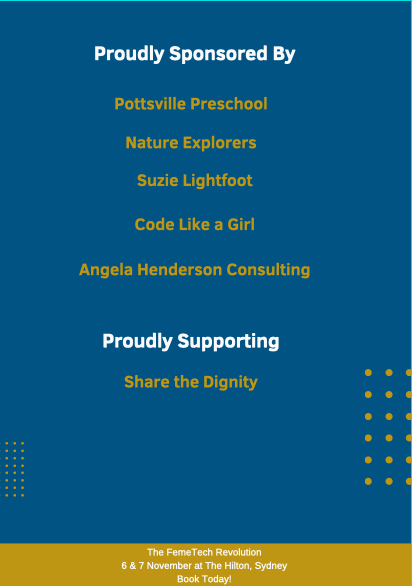 ---
Cancellation policies
This cancellation policy applies to the FemeTech Revolution. Here at FemeTech, we appreciate the fact that circumstances can change. FemeTech incurs all costs for each registration which is cancelled. The following cancellation policies are non-negotiable:
If a registration is cancelled more that 21 working days before the date of a scheduled event, the fee of that registration will be refunded, minus a $200 processing fee

If a registration is cancelled between 21 and 14 working days before the date of the scheduled event, the registered participant will receive a redeemable credit note that can be used to attend another FemeTech Revolution event – which will be subject to availability

If a registration is cancelled less than 14 working days before the date of the scheduled event, FemeTech will be unable to refund or provide a credit note due to expenses already incurred by FemeTech to schedule and run the conference.
Your Privacy
FemeTech will take diligent action to ensure all client details are protected. We respect the customers right to 'opt in or out' of various promotional activities for relevant, upcoming events. If you do not wish to receive further information about up coming events, please advise at registration
What happens after registration
When you have registered for the FemeTech Revolution conference, and the registration has been received, you will be sent a confirmation email. This will include your invoice and any relevant information regarding the event you are registered for. Leading up to the scheduled event, FemeTech will provide regular updates on Agenda, Speakers and Logistics
Any changes to the event
A lot of effort is made to ensure all FemeTech events proceed as originally advertised. It can be with great regret that circumstances beyond FemeTech control can prevent this from happening. As such, FemeTech reserves the right to change the speaker and / or agenda details at any time throughout the lifecycle of this event. It goes without saying, FemeTech will diligently minimise the risks of changes to this event and will always provide up to date, timely and accurate information leading up to the event
FAQs
What are my transport/parking options for getting to and from the event?
The Hilton Sydney, is conveniently situated near public transport - buses and trains.
Parking in the city is limited
How can I contact the organiser with any questions?
Please feel free to contact the organiser directly: nichol@nicholstark.com.au
Is my registration fee or ticket transferrable?
Please contact the organiser to discuss options