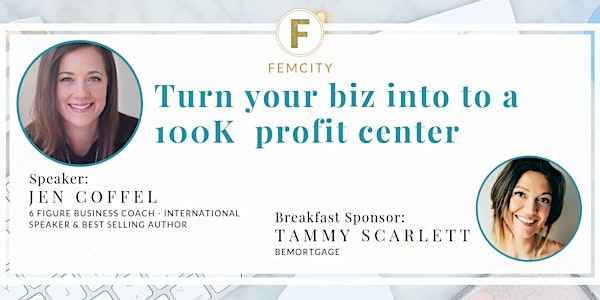 FemCity Chicago: 5 Secrets to Transform Your Business to 100K Profit Center
Location
Workbox
420 N Wabash Avenue
Suite 500
Chicago, IL 60611
Description
***REGISTER DIRECTLY ON FEMCITYCHICAGO.COM AND AVOID EVENTBRITE FEES***

BUSINESS // LIFETIME // GLOBAL MEMBERS MUST LOG INTO FEMCITY FOR TICKET DISCOUNT
https://femcity.com/collective-workshops/chicago-september-morning-mastermind?rq=chicago

Do you want to build a 6 figure business in less than 12 months or add 6 figures to our business but you don't know what's missing to generate that growth? Jen Coffel has built 4 different businesses to 6 figures each in different industries and each is less than 12 months. She will be sharing her 5 secrets to transform your business to 100k profit center.

You will also learn:

The ONE BIG THING entrepreneurs ignore that is having a huge impact on their success and it has nothing to do with being good at what they do.

How to stand out from your competition in the marketplace and be remembered.

What can cause entrepreneurs to experience a roller coaster of up and down revenues and ultimately sabotage their success if they don't identify it and fix it.

What is the BLUEPRINT to transform any business into a 100K profit center!



The FemCity Morning Mastermind series was developed to present bite sized chunks of digestible information to propel your business forward. Featured speakers are women who possess notable experience leading others in business, philanthropy, and/or community.

Our speakers generously share their time and stand in their zone of genius while presenting tips and tools to help you create strategies and action plans for growth in your business. It is our desire that the time we spend together be overflowing with empowerment and directed action. Our events are deliberately intimate with limited attendance to ensure significant value is obtained by Fems engaged.

Join us and develop new relationships or deepen existing relationships with your FemSisters who are here to cheer you on, build you up and support your success!
Come prepared to share your 30-Second Fem Pitch:
Who are you?

What do you do?

What is your passion?

Gratitude shout out to another women!



FemCity's mission is rooted in positivity and inspiration to create a culture in which all women can rise, thrive and lead. We are here to support your dreams and growth both personally and professionally. This is a place where collaborations, strategic partnerships and new business abound!
Complimentary coffee, tea, and light breakfast items will be provided by our Breakfast Sponsor, bemortgae, and Business Member, Tammy Scarlett.
8:30 - Check-in and registration
8:50 - Introductions and FemPitch
9:50 - Q+A and Closing Remarks
***REGISTER DIRECTLY ON FEMCITYCHICAGO.COM AND AVOID EVENTBRITE FEES***
BUSINESS // LIFETIME // GLOBAL MEMBERS MUST LOG INTO FEMCITY TO RECEIVE TICKET DISCOUNT
https://femcity.com/collective-workshops/chicago-september-morning-mastermind?rq=chicago