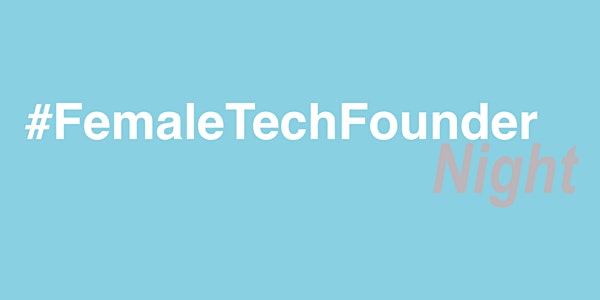 When and where
Location
Federation House 2 Federation Street Manchester M4 4BF M4 4BF United Kingdom
Description
Are you fascinated by turning ideas into tech products?
Do you enjoy hearing startup founders tell their stories?
Then this event is for you!
Join us at the next #FemaleTechFounder Night on 7 March at Federation House, Manchester where a panel of four female tech founders and co-founders will join forces to tell their stories, celebrate their successes and share what they're looking forward to.
What started out as a launch event for Assenty has evolved into a forum for female founders in tech to share their experiences and support one another.
Please note: This event is not just for women!
Everyone interested in tech, startups and everything that goes into creating products users love is invited!
It kicks off with drinks and networking at 6pm, sponsored by the lovely people at ThoughtWorks, followed by a Q&A panel discussion on the role of mentors. After this comes four awesome lightning talks featuring our founders and a Q&A panel with all four speakers at the end. The event should finish around 8:30pm.
Speakers:
Emma Ryan (@emmaryan), Co-Founder, Wattl

Dot McCarthy (@DotMcCarthy), Founder, Farmer2Foodie
Tanya Nicol (@TanyaNicol), Founder, Tripptee.com
PJ Surani (@PJSurani), Digital Success Manager, Computer Rock

Q&A Host: Claire-Marie Boggiano (@CMBoggiano), director, Lurig Ltd
Also joining us for the Q&A panel discussion on mentoring is:
Nicola Ellis (@Nic_Ellis88), Programme Manager, Tech Manchester
Lauren Halket, Founder, Key Talent Personnel
It is free to attend but registration is required.
About Emma Ryan
Emma Ryan is co-founder of Wattl, the startup shaking up how we can discover new video content. From running her own digital agency for 12 years with her husband they have launched Wattl from their kitchen table. Life is spent juggling business with three young boys and a crazy puppy!
About Dot McCarthy
Farmers and the internet: what happens when high speed internet reaches rural agricultural businesses
About Tanya Nicol
Tanya Nicol is the founder of Tripptee.com, a travel startup revolutionising the travel planning process. After brainstorming and researching possible ways to transform city break planning from a daunting chore to a delightful experience, she came up with what is today, TrippTee.
About PJ Surani
PJ is a global digital nomad that has developed transformation services geared toward generating a culture of collaborative problem solving and innovation for businesses and individuals alike. Her ambition over the next decade is to work toward the creation of tools and businesses that ensure digital technology "elevates" society rather than "displaces".
About our Q&A Host, Claire-Marie Boggiano
Claire-Marie Boggiano is Director & Coach at Lurig Change & Development. She is a Chartered Engineer and Head of Diversity at the IoD North West. She supports women in business and in STEM. She specialises in working with individuals and organisations in transition.
Claire-Marie believes coaching and mentoring helps people get from A to B quicker than they would on their own. She loves breaking eggs, building gladiators and making connections.
About Nicola Ellis
Nicola leads the start-up and mentoring programme at Tech Manchester, helping early stage tech start-ups. She is also a mentor for One Million Mentors and and ambassador for STEM.

About Lauren Halket
Lauren is founder of recruitment tech startup Key Talent Personnel.

Dietary Requirements
Let us know your dietary requirements by voting in this quick poll. Requires free Assenty account. Log in or sign up.
Want to ask something before the event?
We have a Question Board!
Have a burning question you'd like to post to our speakers?
Or perhaps you'd like to make a suggestion about the event.

Submit questions or suggestions for free on our Question Board.
You can post anonymously.
CODE OF CONDUCT
All attendees and speakers at ThoughtWorks events are required to agree with the following code of conduct. Organisers will enforce this code throughout the event. We expect cooperation from all participants to help ensure a safer space for everybody.
Our events are dedicated to providing a harassment-free experience for everyone, regardless of gender, gender identity and expression, age, sexual identity, disability, physical appearance, body size, race, ethnicity, religion (or lack thereof), or technology choices. Complimentary or derogatory comments of a personal nature on any of the above are not appropriate or welcome. Please use gender-neutral language when applicable, we do not tolerate harassment of attendees or participants in any form.
Facilities:
To make the event accessible for everyone, there will be:
- baby changing facilities
- prayer/reflection room
- quiet space
- gender neutral toilets
- induction loop
About ThoughtWorks
ThoughtWorks is a community of passionate individuals whose purpose is to revolutionise software design, creation and delivery, while advocating for positive social change. Knowledge should be for all, not just for the few. We believe in sharing what we've learnt, partnering with social justice and tech-hungry individuals - to work, mingle and share ideas.