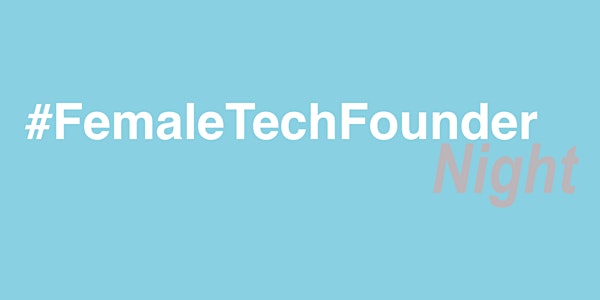 #FemaleTechFounder Night - June
When and where
Location
Federation House 2 Federation Street Manchester M4 4BF United Kingdom
Description
Are you fascinated by turning ideas into tech products?
Do you enjoy hearing startup founders tell their stories?
Then this event is for you!
Join us at the next #FemaleTechFounder Night on Tuesday 11 June at Federation House, Manchester where a panel of female tech founders and co-founders will join forces to tell their stories, celebrate their successes and share what they're looking forward to next.
What started out as a launch event for Assenty has evolved into a forum for female founders in tech to share their experiences and support one another.
Please note: This event is not just for women!
Everyone interested in tech, startups and everything that goes into creating products users love is invited!
It kicks off with drinks and networking at 6pm, sponsored by the lovely people at ThoughtWorks, followed by a Q&A panel discussion on pitching to investors.
After this comes awesome lightning talks featuring our founders, the first of our pitch practice sessions and a Q&A panel with all speakers at the end. Then some more networking! The event should finish around 8:30pm.
Speakers confirmed so far:
Susanna Lawson (@SusannaOneFile), CEO/Co-founder, OneFile
Amy Newton (@InterimAmy), founder

Q&A Host: Claire-Marie Boggiano (@CMBoggiano), director, Lurig Ltd
Also joining us for the Q&A panel discussion on pitching to investors:
Jessica Jackson (@jessandthehive), Investment Director at GC Angels
Geseth Garcia (@NearLifeTech), Co-founder and Director of projects & learning, Digital Training Solutions Ltd
And, taking part in our very first pitch practice session:
Tanya Nicol (@TanyaNicol), Founder, Tripptee.com
It is free to attend but registration is required.
About Susanna Lawson
Susanna co-founded OneFile 14 years ago and has built a back bedroom start up into an 80 employee business, with 1 million users. Susanna won Forward Ladies/HSBC Business Woman of the Year 2017 and is on several business advisory panels including Andy Burnham's - the Mayor of Greater Manchester.
About Tanya Nicol
Tanya Nicol is the founder of Tripptee.com, a travel startup revolutionising the travel planning process. After brainstorming and researching possible ways to transform city break planning from a daunting chore to a delightful experience, she came up with what is today, TrippTee.
About Jessica Jackson
Jess has over 4 years of experience working with tech businesses and startups, particularly with a focus on positive social impact. She completed multiple early stage equity investments for a Family Office and managed a portfolio of £5m+ before joining GC Angels. She is passionate about female-led businesses, running her own side-project Jess &The Hive, mentoring and supporting female creatives in managing their business at startup stage. She is also leading on a collaborative initiative to bring together female capital and female founders, alongside professional services to create an ecosystem addressing the diversity imbalance in investing. This project will have a unique brand and will be powered by the Growth Company.
About Geseth Garcia
Geseth Garcia is co-founder and director of projects & learning at Digital Training Solutions Ltd. She delivers interactive learning projects and platforms for clients and partners. Her main focus at the moment is delivery of the Near-Life™ authoring tool that will allow course developers to create interactive learning environments, and gather user data, easily. She started building websites at the turn of the century via a Masters in Online Journalism. With a background in international development, having worked for the UN in post-war Kosovo, Geseth is interested in how EdTech can help improve aid delivery on the ground and, in particular, how it can be used to build capacity for local aid partners. A Mexican-American from Southern California, she's swapped baseball for cricket and football for football, but desperately misses Mexican food. Outside of work, she's committed to raising two decent people and has a love-hate relationship with the family cat.
About our Q&A Host, Claire-Marie Boggiano
Claire-Marie Boggiano is Director & Coach at Lurig Change & Development. She is a Chartered Engineer and Head of Diversity at the IoD North West. She supports women in business and in STEM. She specialises in working with individuals and organisations in transition.
Claire-Marie believes coaching and mentoring helps people get from A to B quicker than they would on their own. She loves breaking eggs, building gladiators and making connections.
Dietary Requirements
Let us know your dietary requirements by voting in this quick poll. No registration required.
Want to ask something before the event?
We have a Question Board!
Have a burning question you'd like to post to our speakers?
Or perhaps you'd like to make a suggestion about the event.

Submit questions or suggestions for free on our Question Board.
You can post anonymously.
CODE OF CONDUCT
All attendees and speakers at ThoughtWorks events are required to agree with the following code of conduct. Organisers will enforce this code throughout the event. We expect cooperation from all participants to help ensure a safer space for everybody.
Our events are dedicated to providing a harassment-free experience for everyone, regardless of gender, gender identity and expression, age, sexual identity, disability, physical appearance, body size, race, ethnicity, religion (or lack thereof), or technology choices. Complimentary or derogatory comments of a personal nature on any of the above are not appropriate or welcome. Please use gender-neutral language when applicable, we do not tolerate harassment of attendees or participants in any form.
Facilities:
To make the event accessible for everyone, there will be:
- baby changing facilities
- prayer/reflection room
- quiet space
- gender neutral toilets
- induction loop
About ThoughtWorks
ThoughtWorks is a community of passionate individuals whose purpose is to revolutionise software design, creation and delivery, while advocating for positive social change. Knowledge should be for all, not just for the few. We believe in sharing what we've learnt, partnering with social justice and tech-hungry individuals - to work, mingle and share ideas.