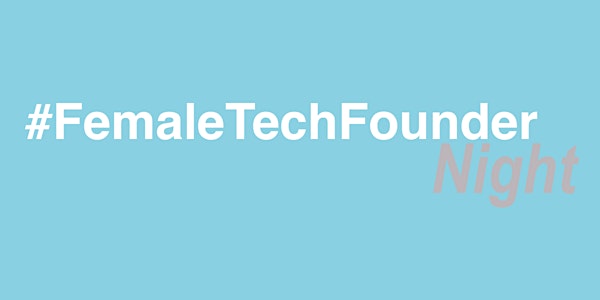 #FemaleTechFounder Night - April
When and where
Location
Federation House 2 Federation Street Manchester M4 4BF United Kingdom
Description
Are you fascinated by turning ideas into tech products?
Do you enjoy hearing startup founders tell their stories?
Then this event is for you!
Join us at the next #FemaleTechFounder Night on 9 April at Federation House, Manchester where a panel of four female tech founders and co-founders will join forces to tell their stories, celebrate their successes and share what they're looking forward to.
What started out as a launch event for Assenty has evolved into a forum for female founders in tech to share their experiences and support one another.
Please note: This event is not just for women!
Everyone interested in tech, startups and everything that goes into creating products users love is invited!
It kicks off with drinks and networking at 6pm, sponsored by the lovely people at ThoughtWorks, followed by a Q&A panel discussion on raising funding. After this comes four awesome lightning talks featuring our founders and a Q&A panel with all four speakers at the end. The event should finish around 8:30pm.
Speakers:
Gemma McCall (@Gezzabelle) Co-Founder, Culture Shift

Nicola Weedall, Founder, Autopaid
Laura Beattie (@laurajbeattie), Co-Founder, Careaux

Viv Parry (@vivjparry), Founder, Be Amazing Ltd

Q&A Host: Claire-Marie Boggiano (@CMBoggiano), director, Lurig Ltd
Also joining us for the Q&A panel discussion on funding is:
Chloe Barrett (@DigidentistryCB), Founder, DigiDentistry
Heather Waters (@heatherwaters15), Strategic Lead Growth Business Support, NatWest.
It is free to attend but registration is required.
About Gemma McCall
Gemma is co-founder of Culture Shift. Its first product is Report + Support, a web platform which enables the anonymous reporting of bullying & harassment.
About Nicola Weedall
Nicola is founder of Autopaid. SMEs send Autopaid™ Invoices to their customers and get paid 95-97% of the value the day an invoice is sent.
About Laura Beattie
Laura Beattie is co-founder of Careaux. Careaux is a luxury ethical British womenswear brand founded by sisters, Laura and Rachel. Careaux recently launched a Kickstarter campaign for their acclaimed dresses.
About Viv Parry
Ambitious forward thinking Chartered Accountant and business owner working at board level in a portfolio of businesses across sectors, Viv is founder of Be Amazing Ltd.
About our Q&A Host, Claire-Marie Boggiano
Claire-Marie Boggiano is Director & Coach at Lurig Change & Development. She is a Chartered Engineer and Head of Diversity at the IoD North West. She supports women in business and in STEM. She specialises in working with individuals and organisations in transition.
Claire-Marie believes coaching and mentoring helps people get from A to B quicker than they would on their own. She loves breaking eggs, building gladiators and making connections.
About Chloe Barrett
A woman of many talents, Chloe has been a professional dressage rider, winning many competitions and obtaining sponsorships, a dental professional, lecturer and director and is now on her second start up. Awarded Young Entrepreneur of the Year 2018, she previously built a dental education company but created DigiDentistry to save costs, time and target all learning domains.

About Heather Waters
Heather is Strategic Lead Growth Business Support at NatWest. NatWest recently launched an innovative crowdfunding 'Back Her Business' initiative to support female entrepreneurs across the UK.
Dietary Requirements
Let us know your dietary requirements by voting in this quick poll. No registration required.
Want to ask something before the event?
We have a Question Board!
Have a burning question you'd like to post to our speakers?
Or perhaps you'd like to make a suggestion about the event.

Submit questions or suggestions for free on our Question Board.
You can post anonymously.
CODE OF CONDUCT
All attendees and speakers at ThoughtWorks events are required to agree with the following code of conduct. Organisers will enforce this code throughout the event. We expect cooperation from all participants to help ensure a safer space for everybody.
Our events are dedicated to providing a harassment-free experience for everyone, regardless of gender, gender identity and expression, age, sexual identity, disability, physical appearance, body size, race, ethnicity, religion (or lack thereof), or technology choices. Complimentary or derogatory comments of a personal nature on any of the above are not appropriate or welcome. Please use gender-neutral language when applicable, we do not tolerate harassment of attendees or participants in any form.
Facilities:
To make the event accessible for everyone, there will be:
- baby changing facilities
- prayer/reflection room
- quiet space
- gender neutral toilets
- induction loop
About ThoughtWorks
ThoughtWorks is a community of passionate individuals whose purpose is to revolutionise software design, creation and delivery, while advocating for positive social change. Knowledge should be for all, not just for the few. We believe in sharing what we've learnt, partnering with social justice and tech-hungry individuals - to work, mingle and share ideas.