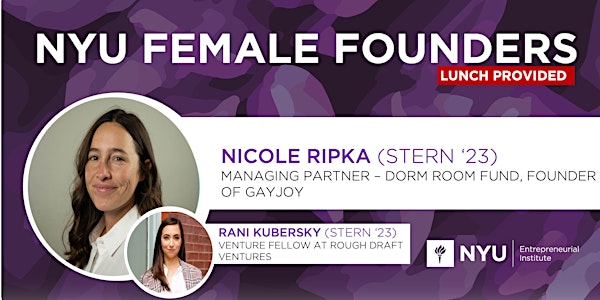 Female Founders Lunch - Nicole Ripka & Rani Kubersky (Student-led VCs)
Join the NYU Entrepreneurial Institute to meet local female founders and investors.
When and where
Location
Leslie eLab 16 Washington Place New York, NY 10003
About this event
Join the NYU Entrepreneurial Institute at the Leslie eLab for a networking lunch from 12:00 - 2:00 PM ET to meet local investors and local entrepreneurs at NYU who are committed to advancing gender equality in entrepreneurship.
During this lunch, we will bring together two current student investors - Nicole Ripka (Stern '23), managing partner at Dorm Room Fund, and Rani Kubersky (Stern '23), venture fellow at Rough Draft Ventures. Nicole and Rani will lead an intimate one-on-one discussion about how student-led VCs work, tips to engage with investors, available resources, and much more.
More about this month's speakers:
Nicole Ripka (Stern '23) is a managing partner at Dorm Room Fund.
Nicole is a managing partner for the Dorm Room Fund, founder of GayJoy (a queer community/media company), and a second year MBA at NYU Stern.
Her background in entrepreneurship, product, and design has naturally led her to realize her passion for supporting and sourcing great founders. In addition to managing the 16-student NYC and Midwest team, Nicole is in the top 2% of deal sourcers across the entire partnership. This summer, she led DRF's Female Founder Track for 30 female founders and was accepted to and participated in Galvanizer, Stanford's 60-person female founder incubator for her work with GayJoy.
She is a true extrovert, constantly expanding her network, building deep relationships quickly, and forging inroads with distinct communities. In her free time, she spends every minute she can learning (often by way of the 20 newsletters she reads weekly). You can also find her participating in her Lesbian Backgammon League, playing Downtown Girls Basketball or grabbing a coffee with a new friend.
She is excited to pursue a career in early-stage investing after graduating from business school.
Rani Kubersky (Stern '23) is a venture fellow at Rough Draft Ventures.
------------------
Past speakers include:
The NYU Entrepreneurial Institute provides reasonable accommodations to people with disabilities. Requests for accommodations for events and services should be submitted at least two weeks before the date of the accommodation need. Please email carol.ourivio@nyu.edu for assistance.