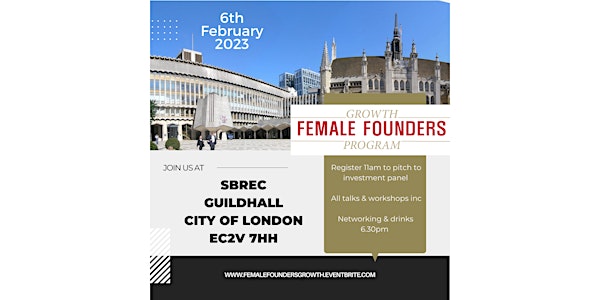 Female Founders Growth Launch : Pitch - Investment Panel & Workshops
Female Founders looking for Investment or scaling your business: 0.8% VC funds went into female led businesses lets change the landscape !
When and where
Location
Small Business Research and Enterprise Centre GuildHall Aldermanbury London EC2V 7HH United Kingdom
About this event
Amazing speakers , investors , workshops and talks to support you as a founder under one roof. As promoted by FemFoundry ; The Stack World; Gen UK - hosted by the Small Business Research Enterprise Centre - talks by the Major's business advisor , the Gender Index founder ; Sam White multi-million founder - sponsored by A City Law Firm and Accelerted Funding.
Our program is to assist female led businesses thrive by offering them practical advice, drafted documents, investment and infrastructure through workshops ; pitching opportunities; one-to-one consultations; weekly peer meetings. Hosted by a female founder for female founders looking to scale this year and/or secure 250K upwards after already securing your first round of funds. Hear from our experts - investors - inspiring leaders and founders on the A to Z of successfully launching your business. Real practical commercial advice that will set you and your business on the right path. This is not just theory this will give you much of the tools required.
11.30 -12.00 Registration - refreshments & networking with like minded founders , the programs experts and investors.
This is the time you can enter the pitching competition by submitting your pitch. Our investment panel are providing advice & then 5 successful businesses can pitch to the panel . We will need a 1 min video & your pitch to be no more than 3min . 5 will be selected. This will be promoted across our platforms as sponsored by Femfoundry - Prizes have been kindly donated by Funding Focus David Horne
12.00 /1300 Investment Panel
Securing Fund Investment : How do you get in & succeed? Whats the difference between what an Angel wants v a VC or Fund?
The Investment Panel will highlight what they look for specifically ; the aspects that will attract their attention & that will put them off; what you need to be able to demonstrate and how the process works for each type of investor. Present will be an Angel Platform; Broker to a Fund ; Family Office ; VC ; syndicate and EIS funder.
Sam Louis AIV Capital - Marissa Angel Investment Network ; Shalini Khemka CBE CEO E2E; Lisa Fox Head of Private Growth Capital WH Ireland ; Stephen Stanton-Downes deal advisory KPMG but also leads Bridging X; David Horne Funding Focus; Francesca Dickinson Foresight Group, Michael Cass of Sellers Funding.
Securing Fund investment is hard and time-consuming, be it 500K or 6 million. Understand how a fund and their investors operates ; what they are looking for and how do you get their attention. What should you do to win them over / what puts them off. When do you apply, how much money do you need to be seeking , what will the process & timescales be – ask how you can get your foot in the door
13.00 -12.00 Are you ready for investment ? Is it all about equity finance ?
A look in the mirror from a legal and commercial perspective : Karen Holden Founder of A City Law Firm
Being prepared so you succeed means concise documents and understanding the legal requirements ; what an investor will request & want to see; protecting your IP and yourself as a founder during the process & negotiating the right deal.Having worked with thousands of businesses and having successfully navigated a scale-up over 14 years Karen running a female led firm will share her experience ; practical know-how and stories of success and let downs.
Maybe Equity Investment is not the only way? Is debt finance something you should be considering ?
Michael Cass from SellersFunding : What options are available to new businesses ; how can you avoid personal guarantees ; how can you protect and secure the businesses cashflow and how does this work alongside investment
1430-1530 Choice of two interactive workshops : please confirm on booking (subject to availability)
1. How to use your IP / Branding / PR / Marketing to attract & secure your investor . They want to know your IP is secure
Director and IP lawyer Jackie Watts: How do you protect your IP and Patents; what if someone is infringing your IP or you have made a mistake and attracted another company objecting to yours. that could put an investor off . Do you register in the UK or Global, what does it cost and how long does it take.
Emma Heley Founder - Thinking Hat PR who manages Amazon's account & Sam White : How to attract investment or customers, by understanding how you look or should look in the market - how to sell and use your story to show your team : product and services to be better thsn your competition
Francois Reynior Brands with Purpose : how to create a successful brand, attract customers or investors and smash your competition. If you need to rebrand how & what can you do to make your pitch anc produt stand out ?
2. SOLD OUT The Effective Business Plan & Pitch deck - ready for the financial questions SOLD OUT WAITING LIST
Kevin R Smith Author Start up to Scale up -Boom and Partners - information that must be detailed & how it should be presented ; how best to sell yourself & the business ; content v format
Elizabeth Parker Natwest Enterprise - what does a 60 second pitch need to contain & how do you make this impactful enough
1530-1630 Choice of two workshops : please confirm on booking (subject to availability)
1. Free Money for your business how can you say no? Grants; R&D and so much more….
RIFT will discuss how you successfully secure ongoing R & D tax credits ;
Matilda from Innovate edge UK : Will confirm the available Grants ,awards and support that are open to many more businesses than you think in the UK even non-tech companies - without strings. How to obtain these benefits
Mel from MPA: Patent Box saves you tax/earnings on your IP as you grow , income increases this saves you money and eases cashfllow. How do you apply, do you qualify ?
Explore what may e available for you; how you apply, timescales and processes. How do you prepare & make sure you are eligible & attractive for these benefits
2. SOLD OUT Infrastructure - investment given so how do you build and scale your business effectively SOLD OUT
VOR Founder John Dickinson : 20years in this sector so he can guide you though recruitment v outsourcing, developing your technology ; how to govern and structure your business so that its stable and scalable . How do you allocate the investment ; budget and secure your place in the market and beyond.
17.00 Female founders inspirational panel talk
Jill Pay| Chair of The Gender Index broke through a glass ceiling when she became Britain's first female Serjeant at Arms of the House of Commons in the position's 607-year-history…
Elaine Gold GEN UK hosts a platform for entrepreneurs across the globe & helps many launch or secure an eco-system across multiple jurisdictions
Karen Holden foundered a law firm 15 years ago one of the more male dominated / regulated sectors
Sam White is the multi-award-winning Founder of Freedom Services Group and Stella Insurance Australia (Chair and CEO respectively).

Finale 17.30 / 18:30 Pitching competition: Our chosen 5 pitches will receive invaluable feedback this is hosted by Fem Foundry
Angel Platform; AIV Capital ; WH Ireland ; Bridging X ; ARIE Capital Group ; Foresight Group ; Funding Focus & Boom Partners; Business Funding Club
3 Minutes will be afford before our investment panel who will give constructive feedback and be available after for private consultation on the night. Prizes have been donated
Closing Talk FF membership introduction to the program
SBREC Host discusses the free benefits afforded to founders of which there are many
Drinks wine and nibbles with partners and investors